Heaven Burns Red is the latest mobile title from the partnership of KEY and WFS, an RPG and visual novel in one, and has since launched in Japan. Strangely enough, the game's English website appears to have been quietly closed or put on ice, and certainly, the game doesn't have any apparent signs of a global release at this juncture. One can only hope that day will come sooner rather than later.
With that out of the way, what's the game like?
PRESENTATION
To put it simply, Heaven Burns Red looks gorgeous. The 2D spritework have their blinking and mouth flap animations, nothing too groundbreaking in this aspect. You get the cut-ins and shaking effects where needed for the effect. On their own, I'm sure this sounds super ordinary – pleasing art is dime a dozen, you might say. Then, you hear the fully voiced dialogue. You know that 4.7GB batch download for voices? It's absolutely worth every byte of storage space: their voice actors really come out with incredible performances that you don't have to understand the language for, and I'm sure part of the credit must go to the direction, too. The dynamic among the cast is quickly established, enticing you to know more.
In my layman opinion, I think the 3D model animations in battle is where it feels just a little off. They're smooth and the quality is great, but there's this 'slowness' that fumbles the pace somewhat. Besides that, though, the layout of the UI is highly stylish, though perhaps there is room to improve in terms of visibility.
There's an "overworld" where you'll be able to run around and visit destinations on the map. Characters you've met, or have yet to meet, can be found milling around, and you can get the option to speak with them for some more story and rapport.
One thing's for sure, you absolutely must play this game with the sound on.
GAMEPLAY
There's essentially the two distinct halves to this game: the visual novel, and the RPG.
The visual novel sections are not something I can fully comment on since I feel the language barrier will partially affect my opinion, since I can't tell how much it affects the story's flow. Our protagonist, Ruka, will pause at times, and dialogue prompts will appear. For the most part, what you see in the text will be what she says. There are two flavours to these choices: the regular multiple choice ones which are unvoiced, and this diagram one where you can choose the first and second half that you can hear before you confirm your choices.
This second one is honestly quite novel (haha). Don't feel like the given options quite capture how you want to answer? Mix and match from these selections! I'd love to see a similar system be included in future visual novels. The variables sound like fun to play around especially considering dating sim / multi-route games, and perhaps offer some level of flexibility in player agency.
The story progresses in "days", with certain events taking place at set times too. The visual novel DNA is all over the place, so not knowing the language is definitely a disadvantage. Does progressing days lock me from chatting with some characters at certain times, if I haven't already done so? Well, I wouldn't be surprised.
When it comes to battles, it's not particularly complicated. It's a turn-based system, with you able to bring in 6 characters at once and each with their broad role. You and the enemies have two bars: one "break" bar, and your HP. You'll need to deplete the break bar first before HP damage can be done. Each turn, you'll recover skill points before you can use your skills. You can swap in your backline at any point, and they'll be able to take their turn at once. Eventually, you can enter an Overdrive mode to go boom.
There is auto battle, with options for "regular" and "full" auto modes. You won't be allowed to turn it on for the story battles until you've at least progressed to day 6, though.
Character development includes their base levels, skill levels, "booster", and an array of accessories. Limit breaking is also a thing, requiring shards obtained from duplicates. As far as I can tell, duplicates give at least 10 shards each, and uh, it's probably gonna take a while purely from gacha.
GACHA
Going by the closed beta, the SS (highest rarity) rate has been increased by 1%, that is, from 2% to 3%. This brings it in line with most gacha game rates. It's 3000 currency for a 10-pull, which feels a little steep as I can't visibly tell how much I get from doing day to day stories. The typical "nodes" and "missions" stuff you tend to see isn't here.
New characters have a short introductory scene, as well.
IN CLOSING
Please, this really deserves a localization for international audiences to fully enjoy the story. I honestly think the RPG battle part is the weaker part of the game, but I can't say for sure what exactly they need to improve.
If you're a fan of Jun Maeda's previous works, I should think this is one you can't miss.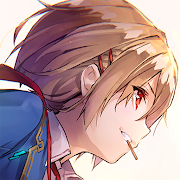 Heaven Burns Red
Android, iOS
Key by Associate Maeda, "Heaven Burns Red (Hebban)" is a story of girls who are entrusted with the last hope. A dramatic RPG that challenges you to fight for your life while running around the field and experiencing the irreplaceable everyday life!
---
Check This Out Next
---