Xiaomi just announced the arrival of the best value mid range king with flagship features of the year, the Redmi Note 11 series, and they're the most friendly-priced mid-range devices packed with flagship performance.
…
…
With the world using more and more social media, there's two main goals- one, to live your best life and two, to make sure those moments are captured well.
The Redmi Note 11 series does exactly this with great quality phones as well as a price tag that won't have you eating instant noodles for a month.
For the uninitiated, the Redmi Note 11 series consists of several great mid-range entries- from the all-rounder Redmi Note 11 Pro and 5G-enabled Pro 5G, as well as the elegant Redmi Note 11S and the back-to-basics Redmi Note 11 to make sure there's a phone for every price point.
These will all be available for pre-order starting February 11th, and here's just some of the flagship-quality features you can expect from the latest of the Redmi line:
Capturing Life At High Quality
Considering how much of our time is spent on some form of social media, it's no surprise that getting a good camera for your phone is a pretty big deal. Life is full of precious, fleeting moments and you'll wanna make sure you get as many of them on your phone as possible without having to constantly re-take photos to have everyone looking good.
You'll get this via the Redmi Note 11 series' excellent 108MP sensor on the main cameras. These allow astounding clarity, as well as rich color to make sure your moments look as good as they made you feel, all without having to worry about it breaking the bank on a 30k camera DSLR with phone functions.
On top of that, gone are the days of single-lens cameras on your phone. The entire Redmi Note 11 series sports multiple camera lenses, letting you capture a whole variety of experiences in their best shots without needing to splurge for a specialized device. Enjoy amazing shots with wide lenses for your day-to-day photos, ultrawide lenses for those stunning vistas that would make poets weep, and macro lenses to appreciate the little things in life, be it a gorgeous flower or even that new scale figure that's just arrived.
The Redmi Note 11 Pro, 5G and S are packing it in the front, too, with its 16MP selfie camera. that even records at 1080p video to make sure those TikTok dances look clean and crisp no matter what.
Meanwhile, if a camera isn't your top priority, the baseline Redmi Note 11 also sports a 50MP main camera, as well as a 13MP front camera to make sure that you get your money's worth and more.
Work And Play, Until It Is Done
It's not all cameras and TikTok dances, though. The Redmi Note 11 Series also sports features to make them fun to use whether you're scrolling through social media or playing games thanks to its amazing displays and chipsets, which scale alongside the phone you're planning to get.
The entire line up sports 120hz displays, available in 6.67-inch for the Redmi Note 11 Pro 5G and Pro models as well as a 6.43-inch display for the 11S phone. These are great for still feeling good to hold (also in part thanks to the flat side design of the phones) while also being big enough to enjoy looking at content on your phone screen.
They also sport a 360hz touch sampling rate, which is just a fancy way of saying you won't have to deal with that frustrating situation where you could have sworn you shot first but the phone just doesn't pick it up on time. With the Redmi Note 11 series, the responsiveness and quality of a much higher price point are at your fingertips, so you'll be able to work and play in peace.
Under the hood, there's also lots to enjoy with the Redmi Note 11 series. The phones are all running excellent GPUs for their price points, such as the Redmi Note 11 Pro 5G sporting Qualcomm Snapdragon 695. This powerhouse has 5G connectivity, meaning you'll be able to do everything from upload photos to compete in fast-paced games without worrying about your phone being bottlenecked by a bad connection.
Meanwhile, the Redmi Note 11 Pro and 11S models sport the MediaTek Helio G96, which is in itself a great mid-range chipset for casual gaming as well as day-to-day tasks.
On The Go All-Day
One of the biggest chokepoints of any phone is its battery life. Sure, your phone could somehow have magically shrunk down an RTX 3090 into a phone, it would probably eat as much power as a flight to Berlin and drain itself before lunch. Even phones with large batteries will then take forever to charge back up, meaning if you forgot to charge it overnight you're gonna be stuck at sub-100% power levels.
With the Xiaomi Redmi Note 11 Series though, you don't have to worry about that. The phones come equipped with a 5000 mAh, alongside turbo-charging technology to make sure you're never out of the game for too long if you catch yourself uncharged. Xiaomi's own testing shows it only takes 15 minutes to get to 50%, so you'll never have to worry about having to be that one person sitting in the corner charging their phone for too long.
All-Affordable Prices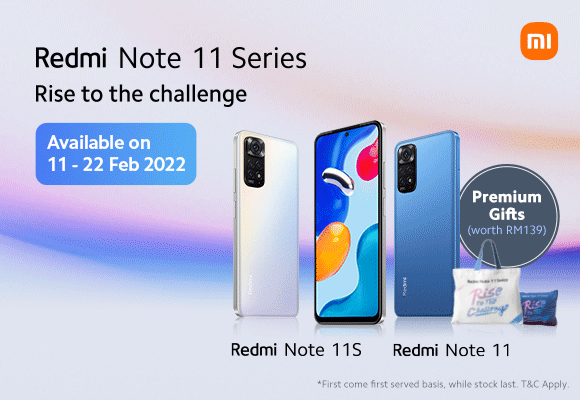 The best thing about all the great features in the Xiaomi Redmi Note 11 series is that they're designed to compliment your style, not cripple it with their affordable price points. 
Make sure to look up your nearest authorized Xiaomi stores to find out how you can get these mid-range wonders for your every day use. 
You can pre order the Redmi Note 11 Pro and Pro 5G from 11th February to 18th February from authorized Xiaomi Stores and also get free premium gifts (while stocks last):
Redmi Note 11 Pro 5G, 8GB + 128GB RM 1,299

Redmi Note 11 Pro, 8GB + 128GB RM 1,099
+ Free Premium gifts worth RM 328  *Limited quantity
You can also get the Redmi Note 11S and Note 11 from 11th February at authorized Xiaomi stores, with free Premium Gifts worth up to RM 139 while stocks last.
Redmi Note 11s, 8GB + 128GB RM 999

Redmi Note 11 6GB + 128GB RM 799
+Free Premium gifts worth RM 139 *Limited quantity
---
Check This Out Next
---