Exos Heroes' season 3, Blooded Rhapsody, began the previous week, and there will definitely be more events to come. Older players will already have begun their journey into uncovering secrets and conspiracies in the new nation of Saint West, while newer players may still be enjoying the variety of updates to help get them up to speed into Zeon's next adventure. We had the opportunity to have an email interview with Exos' director, Young Zun Choi and Art Director Min Suk Son in the lead up to the latest story update for the game.
---
GB: First thing's first, having separate apps/servers for global launches are pretty common. Why did you decide on a single app?
A: We decided that servicing through a single app (Global One Build) was the most appropriate method to present contents to all players around the world at the same time and maintain sufficient updates and quality.
This method demands quite a tight schedule such as localization including global voice actor support and translation, but we thought that providing equal and simultaneous updates was more important.
GB: How long does it take to write out a Season?
A: When we first developed Exos Heroes, we made scenario outlines for six Seasons in advance. So, the general outline for each Season is already prepared, and we add more details to each scenario as we work.
It took an average of 2 to 3 months writing the synopsis and completing the dialogues of each Season. But this time is increasing by little, as we start adding a little more every time we update.
GB: When planning out a season, do you go with an overall theme for the story or instead focus on certain characters? (Clarification: is your approach more "I want this season to be about revenge" vs "I want X character to do something this season")
A: Exos Heroes is presenting six new main characters each season. To fully appeal the charm of the new characters, we focus on characters slightly more than the story.
To describe these characters more in-depth and add more drama, we sometimes move the spotlight from Zeon (the protagonist) to other characters by going back and forth between the past and future.
GB: It's been roughly 3 months since the last Season. Would you consider more frequent, smaller story updates?
A: Exos Heroes' updates include Season story updates as well as contents and convenience feature updates. When a new Season begins, a Season will run for 4 months, and it will update one new story chapter every month. And like Neflix, we also plan on presenting side story contents that will be updated every week or two.
GB: New nation, new Heroes. How is balancing done?
A: The balancing work's primary focus is making sure that new Nations or Heroes do not overwhelm but maintain and fit into the current balance system.
New Nations and Heroes are designed either to share the position of the current Heroes used in the meta, or carry out all-new roles. We are also adjusting balancing factors such as Signature Force to prevent a new Hero from becoming an OP (overpowered) character.
GB: Are there any big gameplay changes expected to come from raising the level cap?
A: Exos Heroes' account level was designed in a way that it does not affect the gameplay. It is an indicator of a player's time dedicated to the game as well as rewards for playing.
The reason we increased the maximum account level cap is to give more rewards to players constantly playing Exos Heroes.
GB: How long would it take players already at 60 to hit the new level cap, and what can they do after that?
A: The EXP of the account level comes by clearing new story chapters and completing daily quests. So starting from account level 60, it would take about two months to level up to 65 when you both clear the new Saint West story chapters and do daily quests. It would take about two and a half months if you only do daily quests.
As explained from the previous question, there are no content locks based on account levels, and you will be rewarded when you increase your account level.
GB: You're including several QOL features with Season 3. How easy/hard is it to actually implement them?
A: When updating a content or a QOL feature, the most difficult part is making sure that it does not destroy the game's current rewards and resource value, as well as responding to various situations that may arise from carrying out such updates. So when updating QOL features, I think we spend most of the time considering these aspects.
GB: Plans for making the beginner experience more friendly now that there's been so many characters/story updates?
A: Through the Season 3 update, we have prepared a new system and events to help new players catch up. First, the new 'Hero Growth Guide' offers a new Fatecore and character, which will help players clear the story chapters more easily. Also, we are planning to carry out various events to help new players. The events will include an attendance event that will offer a special Recruitment ticket that allows players to select a Fated Hero of their choice.
GB: What's the design process behind introducing a new character? How different is it from creating a Fatecore?
A: There is no big difference in the technical design process between the two. Actually, the biggest difference between presenting a new character and a Fatecore lies in the narrative build up. A Fatecore is relatively easier to update, since it is a variation or a new look of the current character.
But a new character, when not enough background story is given, may be considered as abrupt and disruptive to the current storyline and combat meta. So we try hard to make a new Hero's debut as convincing as possible both story-wise and balance-wise.
When presenting a new Hero, we first assign the character its specific role in the story. Then, by analyzing the Hero's characteristics, we decide how the character's position will be in the combat meta.
GB: A message to Exos Heroes' players?
Young Zun Choi: We will work hard to make Exos Heroes a better game than it was yesterday. We will always strive to develop Exos Heroes' key strength points and constantly improve aspects that fall behind, and offer an ever more satisfactory experience to our players. We promise these, to become a game that players will always love and appreciate.
Min Suk Son: The number of our players is increasing and becoming more versatile every day, and we are keen on listening to the players' various opinions and needs. We will work hard to present artworks that players will love and find delight in. Please look forward to Exos Heroes' next steps.
---
Imagine that by now, they might have Season 9 all outlined already, simply waiting for further polish and story development before it's ready for the world. For the editor who's collected a whole bunch of Heroes and haven't progressed that far, it might be time to head back in to see how much everyone and the game has changed thus far. As a seasonal (hah!) player, it can be pretty overwhelming to get back into a well-developed game, and so long that they keep updating it for both the old and new players, everyone wins, right?
Now then, excuse me while I start fiddling with my Heroes again…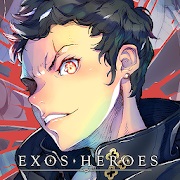 EXOS HEROES
Android, iOS
The grand adventure to search for 'Exestruk', the missing sword of the emperor, and the curse of the ancient dragon! Experience the adventure of your lifetime. Experience the unique visualism beyond your imagination. Experience the unique, extraordinary RPG!
---
Check This Out Next
---