Having trouble with Shin Megami Tensei V, wish your demons were at higher levels, a way to fix this is to farm for some grimoires.
Grimoires are an item in Shin Megami Tensei V that allows you to raise the levels of your demons. They are one of the most important resources if a player wants to tackle the end game content and experiment with late-game overpowered fusions. This guide is only useful for those who want to farm grimoires in a more efficient manner.
Why farm Grimoire?
Demons don't level as fast as your protagonist does. This is done intentionally in order to get players into the habit of fusing demons regularly to tackle different boss battles.
But at some point, you may wish to experiment with customizing your favorite demons and taking advantage of their unique qualities and skills. Why fuse Idun and lose that overpowered healing/buff spell when you can level her up and take better advantage of it.
Grimoire will grant just enough exp for your demons for it to level up, you'll need to have an actual battle to level it up though. The more demons you have, the more grimoire you need to let them level up. Trying to level them via battling other demons will take far too long to reach level 99.
Finding /The Mitamas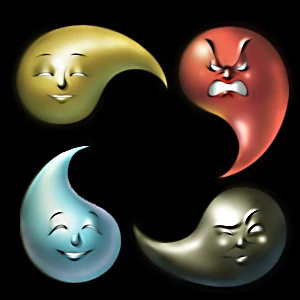 The Mitamas are a group of 4 demons shaped like Japanese Magatamas: the Ara Mitama, Saki Mitama, Nigi Mitama and Kushi Mitama. You can't actually recruit these four in SMTV, instead, by defeating them they give you a special item for extra equipment.
Ara Mitama (red) will drop Grimoire, Saki Mitama (yellow) will drop relics, Nigi Mitama (blue) will drop Glory crystals and Kushi Mitama (black) will drop Gospel (You won't see him here in this run). With this guide, the Ara Mitama is the important one since they drop grimoires.
It should be noted you can pay for a DLC that spawns the mitama far more frequently across the game. You can also buy grimoires from the game's store CAdaver's Hollow in the late game for 40k Macca but we're going to show you where you can find loads of them for free.
Finding The Mitamas and their Grimoires
Access Leyline Crossing and teleport to Da'at: Taito – Shinobazu Pond and go to the spot listed below. You'll need one of the following demons to point out treasure for you. If Amanozako isn't available, talk to either the NPCs Jack O'Lanturn, Hua Po, Decarabia, or Yatagarasu to get them to tag along.
Check the spot to see if there's a treasure. You following demon should point it out for you. There's a high chance you'll find an Ara Mitama.
Once you're done with that. Proceed to the second spot listed below and do the same:
After this press the 'L' button to teleport back to the leyline and the treasure spots should respawn. Go between these two spots and get as many grimoires as you need. If the mitama's don't spawn, then just proceed to the next one.
There are a few spots that spawn Mitama that are "fixed", these are the easiest we found to access. There is also a chance that Saki / Nigi Mitamas will spawn here as well but the majority of the time they will spawn Ara Mitama (up to 4 at once). These will drop 2-11 grimoires depending on the number of spawned Ara Mitama.
If you feel that the spot has "dried up", the Odaiba leyline where you fight Khonsu is also known for spawning mitamas. You could take a trip there while waiting for the first two spots to refresh.
Beating the Mitamas
Mitamas have randomized weaknesses with the rest of the elements blocked or resisted. The way around this is with the move Yabusamu Shot. This attack will pierce through any resistance so it can get through any of the mitama's resistances.
Two high-level demons (75+ will do) with Yabusame Shot should be enough to finish them off. Alternately almighty attacks also work well, but mitama have innate resistance towards almighty, so your attack won't be able to crit and will do half the damage.
It's a pretty easy skill to pass between demons through fusions and essences.
Shin Megami Tensei V is available for Nintendo Switch, check out our review.