After four years of anticipated development, Shin Megami Tensei V has finally been released for Nintendo Switch and after going through the game for the past week, it certainly was worth it.
God is Dead. Lucifer killed him. You, a very pretty high school boy who along with your two friends, ends up transported to a post-apocalyptic Tokyo overrun by demons known as the Netherworld or the Da'at. From here you end up fusing with an amnesiac god named Aogami to become a Nahobino, a being who is neither human nor demon but something more. The fate of the world is now in your hands.
Shin Megami Tensei V has reached a new pinnacle within the series, with a beautifully haunting world and highly in-depth gameplay that has been made more accessible while still maintaining the level of challenge that the series is known for. It has a couple of fusion accidents here and there but they're certainly not enough to undo this game's achievements. Shin Megami Tensei V is a stunning new entry in the series and very much one of the best RPGs of the year.
A Traveler From Another World
The game takes no time getting you to the Da'at and it is certainly worth exploring. The apocalypse is destitute yet beautiful with a variety of ambient semi-open areas to explore. The desolate large maps add a new level of immersion with the vast amount you can explore, climbing over toppled trains and run-down buildings, giving a great sense of the run-down world around you.
It helps that you have a number of collectibles spread across each map including items, demon essences, and mimans to give you glories to unlock new miracles. Often you'll see them on a ledge or in a far-off building just out of reach, which gives you even more incentive to find a way to get to them.
This is all enhanced by the demons. For the first time in the series, demons appear in the overworld and it truly makes this dying Tokyo feel alive. They roam through the streets, gutter strange incomprehensible sounds and they are all to scale. One of my favorite moments in the game was simply titled up the camera up and seeing the angels and demons dueling above me. It's mesmerizing and creates the sense that this world is really just so much bigger than you can possibly fathom.
The game does however have the occasional frame rate hiccup. Demons further in the background especially can't look a little janky but it in no way breaks the game and honestly I got used to it to the point that I barely noticed it.
The Gameplay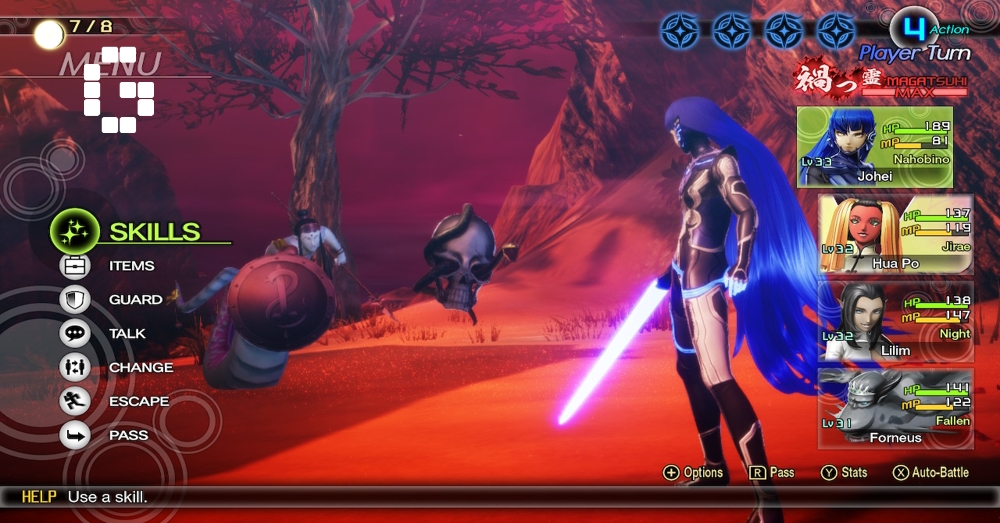 Shin Megami Tensei V brings back the series staple press turn battle system. This means that if you hit an opponent with weakness or critical hit, you get an extra turn, if the attack is blocked in any way, you lose turns. Of course, the enemies can do the same. The system adds a real sense of tension you don't get in many other turn-based RPGs. You can be doing great, only for one opponent to score a critical hit and suddenly, they've got three more turns and two of your party members have died.
Yes, it is hard and it can be frustrating but this also makes SMTV so thrilling. It truly feels like every decision counts and it feels so satisfying when you eventually surpass that boss that's been giving you hell. The game never feels unfair though. It doesn't expect you to grind and muscle your way through bosses, it wants you to play smarter. It expects you to pay attention to the mechanics and learn to use them effectively.
Behold My Demons
As previously mentioned the demons are great. Their models are highly detailed and combined with some of their hilarious negotiations really make you want to go out and collect as many of them as you can.
Negotiations are your way of getting demons. You have to answer their questions and give them their requested items. While this process is still randomized, it has been made easier. It now only takes one or two questions to get to the negotiation and they now won't run off with your items if they don't wanna join you. Another cool thing is that if you have no stock for a new demon or aren't at the right level, you can come back and ask them again and they'll join you.
You can of course also get demons from the World of Shadows where you fuse two of them together to create a new deity. This can get addicting as you find a new cooler-looking demon to fuse together. I got to a point where I was grinding levels not to beat a boss but because I wanted to get that one demon I was a level too low to fuse.
The World of Shadows also presents also allows you to further enhance the game in form of miracles and essences. Miracles are exchanged for the glory you get from mimans. These act like the apps from SMTIV in that you can exchange them for passive buffs like a hire demon stock or raising your affinity.
Essences on the other hand will give you and your demons the skills of other demons. This creates an enormous among of potential for customization. Want a Jack Frost with fire resist? Now it's possible. For the more hardcore fans, you can now finely craft your own specialized demons which only adds to the addictive nature of demon fusion.
The Story
Like all SMT games, the plot of SMTV is a bit unorthodox, with less of a focus on character development and more on worldbuilding, philosophy, and the mythology of the various gods and demons. In that vein, it's pretty interesting. You get a really good sense of the Da'at from speaking with the demons and going on various sidequests. These range from simple fetch quests to opposing demons asking you to kill their rival. It gives you a great sense of the inhabitants of the Netherworld and how they view the different factions and the humans that used to live there.
I also like the idea of a safe, normal Tokyo set against the bleak Apolcalytic one. The idea of living your daily life knowing the end is around the corner is a pretty haunting idea.
The Sons of Man
Another strength of the game for long-time fans would be how it attempts to subvert the traditional SMT alignment tropes. This was the first mainline game since Nocturne where I honestly couldn't tell which alignment the characters would go. For example, Ichiro Dazai is a delinquent class clown from a troubled household, who talks about wanting power. This all sounds very chaos but he specifically wants that power to protect others, which is very law. In general, both alignments are presented in a bit more nuanced, less extreme light which gives more room to really think about their merits without just defaulting to neutral.
Unfortunately, the payoff for these interesting ideas and characters doesn't feel very satisfying. Outside of Dazai and Aogami, most of the characters don't really get enough screen time to truly understand their motives or want to support their cause. One character outright just drops out of the plot halfway through the game and only appears in a sidequest.
It feels like they wrote something similar to SMTIV's more detailed plot but executed more akin to SMT III Nocturne's more minimalist plot. It doesn't really work though. Nocturne's plot is good partially because its premise is very simple and characters very straightforward. That doesn't mean bad mind you, however, I feel SMTV's more complex concepts needed something more akin to IV with a more conventional plot and character motivation laced more frequently throughout the journey. It's a bit of shame as I really liked the initial premise and characters, I just wish we got to see more of them.
The Goddess Reborn
Shin Megami Tensei V is still one of the best games RPGs I've played on the Switch and from such as prolific series, I'd dare say it is one of the best in the Megami Tensei franchise. Its world is beautifully desolate, the demons never felt more alive and the high amount of customization means you'll be fusing for hours.
It's not a game for everyone, the characters are a little weak and the challenge can be too much but for fans of the series, that's part of the fun. It's admirable that SMTV has stayed so true to its roots while still adapting for modern audiences. It's a brutal niche game that's not afraid to hit hard but still gives you plenty of time to get back up and try again. Its themes and story are unorthodox, but for those that are willing to dive into them, you can find yourself learning and looking at mythology, philosophy, and religion in ways you never thought you would. It wants you to put in the work but will handsomely reward you in return.
Shin Megami Tensei V may not have Persona's heart, but it has Megaten's Soul.
Shin Megami Tensei V is now available for Nintendo Switch.
Shin Megami Tensei V
Nintendo Switch
The ambitions of god and humans clash amidst the horror of a dying world. Neither human nor demon, the newly-forged Nahobino and his friends must decide what is worth saving... and prepare to sacrifice everything in its name. In a world without its Creator, which path will you choose?
The Review
Shin Megami Tensei V
PROS
Gameplay is challenging yet accessible
High level of demon customization
Overworld and demons look stunning
World building and ideas are interesting
CONS
Characters and plot points end up being a little underwhelming