Tea Knight Cookie is one of the two new Cookies added to Cookie Run Kingdom in the latest update that came out this January.
What can this old dough soul do? What toppings are best for him. Find out below.
If you're interested in Cookie Run Kingdom, check out our previous Cooke Run Kingdom character guides:
The Skills of Tea Knight Cookie
Tea Knight Cookie is a charge cookie, standing in the front row, leading his troops into battle.
His skill is called 'Battlemaster'. Tea Knight Cookie tastes one swing of his mighty ax and brings it down on a single enemy. The attack not only takes a huge chunk of HP out of your opponent but it also buffs Tea Knight's allies with several different stat boosts which are dealt out based on specific requirements.
Whenever an enemy cookie is defeated, Tea Knight will trigger a secondary effect called Wrath of the Commander, raising his attack and attack speed. This effect cannot be dispelled and will stack up to four times as you take out more cookies.
The Best Use of Tea Knight Cookie?
Please note, that as with every new Cookie added to Cookie Run Kingdom new strategies and uses are still being formed by the player base but this is what we found based on first impressions:
Tea Knight Cookie is very much a charge cookie and has the usual pros and cons of a charge cookie. His pros are that he can dish out a good amount of damage, especially with his skill and the buffs he brings can really help the rest of the team.
On the other hand, while not completely frail, he can't take too many hits before he goes down. I'm also not a fan of the fact that his skill hits only one enemy at a time which can be annoying in PvE where you can be swarmed by multiple enemies at once.
Tea Knight however seems to be made with PvP in mind. His strong offense can be helpful in breaking through front-row defense cookies. His Wrath of The Commander ability is also unique in that it gives him a permanent stat jump every time an enemy cookie is knocked out. This means if you can quickly take out one enemy, he has the potential to gain swift control over the match and take out the others.
Even then though, as a front-row cookie, Tea Knight will be bearing the brunt of the initial attack so you'll need to invest a good amount of exp into him to make sure he's up to the general level of your opponents. I'd also pair him alongside a good defensive cookie and a quick healer to make sure his defenses are covered.
One cookie, in particular, he can be good with is the other new cookie added to the game, Eclair Cookie. Eclair has the ability to debuff enemies and make them take greater damage. Combined with Tea Knight's high attack means he can more easily defeat one opponent and start stacking for Wrath of The Commander.
Best Toppings
The best toppings for Tea Knight Cookie are full solid almonds for maximum damage resistance. As previously stated, he isn't good at taking too many hits so you will want to raise his defense as much as you can.
As an alternative, you could try to boost his already high attack output with a few searing raspberries. This means he'll be able to crush enemies and buff allies even further, but I'd play it safer and go with higher defense. He's already got pretty good offensive abilities as is.
Who is Tea Knight Cookie
Tea Knight Cookie is the central cookie in the new Cookie Alliance event and game mode. He is an old hero, who after initially refusing, reluctantly goes back into action to save Earthbread from destruction and to slay an invading dragon once more.
Here is more about him from the game description.
"There was a time when dreadful dragons ruled the skies. Their fire-ravaged entire kingdoms and their claws crumbled countless Cookies. An order of knights in shiny silver armor, infused with courage and battle prowess, swore to put an end to this threat. Led by Tea Knight Cookie, the knights courageously opposed the gargantuan monsters through fire and jam and remained in history. But even the most fragrant tea loses its aroma–with time, the glorious tale of the knight became a legend, a mere echo of the past. Tea Knight Cookie, the fearless hero, was forgotten by those he strove to protect. Now sadness and regret shadow his scar-ridden face. Perhaps he wanted to be forgotten…? Yet… when he reminisces the battles he fought side by side with his comrades of old, a spark lights up in his eyes: the flame within him still burns bright!"
Will you be using this old dragon slayer?
Cookie Run Kingdom is available for mobile devices.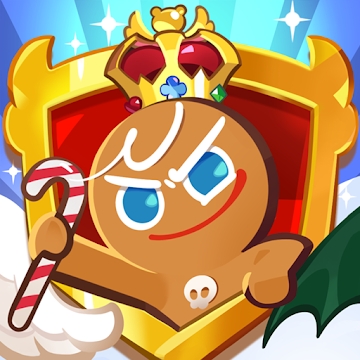 Cookie Run: Kingdom
Android, iOS
Build your dream Cookie Kingdom and reclaim the land lost against the evil that lingers in the shadows. Fresh out of the oven and from the Cookie Run: OvenBreak creators comes Cookie Run: Kingdom! Build a delectable Kingdom while battling against evil dessert monsters! Team up with friends in Guild Battles! Fight alongside other Guild Members and defeat new rivals. Battle against powerful enemies to level up together. Earn soul stones, guild level-up items, guild treasures, and more!
---
Check This Out Next
---