Eclair Cookie is the latest character being added to Cookie Run Kingdom coming alongside Tea Knight Cookie to help prevent the end of the world in the latest update.
Here's some information on what he can do, what toppings are best for him, and what kind of role he can play on your team.
If you're interested in Cookie Run Kingdom, check out our previous Cooke Run Kingdom character guides:
The Skills of Eclair Cookie
Eclair is a support-type cookie that primarily occupies the middle row. A bit unusual as support cookies are usually at home in the back row but it doesn't seem to make too much of a difference.
His skill is called Book of History. Eclair summons a great book that casts 'weaknesses' which debuffs the three strongest enemies on screen (with cookies taking priority). This means that your enemies will take more damage and if you knock them out while they are debuffed, your allies will gain an HP shield. It also does a bit of damage to the enemy.
His stats are:
16-sec Cooldown
Single hit DMG: 480.6% (+6.54% DMG per level)
Weakness: receive +25.0% DMG for 40.0 sec, the effect stacks up to x4
HP Shield: +25.0% of Max HP for 3.0 sec
Weakness debuff is refreshed by its further stacks: one stack's duration is 10 sec, two stacks will extend it by 8 sec.
The Best Use of Eclair Cookie?
The biggest issue that any support cookie is going to have is ultimately that Parfait and Cotton Cookie exist. These two remain the top support cookies, with great buffing abilities, as well as being able to double as healers (and in Cotton's case, also a summoner).
It's a bit too early to say just how high Eclair will rank on the support tier list (we'll update as we learn more) however from first impressions he manages to carve out his own niche, and can be pretty powerful in his own right.
His healing is decent at best but his debuff skills do make tougher enemies a lot easier to handle. The blast from his book can take out a decent chunk of hp, and his ability to cause extra damage meant that I was steamrolling through some tougher enemies noticeably faster. This could also make him helpful for PvP, helping to take out a few of the opponent's heavy hitters earlier.
As a result of this, his HP shield effect also came on much more frequently than I thought it would which in turn helped when confronting the next batch of enemies. It would be best to have him work alongside a healer cookie (cotton or Parfait would both work great here) but otherwise, he can really cripple enemies with enough investment.
Best Toppings
I found the best toppings for Eclair were all swift chocolate (cooldown reduction). To put it simply, you want to be able to use his skill again as soon as possible. A couple of raspberries would boost his damage output but I think it's more important to have his skill at the ready as the effects are already decently strong.
Who is Eclair Cookie
Eclair is a museum curator who is playing quite a big part in the new Cookie Alliance event, helping to prevent the end of the EarthBread. He also acts as your guide in the Guild Museum. Here's his bio:
"When you're looking around the museum, taking a look at the ancient relics that hold mysteries and stories untold, it feels as if the whole world has grown peaceful and silent. That's usually when the curator of this museum will approach you with a gentle and kind greeting. Eclair Cookie, at your service! With an entire dessert covered in premium fondant icing adorning his hat, he'll greet guests of the museum with elegance and grace, all while making sure there's no trace of dust to be found. But it must be said that he tends to go overboard with his explanations whenever a guest shows interest in his favorite topic: dragon-fighter Cookies! This is precisely why he's mostly seen in his office, writing reports on these brave and heroic dragon-fighter Cookies. He may be sitting in front of his desk, but do not underestimate his scholarly heart—for his passion for history burns bright as any other adventurer exploring this world."
Will you be using Eclair Cookie?
Cookie Run Kingdom is available for mobile devices.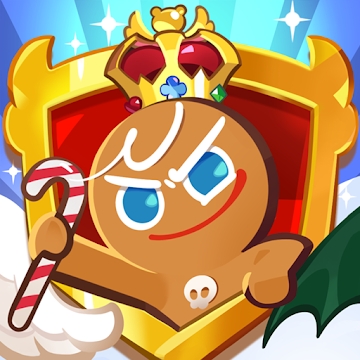 Cookie Run: Kingdom
Android, iOS
Build your dream Cookie Kingdom and reclaim the land lost against the evil that lingers in the shadows. Fresh out of the oven and from the Cookie Run: OvenBreak creators comes Cookie Run: Kingdom! Build a delectable Kingdom while battling against evil dessert monsters! Team up with friends in Guild Battles! Fight alongside other Guild Members and defeat new rivals. Battle against powerful enemies to level up together. Earn soul stones, guild level-up items, guild treasures, and more!
---
Check This Out Next
---