Nearly a month after the previous Gran Colosseum ended, SINoALICE will get the 7th edition of the event, this time with Gretel/Half-Nightmare.
Now that both Asian and US/EU servers merged, this will be the first time the guild-based competition occurs in truly global fashion. The 7th Gran Colosseum will officially begin on Valentine's Day, 14th February 2021 UTC+0. Registrations will be open from 10th February 2021, 5.00 am to 13th February 2021, 4:59 am.
Even though the 7th Gran Colosseum will start on Valentine's Day, there will not be anything romantic about the competition. Registered guilds will battle it out until 20th February 2021, 4:59 am UTC+0. Beyond that point, only the strongest guilds will make it into the finals.
Depending on the number of wins and your overall score, the rewards earned will vary. The most important item that can be obtained are Gran Medals. Gran Medals are exchangeable for special rewards, such as the newest Half-Nightmare that will appear in SINoALICE, Gretel/Half-Nightmare.
Gretel/Half-Nightmare is a fantastic support unit as her debuffs will be 15% more effective than regular classes with tomes. Note that all the other support weapons, except Artifacts, will be drastically ineffective.
Besides the new class, players can also redeem new Infinity Weapons.
Like all Infinity Weapons, players can evolve Clam of Delusion and Gaze of Languor multiple times to make them much stronger than most weapons.
For more information, check out SINoALICE's website.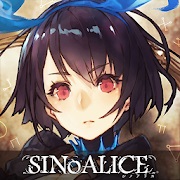 SINoALICE
Android, iOS
Fairy tale characters fight to "revive their author". Enter the dark world of SINoALICE as imagined by Yoko Taro (Drakengard, NieR).