It's time for SINoALICE players to send their girls off to fight each other again, this time in the 6th Gran Colosseum event. Guilds from all around the world compete to determine which one truly stands at the top.
Yesterday, SINoALICE Global tweeted that Gran Colosseum entries are open. To take part, guild masters or sub guild masters have to enter through an in-game page. Currently, entries are open until 16th January, 4:59 UTC.
After the entry period, the 6th Gran Colosseum officially begins. From 17th January to 23rd January, the preliminary rounds will take place, weeding out the weaker guilds from the competition. The finals will start on 24th January. There, the strongest guilds in their respective servers will settle who is the strongest once and for all.
What makes this competition different from the 5th Gran Colosseum are the Pre-Server Integration Special Gran Colosseum Rewards. These include higher rank rewards and unique titles. Also, all players will receive upgrade materials containing the names of the top guilds.
In addition, the usual win and skirmish bonuses are returning. Participating in the event nets players Gran points, which are exchangeable for lucrative rewards. Amongst them include:
Half-Nightmare versions of Sleeping Beauty and Red Riding Hood are the prizes to look out for. Half-Nightmare characters provide tremendous bonuses to their specialised weapon, but at the cost of much lower effectiveness of other weapons.
Also, Infinity Weapons are up for grabs:
The Infinity weapons feature a strong stat line coupled with a greater increase in skill effectiveness with each evolution. In exchange, they have a higher SP cost.
All the best in the 6th Gran Colosseum!
Source: SINoALICE Global website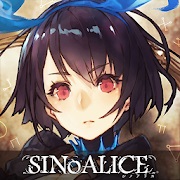 SINoALICE
Android, iOS
Fairy tale characters fight to "revive their author". Enter the dark world of SINoALICE as imagined by Yoko Taro (Drakengard, NieR).
---
Check This Out Next
---