In this review of Dying Light 2 Stay Human, we'll find out if the sequel still has the parkour + zombie formula from Dying Light down pat. Is it a worthy successor or is it just another case of a disappointing sequel?
Dying Light 2 was released earlier this February on Xbox Series X and S, Xbox One, PS4, PS5, PC via Steam and even Nintendo Switch. Note that this review is based on the Steam version of Dying Light 2. Your experience playing the game may differ on other platforms.
With that out of the way, let's get into this review of Dying Light 2 Stay Human!
Story
While Dying Light 2 takes place 15 years after the events of the first Dying Light. Dying Light 2 features a new protagonist, a new cast of supporting characters and a different setting. Sure, there are callbacks and references here and there, but you won't be missing out much if you didn't play the prequel.
In Dying Light 2, players assume the role of Aiden Caldwell who's looking for his long lost sister, Mia. He ventures into the city of Villedor, one of the last few remaining human settlements. In order to find his sister, he is thrust into a conflict between various factions fighting for control of the city.
A big focus of the story is decision-making. There are a lot of different choices to be made in regards to the story and factions that come with their own consequences. Aiden will be forced to pick sides, choose who to help and who to sacrifice. Despite the branching decisions and multiple endings, Dying Light 2's story ultimately feels rather mediocre and predictable. It didn't really resonate with me emotionally or made me feel invested the same way Resident Evil Village did, even though that zombie game was a lot wackier and more over the top.
While Aiden is a pretty solid protagonist, the shift in tone between many of the main quests and side quests felt too jarring. One minute you have to decide which faction rises and falls, then in the next, you're helping a talking chicken who wants to conquer the world. While there are tonnes of side quests and replayability, the writing feels average. Sometimes, it's decently captivating and grabs your attention. Sometimes, it feels cringe.
Parkour Panache
Sure, the story wasn't amazing, but you know what is? The parkour.
The parkour is hands-down the best part about Dying Light 2 and also happens to be my favourite part to review. The first Dying Light had amazing parkour, but somehow, the devs at Techland have managed to make it even better! It feels polished, smooth and fluid, especially because you can learn more parkour skills and tie them together in a string of dynamic manoeuvres. Every leap, every climb, every roll feels fast and impactful, making it a blast. Later on in the game, we can even get access to Nightrunner Tools such as the Paraglider and Grappling Hook, the former basically makes you feel like playing first-person Spider-Man.
Perfectly complementing the parkour mechanics is the city of Villedor. Not only is the map several times bigger than the first Dying Light, but there's also enough variation of environments and obstacles that makes it great for free-running. The architecture of the city is not only pleasant to look at but fun to jump and climb around. Even though there's the option to fast travel, I never used it because of how much fun it is to just free-run and feel like a badass nailing all the steps.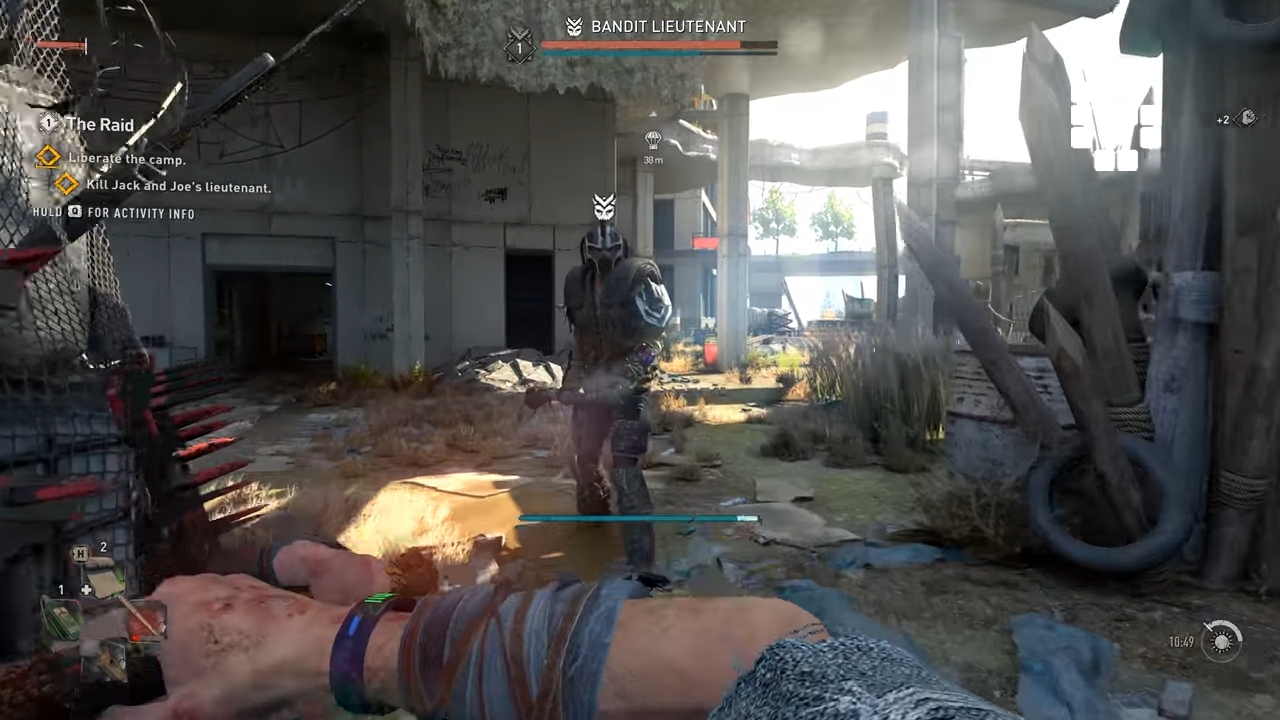 Combat
The big change you'll notice moving from Dying Light to Dying Light 2 is enemies have a health bar and a level indicator now. This is great for figuring out how many more hits to pull off before the zombie is truly dead, the undead love to get back up. If immersion is your concern, fret not because there is the option to turn it off.
As for the fighting and action, for the most part, guns have been removed from the game. You won't be able to find ammo and weapons lying about like in the first game. Instead, the main focus of the game is melee combat. Unfortunately, the melee weapons, especially the blunt weapons, feel less impactful than they were compared to Dying Light 1. Aiden swings heavy clubs and bars quickly and repeatedly. Hitting enemies with these weapons lack the satisfying "oomph" of a heavy, crushing weapon.
While you're not busy repairing broken weapons all the time, the better part of melee combat is actually the parkour skills. Sure, you can vault around and stun enemies, but the best move from the first game is still the best move in Dying Light 2—the dropkick. It's super fun to ragdoll enemies and kick them off high ledges.
At night, combat is a lot more dangerous. However, the night chase sequences in Dying Light 2 don't feel as challenging or adrenaline-pumping as they did in the prequel. This is partly because of how many opportunities there are to juke and hop around through parkour, but mainly because it feels like there's a lot fewer Volatiles. In the first game, you're constantly trying to snoop around at night, avoiding these menaces, but in this game, the night chase sequences start gradually from level 1 to level 4, with XP, rewards and zombie types and strength increasing the higher the level is.
You also cannot stay out for too long at night due to the game's immunity system. Without being exposed to sunlight or UV light for a certain period of time, you'll turn into a zombie and it's an automatic game over. This helps to give a sense of urgency at times and is a fun way to keep the night fresh.
Customisation
Dying Light 2 offers a lot more customisation options than its predecessor. Now you can dress up Aiden with different outfits and accessories with their own stats. Thankfully, unlike many RPGs out there, the best gear actually looks pretty cool.
The game also removed the Survivor skill tree, leaving players with just Combat and Parkour skill trees. This is a great idea as these two skill trees are definitely more impactful in terms of gameplay (and fun).
Another big change is the addition of Inhibitors. These collectables are the only way to increase Aiden's health and stamina. They're scattered and hidden throughout the map and the game encourages you to look for them as some skills can only be unlocked once you managed to increase your health and stamina to a specific level.
Co-op Shenanigans
You can team up to four friends in Dying Light 2. It's safe to say that running around killing zombies is a lot more fun with friends. Even though co-op is a lot more fun than single-player, there are sadly a lot more bugs and glitches. Expect frequent frame drops and disconnects, too.
What's also annoying is that only the host will actually progress through the story. The other players helping out will need to beat the story on their own as a host themselves.
Closing Thoughts
Dying Light 2 has noticeable flaws, from the mediocre story to the buggy co-op mode. However, it makes it back through its incredibly fun parkour mechanics, amazing open-world and a host of various improvements from its predecessor. Despite all the imperfections I faced, the game was still incredibly fun.
If you loved the first Dying Light or a fan of zombie games in general, Dying Light 2 is made for you. Check it out on Steam for more info.
Pros
Cons
Parkour is phenomenal
Moderately filled with bugs, co-op more so
The world is vast and interesting to explore
Mediocre story
Many quality of life improvements from the first game