Time sure flies, and it's coming to Dragalia Lost's 2nd anniversary! As usual, a Digest has been released, so let's go through the news. You can watch the full English digest below:
GALA DRAGALIA: 29 SEPTEMBER 2020 23:00 TO 4 OCTOBER 2020 22:59 (PT)
As you might expect from those who have caught up with the story, Zena receives her Gala version! Her banner will also feature Wind 5-star Adventurer, Meene, and Wind 5-star Dragon, Midgardsormr Zero.
FREE TENFOLD SUMMONS: 26 SEPTEMBER 2020 23:00 TO 29 OCTOBER 2020 22:59 PT
For 33 days, every player will be able to do one free tenfold summon per day for a total of 330 times. Note the dates: the first half of Gala Dragalia will contain all Gala units prior to the 2nd anniversary, as Gala Zena will be appearing in the 29 September Gala showcase.
2ND ANNIVERSARY LOG IN BONUS: 26 SEPTEMBER 2020 23:00 TO 29 OCTOBER 2020 22:59 PT
Log in rewards will give out:
2 x Champion's Testament
1 x Mini Hildy
50 x Talonstone
20 x Rainbow Orb
1,000 x Wrymite
1 x 5-star Wrymprint: Second anniversary
1 x 5-star Summon Voucher (Dragon)
1 x Damascus Ingot
1,000 x Wrymite
1 x Sunlight Stone
FOLLOW AND RETWEET CAMPAIGN: ENDS 4 OCTOBER 22:59 PT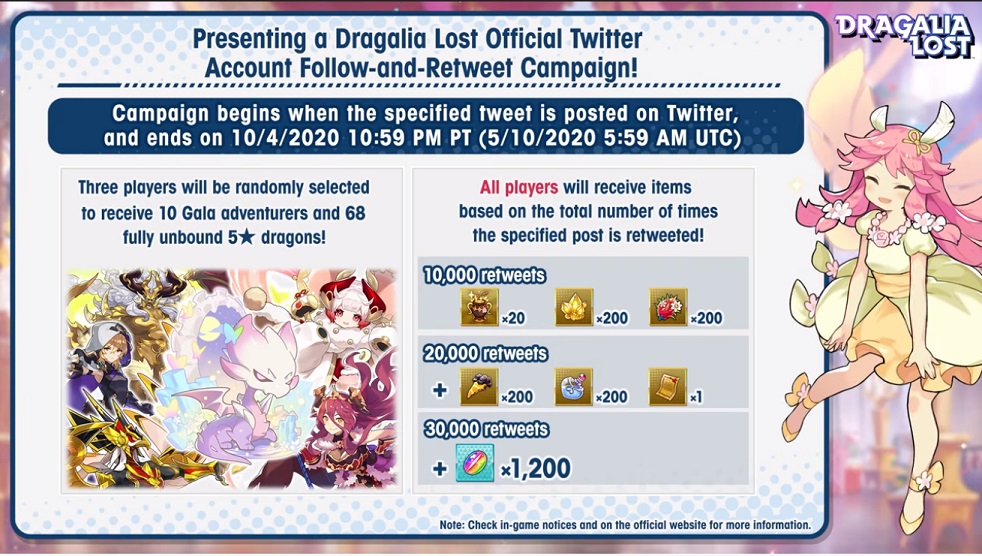 Milestone rewards for retweeting this tweet will gift:
10,000: 20 x Exquisite Honey, 200 x Gold Crystals, 200 x Succulent Dragonfruit
20,000: 200 x Gold Whetstone, 200 x Consecrated Water, 1 x Champion's Testament
30,000: 1,200 x Wyrmite
2ND ANNIVERSARY EVENTS: 26 SEPTEMBER 2020 23:00 TO 11 OCTOBER 2020 22:59 PT
Main Campaign Chapters 1 – 3 and 6 – 8 Double Drops
Main Campaign Half Stamina, Half Getherwings
Void Battles Double Drops

Manticore
Luminous Chimera
Void Nidhogg

Avenue to Power Triple Drops
Avenue to Fortune Triple Rupies
Elemental Ruins Double Drops
Dragon Trial Double Drops
Imperial Onslaught Double Drops
CO-OP RESET: ON 24 SEPTEMBER 23:00 PT
FORGOTTEN TRUTHS: 29 SEPTEMBER 2020 23:00 TO 11 OCTOBER 2020 22:59 PT
The second anniversary raid event, Forgotten Truths, will feature Zethia travelling to the past. Ilia is a biker chick…?
GAME VERSION 2.0
The tl;dr includes:
Graphical changes
A spark system

300 wyrmsigils to obtain an Adventurer or Dragon from the relevant banner
Expired wyrmsigils become wyrnsigil remnants to redeem for items

Weapon system changes
Wyrmprints equipped on weapons instead of Adventurers
Separate difficulty rewards for solo and co-op
New weapon type: Manacaster

Long range, close range, rapid fire

Master difficulty for Agito
ALBERIAN BATTLE ROYALE
MAIN STORY UPDATES
Chapter 16: The Road Revealed, October 2020
Chapter 17: The City of Grams, December 2020
Chapter 18: The Forest of the Faeries, February 2021
Well, time to head back to Dragalia for its 2nd anniversary then!
Dragalia Lost
Android, iOS
Follow your heart and pursue the dream to defeat the evil with the bonds between humans and dragons! Dragalia Lost is a swipe-controlled action RPG about the bonds shared between humans and dragons. Conquer your enemies using an array of powerful attacks and special skills and even by transforming into a dragon yourself!