"Play Buried Stars," says a friend, the enthusiasm back in full frenzy with the Steam release. The visual novel from Studio LARGO has been out since 30 July 2020, so me getting on it has been a long time coming. I've always liked visual novels as a medium, but I often put off playing any of them, because monkey brain want a bit more pizzazz and usage of less brainpower than reading. Calling myself out aside, we've got a cast of characters and a story to go through.
PRESENTATION
I normally have a whole section for the options, but I don't expect a whole swath of them from a visual novel.
The title menu has these glitchy effects for the various images / characters used for the submenus, as though despite the relative high tech used by the characters themselves, I'm stuck tuning in on some VCR. From the menu, you can check out any unlocks and settings for sound and primarily text display. There are Korean and Japanese voiceover tracks: I already hear so much Japanese from playing my other games, and this is a Korean-made title, so I stuck with the original. I greatly appreciate being able to set text speed to basically instantly appear, with the narrative still scrolling occasionally for effect.
Starting the game proper, the presentation itself looks quite nice. I think the sprites are flipped instead of a unique one if the character happens to be in a different angle, since there are a number of them with asymmetrical features. It doesn't really bother me though, the art itself is pretty nice. The game isn't fully voiced, as the in-between moments employ stock clips, leaving you alone with whatever ambient music there is at a given moment.
You can hide the game UI with the Backspace key, for any screenshots. It doesn't hide your cursor, though. I'd say the text log is a little lacking. It works fine when you're in one of the voiced story beats since that's a section on its own, but I couldn't review a specific conversation from within the log itself. (check if it's in the watch). Some of the text is highlighted in yellow which you can consider key points. Not all of them will be actually "usable" in the "investigation" parts unless specified. Do-yoon will remember that.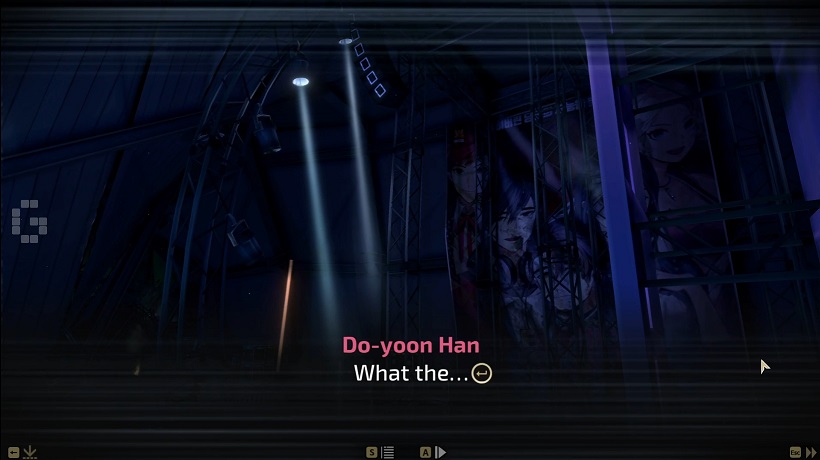 Characters have mouth flaps and various expressions as you talk to them. Helpfully, you get to see Do-yoon's face at certain conversational points, as you mostly will only see his back outside of key story segments. All in all, art good, menu functional as required, let's go.
GAMEPLAY
An unfortunate case with visual novels is the fact that the story is basically the selling point, so discussing the minutiae of why it's so good is difficult at best. And it is good, with a delicious hook for the mystery / thriller / drama fan in me.
Cue the lights, camera, and action. The titular Buried Stars is a "survival audition" reality TV show. We join the cast in the midst of interim announcements of a wildly popular Season 4, with five contestants left. The bottom two aren't the most enthused with their results, but nonetheless, all of them have their own supporters and detractors as social media does. The highlighted key words are already popping up in the opening sequence to tell you what your initial impressions of these characters should be.
The fancy veneer of that stage doesn't last though. All at once, the world crumbles away, and it would seem that our potential stars could be just buried instead.
Story wise, the main story beats can be influenced by your rapport with the other characters, and the conclusion of your investigative sections. I fret a lot over Do-yoon Han, our protagonist, as my desire to press every conversation topic has led him to be painfully low in sanity. I can hardly blame the guy: after seemingly getting pushed into various decisions he may or may not regret, on top of this disaster, is not treating his mental health well. Hitting zero sanity gets you a game over, as the tutorial informs. It can get pretty tough to properly recover any sanity besides making correct deductions, so, good luck to me! Considering the precarious situation the cast is in, also expect death from rubble. Totally not speaking from experience.
Shortly after the introduction, you will gain access to the show-sanctioned, sponsored smartwatch. The options will gradually open up to you, and I make it a habit to check them as allowed. Sometimes I just want to hear my beloved hyung's voice, you know? Even if Do-yoon doesn't regain sanity, at least I will… anyways, the limited nature of some of the watch's features reflect the various "conditions" and "rules" that runs Buried Stars, as a show. It can feel that you, too, have been made to adapt to these restrictions applied to you. After all, you signed on to the show, didn't you?
As enjoyable the story was for me, since I pressed every conversation I could, I got annoyed at several points when Do-yoong's dialogue doesn't change to reflect things that I learnt literal minutes ago. All I had to show for it was lowered sanity.
VERDICT
I wish the game had cloud save on PC, as I partially played the game on a different computer. Backing up the files did not seem to work, so the inconvenience did leave me a little miffed.
As I played it, it feels like I really have to work for that "as good as possible" ending, considering the situation. I don't have to like all of them equally, but they do have understandable motivations in the lead up to me meeting them. Even if you're unsure about the whole "investigative" process, any choice you've previously made will be marked out for you, so you can easily hit Restart on the main menu and work on uncovering the "truth" behind this "reality" show.
Buried Stars is in no way perfect. If you have any interest in drama, tension, and the ugly underbelly of reality TV and all its trappings, do give this game a shot and enjoy (?) the ride.
Pros:
Engaging story and characters
Good use of setting reflected in interface, art, etc.
Cons:
Log file somewhat lacking for further review
Would have really loved cloud save
Review code provided by LINE Games.
Buried Stars
Microsoft Windows, Nintendo Switch, PlayStation 4, Playstation Vita, Steam
A murder spree inside the collapsed site of an audition show! Reveal the hidden truth through Communication x Survival x Adventure
---
Check This Out Next
---