Military strategy game Conflict of Nations: World War 3 found a new way to market its game, as netizens reported seeing ads for the game that showed off its realistic world map, only with an interesting country named West Taiwan.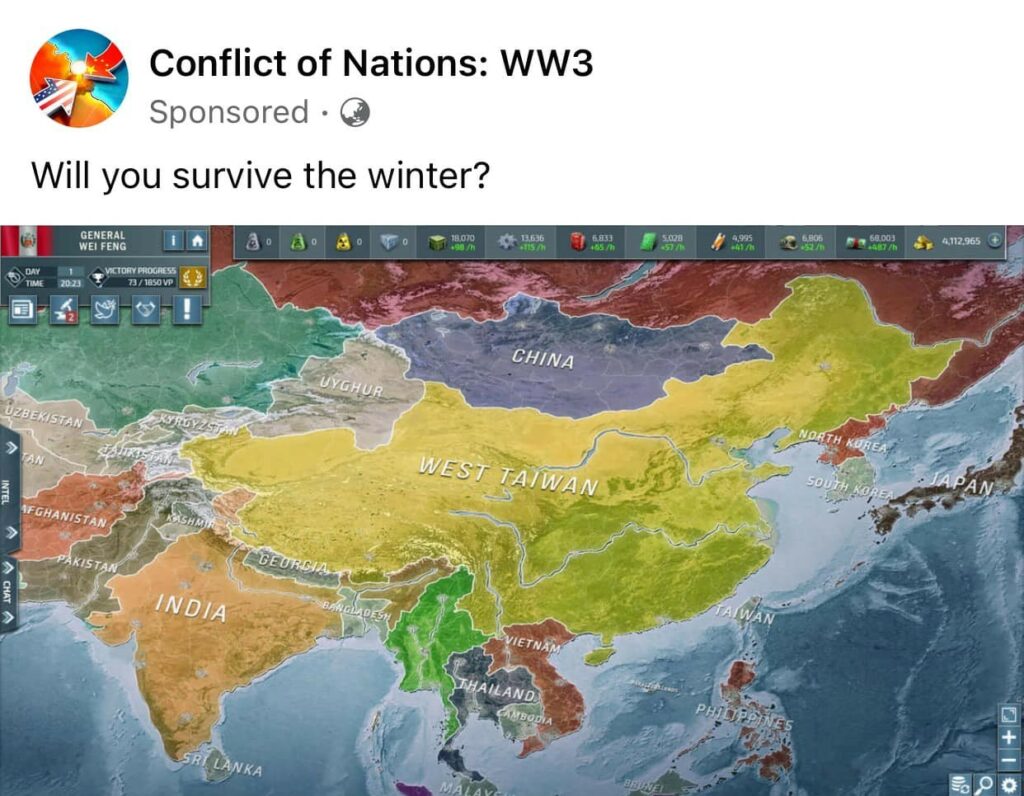 Mobile game ads are infamous for being overly provocative, and this seems to reinforce that in a totally different way- in a photo of the game's world map, you can see what appears to be deliberate provocation of the Chinese government,  such as identifying Taiwan as a country.
The marketing team does also go a fair bit further than that- Where modern-day China would be, Conflict of Nations has dubbed the whole mass of it as West Taiwan , which is in itself a meme spread online in protest of the Chinese government's tantrums whenever Taiwan is recognized as a country.
That's not to say they erased China completely, though. China is still on the map, over where Mongolia would be on your average map.
The map also mentions Uyghur- another region tied to negative sentiment of the Chinese government thanks to their Muslim concentration camps.
For those hoping for a game that actually goes all-in on the China protests though, don't get your hopes up. Actual in-game screenshots show the provocative map was nothing more than a marketing stunt, and the in-game map restores China to its geographical location.
China , West Taiwan And More
The Chinese government has been particularly trigger-happy on anything related to the Taiwan issue, claiming Taiwan and Hong Kong as territories under the Chinese government, which the two reject.
The issue has sparked controversy in gamer circles especially, after Hearthstone player Blitzchung famously called for their independence during a tournament, and once more when Vtubers Kiryu Coco and Akai Haato read Taiwan as a country while going through their viewer analytics.
Source: Wanuxi
Conflict of Nations: World War 3
Android, iOS, Microsoft Windows
This Long Term Strategy Game lets you take control of the armed forces of your nation. Become responsible for its military expansion, technological research and economic development. Form alliances and wage total war for global dominance on the battlefields of World War 3.