The first of the BanG Dream Roselia movies has put out a second teaser for the movie, along with a US release date and pre-sale for the tickets.
BanG Dream! Episode of Roselia 1: Promise will air in US theatres on May 22nd, and pre-sale of tickets starts April 22nd. No SEA release for the movie has currently been announced yet, though the fact that the movie is getting an overseas release as well bodes well.
Meanwhile, the movie will be screening in Japan on April 23rd. The second film in the series, Promise, is also set to air some time in 2021.
The teaser, posted to the BanG Dream English Twitter, shows footage of the various members of the band, vaguely discussing the Future World FES, and event that forms the central crux of the film. It looks like the film will cover the genesis of Roselia, starting with the girls forming one of the most visually unique bands in the BanG Dream series.
This isn't technically the first trailer for the movie, although it is the first to actually have footage in it. The original first trailer only showed key art of the Roselia girls, as well as introducing their voice actors. The Japanese trailers also show slightly more footage, including the movie's ending song, Proud of Oneself.
BanG Dream has many different bands, each with their own unique stories. The BanG Dream anime largely focuses on one such band, Poppin' Party. Its unknown if Bushiroad plans to do other movies to focus on any of the other bands present in the game.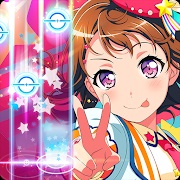 BanG Dream! Girls Band Party!
Android, iOS
Popular rhythm game in Japan! Tap to the rhythm of over 140 songs to choose from. Play both original and cover songs from popular J-Pop artists and anime songs! Play your favorite songs on a level of difficulty that suits you!
---
Check This Out Next
---