The much-awaited Azur Lane Pizza Hut skins are finally live! Available now until 25th January, be sure to grab it when it is still hot!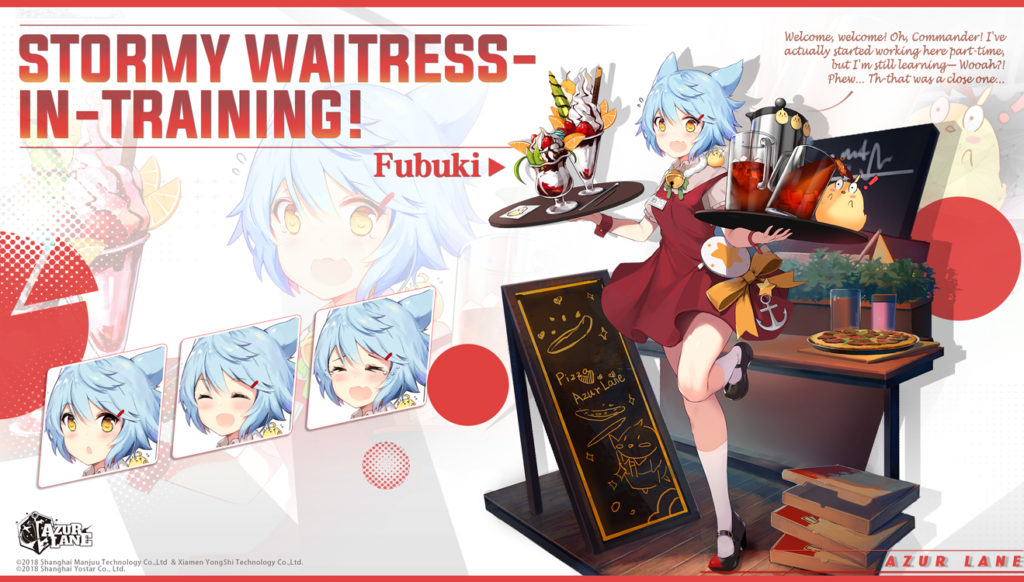 Belfast: Piping-Hot Perfection and Fubuki: Stormy Waitress-in-Training! make their way to our mobile devices. The Fubuki skin is obtainable for free by taking part in the Manjuu Pizzeria event and collecting points. As for the Belfast costume, Commanders can purchase it for 800 gems in the skin shop.
However, eagle-eyed readers might notice that despite being called a Pizza Hut collab, just where is the Pizza Hut logo in the images above?
Initially, the Pizza Hut collab took place in Chinese servers in May of last year. For English servers, it appears that Yostar might have faced issues during licensing. As such, there is no indication of the Pizza Hut brand in the illustrations above. For the Japanese servers, the Pizza Hut logo is present in the collaboration.
Unfortunately for players in the English version of the game, the Hornet skin of this collaboration (Hornet: Delicious Love!) will be unavailable. Japanese servers have access to the skin. Currently, it is unknown as to why the skin remains unreleased in English servers.
While the possibility of another Azur Lane Pizza Hut collab is still up in the air, we hope that Hornet: Delicious Love! will arrive one day for English players in the future. In the meantime, fans of the game can check out Azur Lane's new anime. Azur Lane: Bisoku Zenshin! is out now on Crunchyroll.
Azur Lane
Android, iOS
An ideal Naval Warfare game like you always imagined! ・A unique mix of RPG, 2D shooter and tactical genres combined in a beautifully designed anime game ・Easy and intuitive gameplay, built on the concept of 2D side-scroller, is the main feature of Azur Lane ・Organize up to six ships into flotilla, break through enemy gunfire and defeat them! ・Both AI and manually controlled battles are available, choose whatever you like! ・Build your own fleet. Azur Lane has a wide range of warships from all over the world. ・More than 300 ships, each with its unique stats and represented by a beautiful character! ・Live2D interaction technology is available for selected characters