Acar's new SpatialLabs technology lets users experience glasses-free stereoscopic 3D gaming with Predator Helios 300 SpatialLabs Edition. This new model of the Predator Helios 300 was announced earlier today by Acer, alongside the Acer SpatialLabs View and Acer SpatialLabs View Pro—two 4K displays which offers the SpatialLabs suite of experiences.
Predator Helios 300 SpatialLabs Edition — 3D Gaming Laptop
The Predator Helios 300 SpatialLabs Edition (PH315-55s) is a powerful gaming laptop that enables glasses-free, stereoscopic 3D gaming experiences. With the SpatialLabs TrueGame application, gamers can effortlessly play supported games in a 3D mode on the device, where details of the scene are brought to life. Rooms appear more spacious, objects appear genuinely layered, and adventures become more thrilling—all smooth, in real-time, and without the need for special glasses.
SpatialLabs TrueGame is a new application that brings stereoscopic 3D to the world of gaming, letting players enjoy their favorite titles in their true glory. This is possible because games are mostly created with three dimensions in mind: developers include information about depth into each scene and object they build. SpatialLabs leverages this already-existing information in order to present the games in stereoscopic 3D. A dedicated pre-configured profile will be available for each game title among the 50+ modern and classic titles on launch in order to offer players a seamless experience with their favorite games, and profiles for additional titles will be added on a continuous basis moving forward.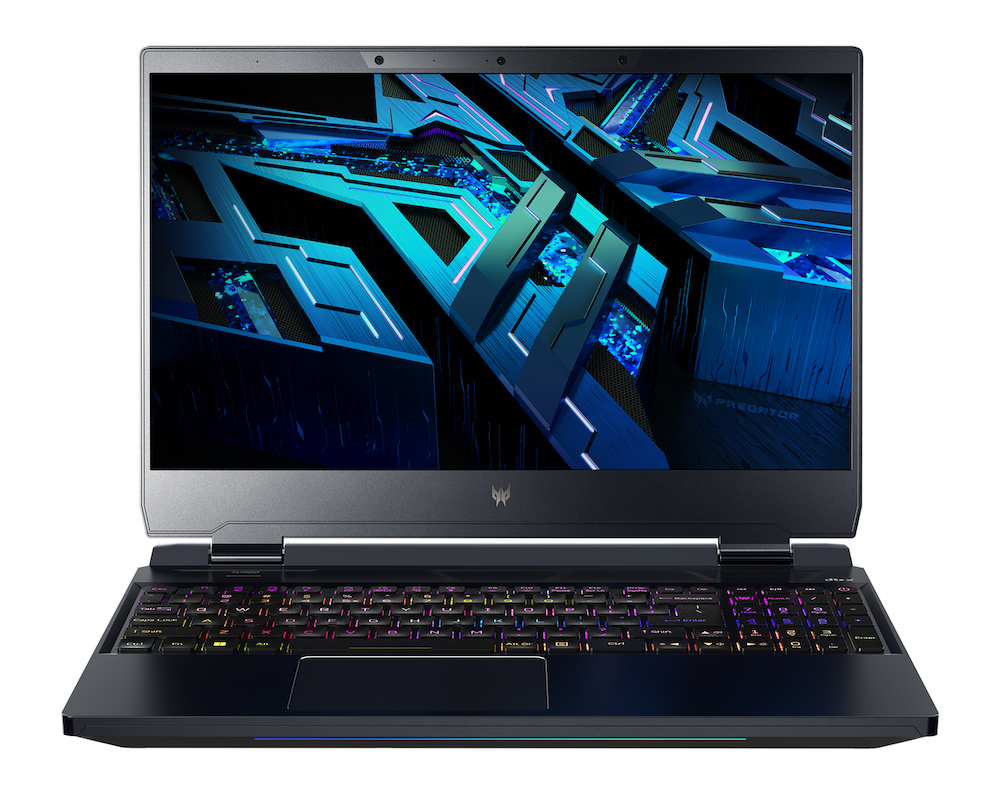 The SpatialLabs experience is created through the combination of an eye-tracking solution, a stereoscopic 3D display and real-time rendering technologies. The display of the Predator Helios 300 SpatialLabs Edition gaming laptop consists of a 15.6-inch UHD 2D panel with a liquid crystal lenticular lens optically bonded on top of it, together forming an innovative module that can be switched back and forth between 2D and stereoscopic 3D views.
To power these exciting real-time 3D experiences, the Predator Helios 300 SpatialLabs Edition features up to 12th Gen Intel® Core™ i9 processors, NVIDIA GeForce RTX 3080 Laptop GPUs, 32GB DDR5-4800 memory and PCIe Gen 4 NVMe SSDs RAID 0 storage. A dual-fan layout that includes one 5th Gen AeroBlade 3D fan helps to keep the system running cool, further supported by liquid metal thermal grease and Acer's CoolBoost™ technology.
Running Windows 11, the laptop comes with Killer DoubleShot Pro and Wi-Fi 6E (E2600+1675i) connectivity in addition to a healthy range of ports, including an HDMI 2.1 port for connecting to external monitors, a Thunderbolt™ 4 port, and two USB 3.2 Gen2 ports.
It will be available in North America in early Q4, starting at USD 3,399.99; and in EMEA in September, starting at EUR 3,299. You can learn more about the Predator Helios 300 SpatialLabs Edition here.
SpatialLabs Go — Transform 2D Content Into Stereoscopic 3D Content
Acer's proprietary solution SpatialLabs Go features AI technology that makes it possible to generate stereoscopic 3D content from almost anything that can be displayed in full-screen, all at the press of a button. Photographs pop off the screen, simple web games become a bit more exciting, and videos (online or offline) take on another level of immersion in real-time. Perhaps most importantly, you can generate your own content, by taking some photos or videos with your devices, and once the assets are imported onto the system, you are able to use SpatialLabs Go to generate simulated stereo 3D images.
SpatialLabs Model Viewer — A More Intuitive Way to Create in 3D
While the Acer SpatialLabs View comes with an all-new stereoscopic 3D gaming platform, the Acer SpatialLabs View Pro comes with both the technology necessary to realize a user's creations and also an intelligent industrial design that simplifies deployment — a combination that leads to more impactful storytelling opportunities.
The Acer SpatialLabs View Pro is about making creators' lives easier. To this end, out-of-the-box support for all major file formats, including newly added support for Datasmith, means that creators can use 3D design software such as Revit, Solidworks, and Cinema 4D by installing Datasmith export plugins: when a project is ready for viewing, it can be imported into the SpatialLabs Model Viewer. Sketchfab integration further simplifies the creation process by giving users access to a massive online library of free and premium 3D assets that can be leveraged for their own projects. As color accuracy is critical for design work, the View Pro's 15.6-inch 4K display covers 100% of the Adobe RGB color gamut.
Not just a tool for creating 3D assets, however, the SpatialLabs View Pro empowers developers with a variety of means to share and display their creations:
Content can be quickly loaded for sharing — whether that's to get feedback from a colleague in the office or to give a customer a true-to-life visualization of the item they're interested in

Those working in sales or marketing will appreciate the Acer SpatialLabs View Pro's slim and portable design: less than 1.5 kg (3.3 lbs) it's easy to take on the go, and a collapsible kickstand makes it possible to set up shop virtually anywhere

A VESA mount makes it easy to affix the Acer SpatialLabs View Pro to kiosks and point-of-sale displays when the situation calls for a more permanent setup, while Ultraleap hand-gesture recognition allows customers to enjoy an even more interactive experience
As with previous SpatialLabs devices, the Acer SpatialLabs View Pro includes several additional add-ons to improve the workflow of 3D creators. The creation can be taken from the 3D software and launched in SpatialLabs Model Viewer with just one click. In addition, Maya and Blender users can connect and edit on a 2D screen while observing their changes being rendered into stereoscopic 3D on the Acer SpatialLabs View Pro — all simultaneously and in real-time.
The Acer SpatialLabs View (ASV15-1B) will be available this summer starting at USD 1,099. More information about these technologies and the list of supported game titles are available here.