The reboot of the Saints Row series is simply Saints Row, launching later this year on 23 August 2022. I had the chance to sit in for a hands-off preview drive through the sights of Santo Ileso, so let's get into it.
Later, do read up on the roundtable and deep dive interview with the Volition team here.
---
WELCOME TO SANTO ILESO, JEWEL OF THE RIO SALINAS
Dubbing itself the "biggest, boldest, brassiest, ballsiest" Saints Row game yet, this reboot features new Saints in the city of Santo Ileso. It has nine districts, with their own unique feel, promising a vibrant world that rewards exploration. The open world is meant to feel both familiar and different, populated with enemies and locales to wreck havoc in.
In the beginning of the story, the titular "Saints" don't even exist, merely four roommates from rival factions who are struggling together to make rent, doing their usual petty crime run to pay the bills. Since you're meeting some fresh faces, you need to start getting to know them, and even from this relatively brief segment, I get their "vibes", the typical banter between friends who have their little quirks that you would mercilessly roast, but love them anyway.
RIDE OR DIE
Your current mission will be on the top left, with an indicator for nearby Threats (e.g. one of the rival factions). Sideswiping is a new addition to vehicular combat wherein you can juke into cars and run 'em off a la Burnout, doing more damage as you hit the accelerator. Both theirs and your own ride will get visible damage and denting, preferably theirs as they crash and burn into the ditch. If you don't fancy them cars, grab a dirt bike and speed across the desert!
Your arsenal can be chosen from a radial menu, with respective Challenges attached to the weapons. For more pizzazz to your combat, you can have skills and finisher moves to create "one of the most varied combat Saints Row has ever seen". Pineapple Express sounds totally innocuous, except when you get grabbed, have a 'nade shoved down your pants, and flung into the air.
WHO'S YOUR BOSS
You may not start out with all the glitz and glamour, but you always gotta cultivate that style from the start. Boasting over 100 emotes to use, I see one where you can pull out an acoustic guitar and play a little tune for the ambient crowd, or have some walking emote to show your swagger. It's a nice detail to show the life you can experience in the city.
Customization has always been a Thing for Saints Row, and rest assured, you'll get it. The Style app in your phone allows you to change your looks anywhere, anytime. Get a Boss preset, or pick one from the community creations, or just swap to one of your other favourite fits you've saved, whether in whole, or in part. The options I saw included:
Outfit
Body
Skin
Hair
Head
Face
Tattoos
personality
Once you're done sprucing up, keep going and encounter a Discovery. These are typically smaller things you stumble upon, like an armoured car you blow up to pick up some cash. This increases your Notoriety Level, that can go up further if the cops manage to make a backup call. You could interrupt it, or watch the mayhem escalate with SWAT teams – whose shields you can snatch when they drop it – or simply book it. The cops can become a Threat, for you to find and destroy what cars are pursuing you. I didn't see a visible indicator to check if they're still hot on your tail or not.
PART-TIME BADDIE
Discoveries can spawn ambiently, but sometimes you really need more than just some explosive pocket change. Here's where Side Hustles come in, being repeatable activities that can reward cash, EXP and unlocks.
In "Riding Shotgun", you do quite literally ride shotgun, tasked with gunning down whoever's coming after your client. You can hop onto the roof of the car – this one being a nice little sedan – and start firing away, which naturally makes you more vulnerable to retaliation. If you want to use your full arsenal of toys, you gotta car surf, but if you need to heal up, duck back in.
Side Hustles are meant to be your introduction to game mechanics, besides the weird and wonderful underbelly of crime of Santo Ileso.
JUST ONE MORE TWEAK…
The fashionistas have even more options when they stop by the clothing stores in the districts to suit up (or down). Returning favourites and new themed stores offer a dizzying catalogue of choices, from cowboy to firefighter, that you can equip right away when you're really feeling it.
Use your Map to check out the specialty ships, services, Venture progress, threats, side hustles, discoveries, stories, hourly income… and set your destination to head off. Ventures are part of establishing fronts for your criminal empire.
Before we get into that though, let's have a swing by the garage for your vehicle collection, with an all-new vehicle system promised to work like a dream. With 80 possible vehicles and their respective presets, they come with their own Challenges, much like weapons. These vehicles have their signature abilities aside from their potential max speed, performance, durability and off-road stats for the nitty gritty. You could have a car with thrusters and an ejector seat, launch yourself into their air and take flight via wingsuit, then bounce on some unfortunate heads for height, or land on someone's car and hijack them from the roof. The choice is yours.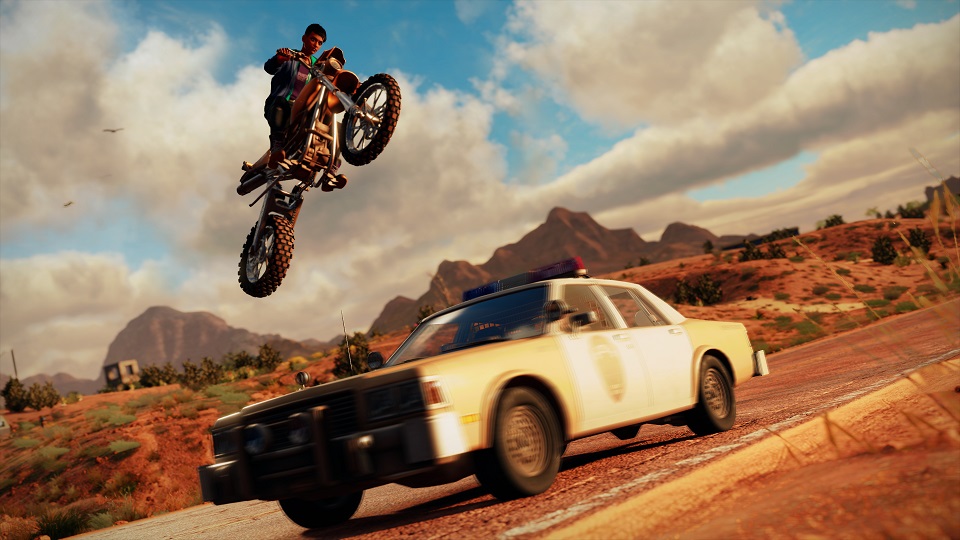 Of course, who can miss out on the resplendent mods you can do to your car? From the base preset, start working on:
Paint

Styles: Standard, Cutting Edge
Body
Trim
Rims
Custom colours with metallic or glassiness sliders
Decals
Interior
Underglow
Glass tint

Body

Antenna
Front bumper
Rear bumper
Fender
Hood
Mirrors
Roof
Sideskirts
Spoiler
Wheel covers

Tires

Extra high / high / normal / low / extra low profiles
Size
Width
Tire type
Rim type

Audio
Equipment

To toggle on / off Nitrous (for the Raycaster), off-road kit options, towing cable

Upgrade kit
Signature ability on / off
ARE WE THERE YET?
Tourist assault helicopter aside, you can head off to do 25 "Critical Path" missions – which are essentially the main story missions – and 10 Side Missions. These missions will be where you can know your friends better; you're all meant to be the Saints after all.
When you engage in inevitable combat, you can set up your 4 skills that can be swapped out at any point. You can unlock them by gaining EXP, and require "flow" to use, for all your explosives and shit. In addition, you can equip Perks, obtained from completing Challenges. You'd like to tweak these according to your opponents, like how the Los Panteros are known for using fire, so some resistance to that sounds good. Your actual weapon loadout is adjusted at HQ.
There are crosshairs for targets and grenade indicators for visual cues. For something like the sniper rifle, the ammo count is right under the crosshair, a personal preference of mine, really. As with the vehicles, the weapons have signature abilities, also unlocked through Challenges. Your pistol could be a machine gun pistol with its associated ability.
Factions have unique enemy types and combat style. Los Panteros is built around strength, with grunts who like to get into melee range, one who charges into you, mini bosses and Specialists. Completing these missions can get you the usual money, EXP, associated vehicles where relevant, a boost to your friend's combat ability, and a fixture like a helipad at HQ.
HEART OF OPERATIONS
Finally, we arrive at Saints HQ. The abandoned church at the heart of the city isn't a looker to start, but it will grow as you do, giving you access to your weapons, friends, vehicles, and of course, can be customized. Customization includes over 100 unique props, with the gamut of massive statues, neon signs, arcade stands, whatever you're allowed to get your hands on basically. Meanwhile, your friends may offer you nuggets of insight, or you could simply hang out with them.
The weapons cache does about what you expect: buy ammo, fine tune their features… the menu is pretty similar to vehicle modding. Play around with signature ability toggles, or customize their looks – foam finger guns anyone? – material, colours, surface, decal, patterns… go wild.
The Boss can get more makeover sessions here too. Adjust that body build from your figure to chest size, prosthetics or your modesty stickers, face scars, makeup… you get the idea.
Last but not least is the Wartable. Build up your criminal Ventures, with 14 potential vacant lots to build up your fronts. These unlock new gameplay, and paves the way for district takeovers. ChopChop, Insurance Fraud, Drug Trade, and the like can be played once you unlock them once you pay up quite the hefty fees, potentially costing $400,000 to start up.
AN ASIDE FOR MAYHEM
Mayhem is one of these 'new gameplay' options you can unlock from a Venture. You'd like to complete the relevant instances to complete said Ventures for those district takeovers.
This time, the player is tasked to just blow up stuff and get the money rolling in, with drop-in, drop-out co-op if you so wish. Potentially quite literally even, if your friend arrives in a helicopter, towing you off in the air, and depositing you at your location. Rival factions may crash your Venture instance, which I'm sure you'll take care of easy. Get cash and EXP on completion, with crew upgrades possible once you complete Ventures.
IDOL CULTURE
To close off, here's a little peek at the Idols faction. The Collective leaders look like some nasty offshoot of Daft Punk, and they're willing to kidnap your friend. Break out the stops with perks capable of tasering your foes if they land melee hits on you, an actual flaming punch, Dual Wield your SMGs, the possibilities are certainly There.
Use a guy in a port-a-potty as a wrecking ball while you interrogate him, sure, why not? Blast your way through the Raver once their batons are down, use a Thrustbuster rocket, shoot through walls with the Quantum Aperture, party it up with the Pinata Gun… they have tricks like inflicting Blacklight Blind to turn your vision dark and make you see outlines in neon, but that's not gonna stop you, is it?
FESTIVITIES AWAIT
That's pretty much all the preview had for me for Saints Row 2022. It's quite a lot already, with what feels like limitless potential as one would hope with the zany background this series has.
Do check out our interview with the developers here for more insight into building Santo Ileso, and be sure to book your ticket for the next chapter of the Saints come 23 August 2022, for PS4, PS5, Xbox Series X | S, Xbox One and PC via Epic Games.