The previously announced WWE Battlegrounds / WWE 2K Battlegrounds will also be made available for the Nintendo Switch! The game is a completely new WWE gaming experience that will feature arcade-style action and over-the-top Superstar designs, environments and moves. The game will be focused on social pick-up-and-play fun, while still offering depth to those who look for it.
Enjoy the WWE video game action in a new way with WWE 2K Battlegrounds! The game is being developed by Saber Interactive, the same studio behind NBA 2K Playgrounds. The fall 2020 release has been confirmed to be for 18 September 2020.
Features include:
Exhibition:

Brawl with ease in Exhibition matches at home or on-the-go, anytime and anywhere, in local and online multiplayer action for up to four players.

Campaign:

Brawl to the top as you join the adventures of seven new WWE hopefuls – created exclusively for WWE 2K Battlegrounds – in Campaign mode and compete for the chance to earn a WWE contract. Along the way, you'll unlock new arenas, inspired by extreme locations such as the Everglades, a military-style Bootcamp, Mexico, New York and Scotland, while receiving guidance from legendary personalities including "Stone Cold" Steve Austin® and Paul Heyman™.

King of the Battleground:

Brawl with the best in the King of the Battleground, an online, last-man-standing mode where four players start in the ring while four more wait outside to enter, challenging you to run the gauntlet and defeat them all.

Online:

Brawl all over the world in online tournaments and Exhibition matches.
WWE 2K Battlegrounds is available now for pre-order in Standard Edition (MSRP $39.99) and Digital Deluxe Edition (MSRP $49.99). Players who pre-order the Standard Edition will receive WWE Hall of Famer Edge at launch. The Digital Deluxe edition includes Edge, as well as all versions of "Stone Cold" Steve Austin, The Rock and Ronda Rousey unlocked at the beginning of play, plus 1100 bonus Golden Bucks, in-game currency that can be used to unlock Superstars, as well as cosmetic items.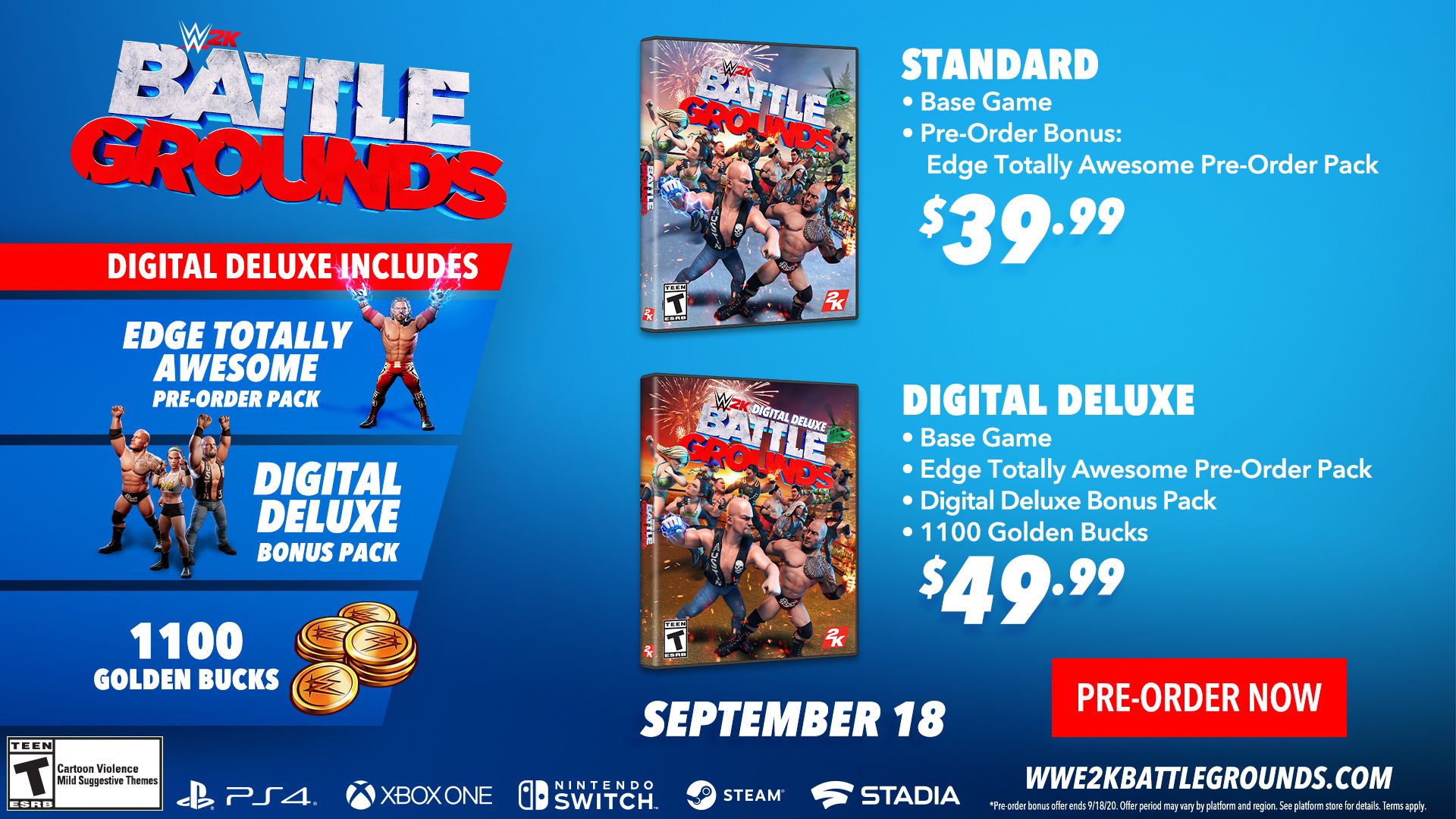 Learn more about the game here. While the Switch version is confirmed, there's no mention of cross play for WWE 2K Battlegrounds at this time of writing.