During an online award ceremony for Germany's Red Dot Awards, globally known as the Oscar's of the design world, the list of winners was announced. Selected from among 4,170 entries from 52 countries, vivo's design of IFEA (Interest, Free, Explore, Amazing), a detachable camera, won its industrial design team the Red Dot Award for Design Concept. Demonstrating vivo's excellence in product design and leading innovative technology, this award is a major achievement for vivo, which is one of the few Chinese mobile phone brands to have received a Red Dot Award in the last three years.
Germany's Red Dot Award is known as the Oscar's of the design world. With origins dating back to 1955, it is one of the internationally recognized top awards in global industrial design, alongside the iF Design Award, which is also from Germany, and the International Design Excellence Award (IDEA) from the United States.
The Red Dot Award for Design Concept is currently the professional design concept award with the largest scale and of the highest prestige. It focuses on the creative conceptualization phase of a design before the product takes shape, and indicates future design directions and trends.
Upholding its company spirit and pursuit of "simplicity to keep all stakeholders happy," vivo is committed to expanding the boundaries of its product features through technological innovation, to provide users with outstanding and ultimate experiences. vivo has been rolling out generations of stunning and delightful phones that employ technologies such as In-Display Fingerprint Scanning, the Ultra FullView Display, AI Super Wide-Angle, the Gimbal Camera System, and the latest detachable camera. vivo's award-winning IFEA is full of hidden surprises, setting another innovative design trend with a camera stowed away at the top of the phone.
The IFEA Detachable Camera Has An Eye-Catching Design And Meets User Needs In Multiple Scenarios
In transcending mindsets, vivo has achieved a breakthrough in photography and videography freedom in the 5G era with IFEA, by modifying the conventional mobile phone camera that is fixed in place. The detachable camera is stowed away at the top of the phone so the user can remove the camera when necessary and control the camera remotely. vivo's IFEA is an interchangeable camera module that offers users a variety of shooting modes for unprecedented fun when creating:
Fisheye Lens and Super Wide-Angle exceed a person's field-of-view
Wide-Angle and Near-Zero Distortion capture a wide range of scenery
Telephoto Lens and Macro World bring faraway subjects up close
Normal Lens and Fun Shooting give users freedom when shooting people and scenery.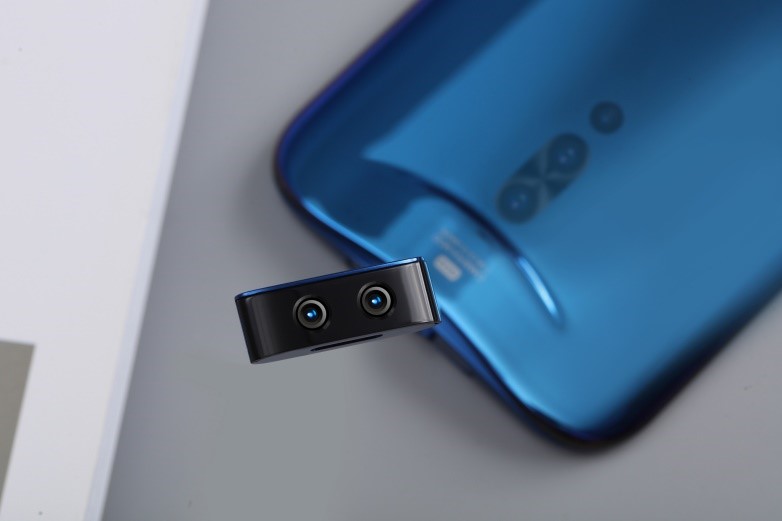 Additionally, vivo's IFEA caters to four common scenarios with innovative shooting angles and positions: shooting from first-person and unusual points of view, a virtual shooting assistant, and multi-camera simultaneous shooting. The detachable camera boasts portability, playability, high acceptance, and good quality at a good price. For first-person point-of-view shooting, the compact size of the detachable camera makes it more portable than an action camera.
To capture unusual points of view, vivo's IFEA allows creative users to try out new shooting techniques with the horizon line or low-angle shots. The virtual shooting assistant satisfies the rigid user demand for selfies and group photos, and enables time-lapse shooting and creative compositions.
Comparable to professional equipment, the camera also meets the higher requirements of professional users and vloggers to shoot simultaneously from multiple cameras.
vivo Continually Strives For Ultimate User Experiences As Part Of Its Ongoing Consumer Orientation
Committed to user experiences, vivo has designed the IFEA detachable camera in a way that fully demonstrates its ongoing consumer perspective and ultimate pursuit for details. The dedicated magnetic stand for vivo's IFEA also serves as a charging slot for the camera; equipped with a waterproof protective case, the portable power source can also be used as a cradle; the convenient magnetic clip-on design allows users to wear the camera in various situations; and the complete voice control provides a brand-new hands-free shooting experience.
In line with its core values of "Benfen, innovation, and consumer orientation," vivo continues to explore the joys of humankind. vivo believes that products must have warmth despite the coldness of technology, and thus appealing products can only be truly created by combining technology and humankind.
Its design concept is not just about design-driven product appearances and structures, but also about designing consumer experiences. Its Ultra FullView Display broadened the view of users; its Gimbal Camera System technology brought incredible image stabilization to cater to a generation of vloggers; and its detachable camera realizes freedom in shooting from different angles in the 5G era. vivo's mission is "to design products that appeal to users, so more people can connect to the world and enjoy the beauty of creation." It seeks to consider ultimate user insights in depth and constantly explore innovative fields of design.
In the future, detachable cameras will be widely applied in the navigation of real scenes, somatosensory games, multi-screen videos, and AR fitting mirrors. vivo has won the 2020 Red Dot Award for Design Concept because of its solid core technology and history of innovation, constant pursuit for excellence, capabilities in product creation, and empathy for the inner world of users. These are qualities that lead the 5G era and help build a sound and sustainable future for the industry.