Netease Games and Warner Brothers Interactive Entertainment has announced the second closed beta test for Tom and Jerry: Chase, their fast-paced and wild 1 v 4 asymmetric battle game. The closed beta is open today in Malaysia and Indonesia on Android, in Bahasa Indonesia and English.
The first closed beta for Tom and Jerry: Chase was open in Thailand and Indonesia, and received much praise for its joyful gameplay, cute characters, varied maps and exquisite 2D graphics. Join in 8-minute multiplayer battles as either cat or mouse. Team up to play as one of four mice and work together to snatch the cheese while evading the cat, or take Tom's side to help him win over the mice once and for all.
This second closed beta has implemented a variety of changes in bug fixes, and reducing network lag for a better gameplay experience for lower-end mobile devices. Paid transactions are also available in this closed beta to purchase diamonds, the weekly and monthly gold pass and more. Obtain premium skins such as the Virtuous Vigilante for Mouseketeer and Baker Street Detective for Detective Jerry along with fun features such as Perk Cards, which players can draw to enhance character abilities and Magic Mirror where players can get avatar frames and stickers.
While all data will be deleted at the end of the test, any top-ups made will be rebated at a rate of 120%.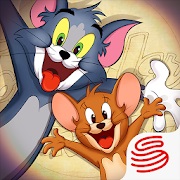 Tom and Jerry: Chase
Android, iOS
Tom and Jerry: Chase is a 1v4 casual mobile game with competitive elements, officially licensed by Warner Bros. and presented by NetEase Games. The game perfectly recreates the art style of the original classic. Players can choose to play as Jerry or his friends in their effort to steal cheese, or play as Tom to stop them from succeeding. Who will win in this battle of wit and might? Join over a million players and dive into the ultimate game of cat and mouse. Feel the thrill of the chase!