The Wandering Village meanders into Steam Early Access 14 September. This charming title from Stray Fawn Studios is a Kickstarter success story, surpassing its goal within 24 hours back in 2020. The game is, in essence, a city-builder sprinkled with "rogue-like" elements. Your villagers have made their home on the back of a sentient creature known as Onbu, and together, man and Onbu traverse the world avoiding toxins and trying not to die in general.
OPTIONS
When it comes to tweaking the graphics, it's quite basic, easy enough to list:
Resolution

Fullscreen

Target FPS

Vertical Sync

Shadows

Anti-aliasing
What's more interesting is the Twitch chat integration: connect to your stream and your villagers can be named by chat, and your viewers can also decide Onbu's movement.
REMEMBER Nausicaä
The game's inspirations are pretty clear. The colour palette is wonderful, strongly invoking nature, with the bright, lush green spots, with spots of murky darkness from infested, poisonous areas. The music is quite calming, but I do feel it quickly turning foreboding once you start hitting rough patches. There's not much I feel I can say about its looks; you can see it for yourself.
The menus are serviceable: they're legible and aren't cluttered. I've played the demo before; aside from some tweaks to sprites, it's just about what I remember of it.
AND SO ON ONBU, HELP ME
As mentioned, the game has rogue-like elements, with the primary gameplay being a city builder. The randomness basically consist of the following:
Random distribution / placements of resources on Onbu
Nodes / events on the overworld that may grant resources or be event encounters that may offer choices with semi-random results, drawing from a pool related to the node
The biomes that Onbu may walk past
All the while, you'll need to be managing your villagers and Onbu. What's good for the people does not equate to something Onbu likes.
VILLAGERS
The little guys will be needing housing and food, and medication should they get poisoned. Death awaits them should they fall too ill, or starve. If they're not happy, they'll leave Onbu too. If you happen to come across settlements to recruit more people, they're unlikely to join you if the satisfaction threshold isn't met either.
They can't really have specialized roles at this state. It's more like having the buildings in place and assign a number of people to work at it. Some buildings require a fixed number of people to be at it, so there's less flexibility there. The Worker Post can allow you to set a number of villagers to prioritize certain tasks, but honestly I found this fiddly at best. The game allows you to set certain areas or actions to be high priority, but if I didn't have the materials, I find it hard to tell if they're properly processing the things needed to get it done.
To explore overworld nodes, you'll need the Scavenging Post to be able to send out teams to get the goods.
VILLAGE
Time is needed to research more new buildings, and sometimes Knowledge that will have to be scavenged from the overworld. Being on Onbu, your starting resources and space is already quite limited. Fortunately, deconstruction is possible, and villagers will automatically remove anything in the way of the construction site. That's not as handy as it could be, as buildings will naturally have certain requirements. Farms, for one, want green grass so that you can mark the planting plots. Certain Onbu-related buildings can only be built near the edges, or Quarries only able to be placed adjacent to the rocks on Onbu's back, that kind of thing.
I tried to have roads to make the little guys walk faster, but with only basic dirt ones, it's hard to tell if it's effective. Whatever the case, make sure to have your resource collectors and farms all under way as certain spots of weather and biomes are going to affect the village. It could be the temperature messing with your crops' growth, the desert stopping all water collection, or even freak storms that destroy your buildings. That's not forgetting the clouds of poison that can infect everything on the surface: harvest them on time or burn them before they spread too far, or your villagers are going to fall sick and die. Hope you have doctors or buildings that can protect them!
There are buildings that can drill into Onbu to extract more resources, which won't make it happy. Speaking of Onbu…
ONBU
This gentle colossus is a living being that walks along straight paths. If it trusts you enough, you can issue it commands, namely, changing direction at crossroads, or having it sleep. You must keep it well fed and healthy, and of course, have it trust you. Not listening to commands to change direction is one thing. When it gets real mad, it'll shake its back and destroy your buildings. When provided the opportunity, or just simply not being taken care of well enough, it'll just sleep and eat when given the opportunity.
The whole symbiotic relationship ain't just for show.
MAP
Split into colour-coded biomes, each of the areas have their respective temperatures and humidity to make managing your resources a miserable affair. Scavenging could be the difference in having the necessary resources or Knowledge for research. On occasion, there will be random events with multiple choices for goodies or just a bad time. Postponing your choice is allowed to a certain point for some events, otherwise they will time out.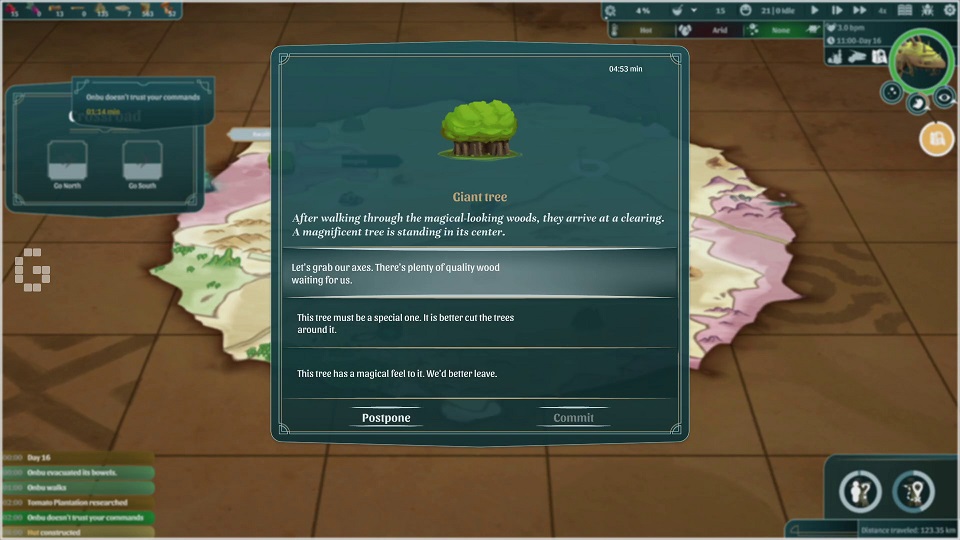 #ONBUSTRUGGLES
The funniest thing to me is that Novice is deceptively hard due to not having difficulty modifiers. For Adept and above, you can set it to not have your Villagers or Onbu die, which gives you the chance to practice your prioritization. I think there's quite the steep learning curve at this stage. One misstep feels like it could snowball out of control rapidly. See, while I could ignore my villager's needs to a degree and Onbu wouldn't die, that doesn't mean either of them are going to be happy. Onbu broke all my stuff and my villagers spent way too much time trying to repair and I couldn't get anything up to make Onbu happy, and it just collapsed from there.
While there doesn't seem to be too many mechanics, it's those few that are so intertwined that should one piece fail, everything goes.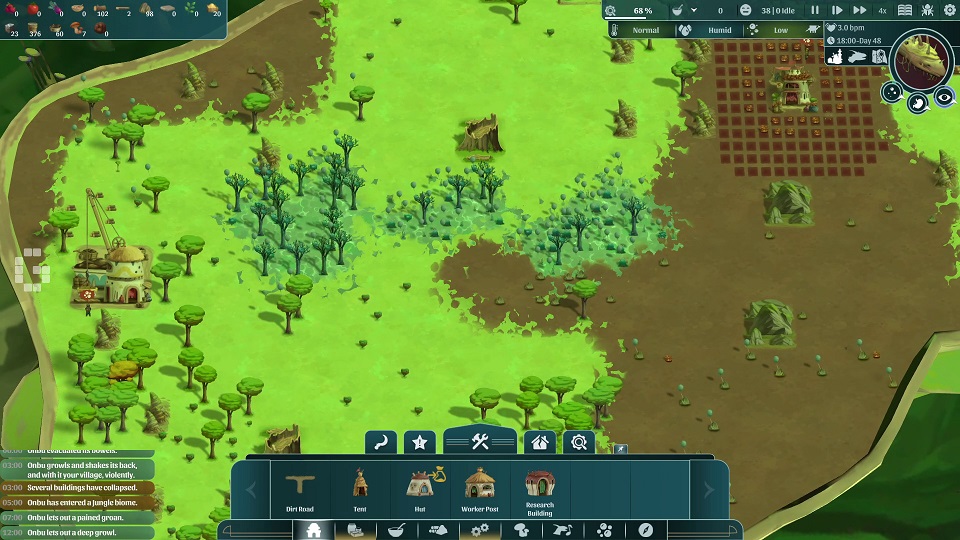 CLOSING THOUGHTS
Being terrible at the game does not help with the sheer pressure in keeping things afloat. For those of you looking for a challenging city builder spiced up with random elements, I will recommend The Wandering Village. There's no story as yet apart from migrating to greener pastures away from poison, so it's like an endless city builder where you survive as long as you can, till this changes in future updates. Hope you don't mind restarting repeatedly when you encounter some suboptimal layout.
Good luck, take care of the colossus, and don't die!
---
Check This Out Next
---