The Acer Nitro 5 AN515-44 got announced tonight, a gaming laptop built to fill the needs of gamers on a budget! It's gotten a facelift from its older model, with of course, updated specifications like the AMD Ryzen 7 processor. While it doesn't necessarily equal the other gaming laptops under Acer's arsenal, it can still be stiff competition!
WHAT'S NEW?
The Nitro 5 gets a 15.6 inch screen compared to its predecessor's 17.3 inches. It does become a FHD IPS 1920 x 1080 panel, with up to 144Hz refresh rate and response time of 3ms. It's now also a 300-nits panel compared to the average 275-nits of past year.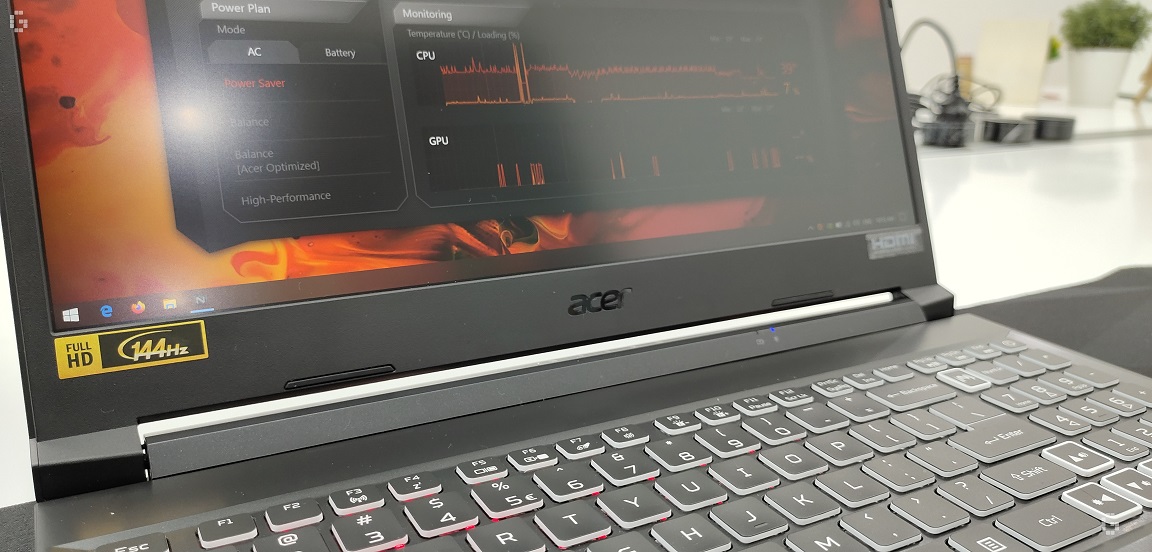 The gaming laptop packs an AMD Ryzen 7 4800H, with NVIDIA GeForce GTX 1650 Ti and 4GB GDDR6. It will also offer two SSD M.2 PCIe slots and already can have up to 1TB HDD and 256GB SSD. The AMD Ryzen 7 4800H is better than the Intel Core i7-10875H too.
APPEARANCE
The new Acer Nitro 5 hasn't changed much looks wise, besides getting a darker Acer logo and a black finish that seems to shine. If you observe it from the back, it has a more "aggressive" and "fierce" design with a reddish finish that makes it look more like a "gamer" machine. The hinges are also finer than its predecessor.
The keyboard has the same RGB lightning which stands out more at the WASD and arrow keys. The colour zones are customizable through the NitroSense app, but otherwise maintains the black and red design of the Nitro 5.
MORE ROBUST COOLING TECHNOLOGY
The previous Acer Nitro 5 can get a little heated, and this is more mitigated in its successor with several innovative thermal solutions to maximise the cooling efficiency even under heavy use. The Nitro 5 is equipped with a dual-fan system that utilizes the strategic placings of the intake and exhaust ports, along with four thermal vents to improve the cooling efficiency by 25% compared to the 2019 model.
It can be further optimized with CoolBoost technology that can increase fan speed by 10%, and cools the CPU/GPU by 9%. The 2020 model also carries Intel Wi-Fi 6 AX201 (802.11ax) and Killer Ethernet E2600 for better stability and network performance, so you can enjoy the cooling to its absolute best. If you've felt the older Nitro 5 has always been too hot, there shouldn't be much of an issue with this newer model.
PERFORMANCE
GPU wise, the Nitro 5 is equipped with the NVIDIA GeForce GTX 1650 Ti with 6GB GDDR6 RAM. It doesn't have RTX support, but it's still one of the better graphic cards out there. You can check it out in action with FIFA 19 below:
The GTX1660Ti will be more than sufficient for most games, though the settings will have to vary at medium for some titles for more consistent frame rate. If you want something more powerful, you'd be better off looking to the Predator series. Otherwise, the Acer Nitro 5 comes with Intel Wi-Fi 6, 2×2 MU-MIMO technology that will automatically detect your games, videos or livestreams to prioritize the best connection for a lag-free experience. Connectivity options include 1x USB 3.2 Gen 2 Type-C, 1x USB 3.2 Gen 2, 2x USB 3.2 Gen 1, HDMI 2.0 and 3.5mm jack. The power port has also been moved to the back.
CLOSING THOUGHTS
As a whole, the Nitro 5 is geared towards users who are new to gaming laptops, or they're on a tight budget but still want a gaming laptop. With additional features such as Triple Storage slots, it has its own niche amongst the other Acer gaming laptops, with more than enough storage for most game titles, handy additions and improvements at a reasonable price.