So did you recently watch Moon knight? Did you find the main villain of that show to be intimidating? Well, how about a movie where his actor plays a serial killer who kidnaps a child and locks them in his basement? Well, that's Scott Derrickson's latest horror feature: The Black Phone, and it's pretty scary.
Based on the short story by Joe Hill (Stephen King's son who looks just like King when he was younger), the movie taps into a more realistic type of horror, a serial killer that's less of a monster and more of a disturbed human being in a chilling look at child abduction and psychopathy with a supernatural twist that'll leave you guessing until its startling conclusion. 
Kids Are Disappearing
Set in the 1970s, in small-town America, children keep disappearing one after another. Our protagonist Finney (Mason Thames), a bullied young boy is the unfortunate sixth victim of 'The Grabber' (Ethan Hawke) a mentally unstable man who keeps his face mostly hidden under an assortment of masks.
Finney is locked in a soundproof basement with nothing but a black phone, and he starts to receive phone calls from the ghosts of the dead victims. Together the ghosts attempt to give the boy all the information they have so that he can escape where they couldn't.
While all this is happening Finn's sister Gwen (Madeleine McGraw) is having psychic dreams about her brother in the basement and attempts to help the police find him from the outside.
From this premise, you can tell the film has a pretty intense tone. While it admittedly has a couple of jumps scares that are irritating, for the most part, the film does a great job at creating an atmosphere of fear and uncertainty. The Grabber could easily come in and murder the kid at any moment creating not only a race against time until he does but also questions about why he hasn't. It is his own psychosis stopping him or something darker than that.
This sets up an engaging cat and mouse game between the boy, the killer, and the police. The ghost however added a new layer of innovation to the abduction story. In most kidnapping movies, the victim is fairly helpless but with the ghosts teaching him their previous escape methods, Finney has more of a fighting chance. It's interesting to see how far he gets with each attempt and what The Grabber does to counter him.
Finney and Gwen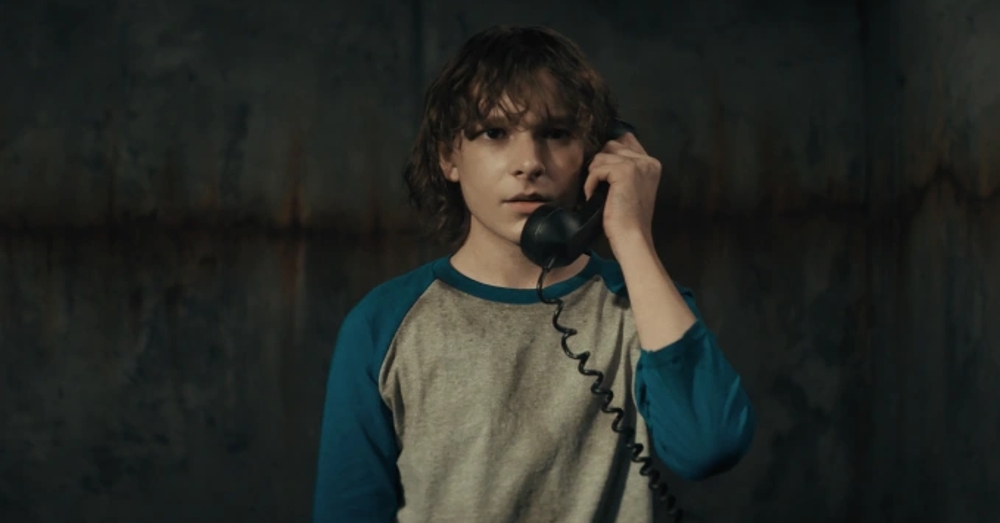 The majority of Black Phone is spent in the basement with Finney and as far as child characters go, he's pretty solid. You can really tell this was based on a book from Steven King's son as almost everyone is mean to this kid: he gets bullied, and his father is an abusive drunk. 
Mason Thames does a good job portraying Finn as a meek kid that's hasn't had the easiest life even before getting kidnapped. As the film goes on, you gradually see him get braver and stand up to the killer with the help of the ghosts. The film does a good job getting you to invest in him as the underdog and by the end, you want to see him survive.
Finney's sister, Gwen is also well-acted. You can tell she cares deeply about her brother but the fact that she's a little girl means that the cops, at least at first don't take her seriously. It's frustrating because you know what she's seeing is likely true but she often doesn't have the power to prevent it. Like Finney, you want to route for her to succeed before it's too late.
I do however think she was a little underutilized as the film went on. The prophetic dreams start off as an important part of the story but they ultimately take a bit of a backseat to the ghost children. It's a little disappointing since they seem the building it up to lead to something more significant. 
The Grabber
Of course, what is a horror movie without a horrifying villain, and Ethan Hawke does a truly standout job as 'The Grabber'. He has a truly imposing presence, the minute he's in a room, everything goes cold, and even behind his many masks, you can still easily make out his unhinged characteristics.
Unlike the more camp horror, masked slashers like Jason or Leatherface, The Grabber is a more grounded take on a mentally unstable serial killer. Hawke depicts him with a passive-aggressive demeanor you'd expect from an abuser. He can be polite or cheerful but you just know he can lash out at the drop of a hat. This in turn means that whenever you see him, you never quite know what he's going to do or how he's going to act and that adds to a more real kind of fear despite this being a movie that involves ghosts.
It keeps you on the edge of your seat as you can easily imagine that this could be how an actual child kidnapper would act and you certainly wouldn't ever want to meet them.
The Black Phone
The Black Phone is an innovative take on abduction and slasher horror movies. The idea of ghosts of previous victims that help the latest survive adds to the layer of nuance to the usual cat and mouse chase that kept me engaged right to the end.
The actors across the board also fair well with Ethan Hawke stealing the show as the grabber, a character that in my opinion has the potential to become a horror movie icon alongside guys like Jason or Jigsaw. A more grounded yet versatile killer who's incredibly unhinged and uncomfortable to be around.
Overall if you're a fan of horror movies and you looking for something familiar but still feels fresh, Black Phone is worth a watch.
Just remember not to talk to any strange magicians on the way back from the cinema.
the black phone score
| | |
| --- | --- |
| Pros | Cons |
| Ethan Hawke is chilling as The Grabber | The film has the occasional jump scare |
| The Supernatural elements adds an innovative concept to the abduction | The sister's powers could have been utilized a bit more towards the end of the film. |
| Intense atmosphere throughout the whole film | |
The Black Phone will release in Malaysian cinemas on the 23rd of June.