The Acer Nitro 5 received a refresh with the 10th Gen Intel Core and GTX 1660 Ti graphics card, this particular model having launched 15 June in Malaysia. Simply put, let's just get right into the review of this gaming laptop.
The "gaming-esque" design
This Acer Nitro 5 looks pretty similar to its predecessors, with a primarily black with red design in light metal for that impression of power. The keyboard has white highlights, with the WASD keys also in striking white, the effect further enhanced with the red RGB lighting for the benefit of style and also for easier viewing when typing at night. This model's also relatively lighter than gaming laptops of its ilk at 2.3kg.
Seeing all on display
You get a wide-angle IPS 1080P 15.6-inch screen on this Nitro 5, with a 144Hz refresh rate, definitely suited for the FPS gamer. The narrow bezels means the screen looks larger, too. In addition, with the use of Acer's TrueHarmony audio optimization technology, you'll get some of the best sounds possible for that audiophile experience, be it for the gamer or the content creator, or just to enjoy some movies.
Upgraded power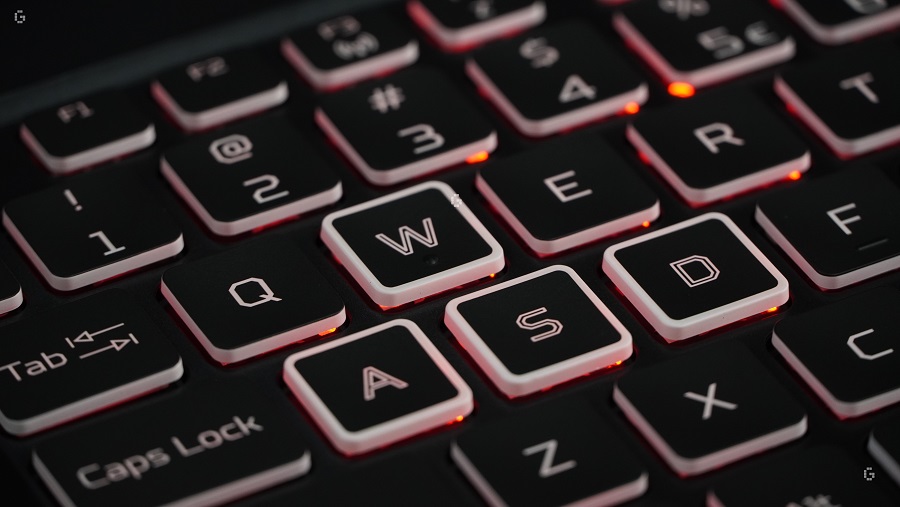 Our review model of the Acer Nitro 5 utilizes the Intel Core i7-10750H processor, GTX 1660 Ti GPU, 8GB RAM and 512GB SSD. This is the basic build for the laptop, as users can choose to upgrade it whenever they want after purchase. As mentioned, the laptop is relatively lighter at 2.3kg, so gamers on the go will find it one of the easier machines to carry along. As for ports, you have:
1 USB 3.2 Gen 2 Type C
1 USB 3.2 Gen 2
2 USB 3.2 Gen 1
HDMI 2.0
3.5mm jack
The charging port is on the back of the machine so you won't be too tangled in wires.
A cool customer
For thermal venting, the Acer Nitro 5 comes equipped with the new CoolBoost technology, speeding up fans by 10% and increasing cooling of CPU and GPU by 9%. Users can also adjust the fan speed manually if they need to. Even with extended use, the laptop hardly feels any hotter, and the fans are also quieter than the others in the series.
Time for benchmarks
Naturally, the Acer Nitro 5 has to go through a bunch of benchmarking tests to get the raw numbers of its performance. The short answer: it's gonna perform for most of your games with ease, and if you need it for work, it'll more than get the job done.
3D Mark
The overall score for the Acer Nitro 5 is 5 536, maintaining 36.14 FPS for the first test, and 32.39 FPS for the second. It's not the best, certainly, but it'll work for the most popular titles for hours without end.
PC Mark 10
The Acer Nitro 5 scores quite highly, with a total of 4 436. It gets 7 987 in the most important aspects, while getting 4 291 in digital content creation, so you can have the laptop be your workhorse for both games and multimedia tasks.
UserBenchmark
At a 69% (nice) score, you can play many if not all game titles at high or Ultra quality when you're feeling spicy. The SSD also helps the Acer Nitro 5 handle the games and any other complex and heavier tasks, so everyday regular use is not going to be any issue.
Putting to the gaming test
As is the case, we'd put these gaming laptop machines to practical tests with games on high graphics. The chosen ones for this review are Devil May Cry 5, Borderlands 3 and Valorant. The GTX 1660 Ti doesn't disappoint, handling itself with ease. DMC 5 clocked in between 80 to 90 FPS on the highest quality, without extensively dropping frames even with all the effects flying about during flashy combos.
With Borderlands 3, we couldn't crank up all the settings in order to maintain 60 to 70 FPS, but with all the explosions, the frame rate definitely suffers. Trying to screen capture also negatively affects the frame rate, unfortunately.
Last but not least is Valorant, which had no problems whatsoever, keeping between 90 to 100 FPS at maximum settings. With the 144Hz refresh rate display, reacting to opponents is also much easier, as well taking more accurate shots.
Acer Nitro 5 (AN515-55-79CU) Specifications

Processor and chipset
Processor type
Core i7
Processor model
Intel®️ Core i7-10750H processor (12 MB Smart Cache, 2.6 GHz with Turbo Boost up to 5.0 GHz, DDR4)
Memory
Standard memory
8 GB
Maximum memory
(upgradable to 32GB RAM using 2 x 16GB)
Memory tech
DDR4 SDRAM
Storage
SSD capacity
512 GB
SSD interface
512GB PCIe NVMe SSD (1 additional M.2 slot supporting RAID0 config)
Display and graphics
Display size
39.6 cm (15.6″)
Display type
15.6″ 144Hz display with IPS (In-Plane Switching) technology, Full HD 1920 x 1080, Acer ComfyViewTM LED-backlit TFT LCD
Screen resolution
Full HD 1920 x 1080
GPU brand
NVIDIA
GPU
NVIDIA®️ GeForce®️ GTX 1660 Ti with 4 GB GDDR6 memory supporting NVIDIA®️ CUDA, PhysX, PureVideo®️ HD technology, GPU Battery Boost technology, ShadowPlay technology, GameStream technology, Multi-Frame sampled Anti-Aliasing (MFAA), Dynamic Super Resolutio
Communication
Wireless LAN
Yes
Bluetooth
Yes
Bluetooth Standard
Supports Bluetooth®️ 5.0 & Wi-Fi CNVi Interface
Built-in Devices
Webcam
Yes
Microphone
Yes
Interfaces/Ports
HDMI
Yes
USB
Yes
USB Ports tersedia
3
Network (RJ-45)
Yes
Battery
Number of Cells
4-cell Li-ion battery
Battery Chemistry
Lithium Ion (Li-Ion)
Battery capacity
57.5 Wh
Battery capability
9 Hour
Physical features
Height
23.9 mm
Width
363.4 mm
Depth
255 mm
Weight (estimate)
2.3kg
Warranty
Warranty
Local warranty of 2 years with ITW (1 year)
Simply put verdict
The easiest way to review the Acer Nitro 5 is to say it's a nice upgrade, bringing it up to a level that modern users expect of their gaming machines in the current age. You'll be able to play AAA games with ease, even if on slightly lower quality, but you can play them, and on the go too if you wish thanks to it being lighter than its peers. The fans for this Nitro 5 aren't very loud either, so just break it out when you need to without having to worry about the noise.
This model of the Acer Nitro 5 is available at RM4899.
---
Check This Out Next
---