It has been a week since Tensura: King of Monsters launched in Southeast Asia, and it is high time that a full review of the game came out.
Claiming that That Time I Got Reincarnated as a Slime, aka Tensura is popular is an understatement. Originally starting out as a light novel, Tensura stood out in an overly saturated isekai market, featuring a protagonist that happens to be a slime.
With season 2 currently airing, the popularity behind Tensura is insane. Ask any gacha gamer, and I can assure you, at least one of the gacha games they are playing received a Tensura collab at one point. Despite Tensura's notoriety as a collaboration partner, it never really had its own gacha game for the global audience. Until now.
Originally launched in Taiwan a few months prior, lucky Southeast Asian fans finally got their Slime fix just last week. After playing it almost religiously, even my phone got sticky from all the slime (sweat). Is the game worth your time? Or is it just another cheap cash grab jumping on the Slime hype train? Read on for the review of Tensura: King of Monsters.
---

Reincarnating into another world
Tensura: King of Monsters thrusts you straight into the action. The game immediately starts with the anime's inciting incident—Shizu going out of control. With Ifrit wreaking havoc, only Rimuru Tempest, the reincarnation cum slim cum player character can save the day.
The game's lengthy tutorial introduces you to many of the mechanics in this PVE only game. From summoning new characters to Rimuru's unique Devour system, you'll get a general idea of how things work.
However, unless you are already familiar with the light novel/manga/anime, do not expect to immerse yourself into the story. Early in the tutorial, you will summon Shion [Ogre] to your party. However, immediately after that, the story pits you against her and the other ogres.
If you are unfamiliar to the world of Tensura, it can be rather confusing to see your party member as your enemy in the cut scenes. A few missions later, and it immediately becomes apparent that there is a disconnect between the visual novel-esque cut scenes and actual gameplay.
Many of the story missions, especially in the later chapters are just padded out with "Combat Drills" that do not advance the story. Players might notice that a lot of these Combat Drills are much more difficult than the story missions that follow.
In terms of progression, it can be quite anticlimactic. For example, after some trial and error, you finally defeated that annoying 5-enemy Combat Drill team by the skin of your teeth. The last mission of the chapter is next. The cut scenes hyped up the next fight as the finale of a big boss battle. However, a single lone enemy is your opponent, and you kill it with one auto-attack.
Even as someone who read Tensura's manga, I found myself spamming the skip button in every single story cut scene. I thought that as someone who enjoyed the source material, I would at least appreciate seeing the story unfold. However, several hours into the game and it just devolves into a poorly packaged mission-grinding simulator. This is a shame, as the anime's voice actors and actresses fully voiced all the in-game dialogue.
The world of Tensura: King of Monsters is just that. Be it Story missions, Challenge missions, Subjugation missions or Rimuru event missions, the game just puts players in the same fights, but differently packaged PVE content. Only Space Gap and its special enemy conditions and relic system feel varied enough, but that is only a small part of the game.
S(ub)lime battles and characters
Combat in the game is surprisingly deep, despite appearing like any other gacha RPG game at first glance. The player and the enemy each have their own 9×9 grid and can position up to 5 units on the grid. Unit positioning is a major factor pre-combat. It not only determines your character's target(s) but also your team's turn order. This led me to many situations where I needed to plan whether to position my damage dealer to an unsafe square to dish out more damage, or place my tank there but risk failing the sub-objective for taking too many rounds to win.
While it is possible to steamroll through fights with the same position, it is extremely unlikely as the enemies' levels and stats scale a lot faster than you as you progress. Planning is more or less mandatory a few hours in. As I progressed, even the auto-battle function gets more and more neglected by me as I had to take personal control of many of the game's battles. As such, the satisfaction of winning a lot of the harder fights not with pure stats, but with strategy is extremely rewarding.
Speaking of stats and strategy, another area that Tensura: King of Monsters excels at is in team building. Many of the characters' skill sets feel varied, each one bringing something different to the table. Putting together a team that supports each other is a pleasure. To see one character following up another's move always looks cool. There is no fixed way to build your team in the game. Even A-ranked characters can be better than the uncommon SS-Ranked unit. Flexibility helps add another layer to the already strategic combat. This flexibility also means that the game is free-to-play friendly, as the top-tiered units are not a dire necessity.
It is also a sin not to mention the most flexible character of all—you. Rimuru, the player character can play any role. The game does a great job of representing his malleable slime-like qualities shown in the anime. Players can edit and learn new skills through the Devour system. It also helps that the Devour system is Rimuru's only way of getting stronger, making him a lot more unique as the main character.

Presentation
For a mobile gacha game, the in-game models are incredibly well done, complete with their own 3D animations. The features of your in-game secretary as they greet you are clearly visible and expressive. A small pet peeve of mine is that they always have the same spoken Japanese dialogue the moment you start up the game. Tapping on them prompts them to say a different line that does not have any subtitles.
The same visual attention to detail goes into in-game fights. The 3D animated scenes that play out when a character uses a skill are extremely well-made. Developer Hoolai Game Ltd did not cut corners into creating these short scenes. Some scenes, like Souei [Ogre]'s ultimate skill as he clones himself to gang up on one unfortunate enemy, are breathtaking.
Besides the characters, the UI and menu design are fine. They loosely follow the Great Sage theme from the anime. For the unfamiliar, Great Sage is something like an artificial intelligence which helps monitor Rimuru's skills and status. The game even tells you that when you turn on auto combat, the Great Sage is taking over, which is a great nod to the anime.
Besides the UI, backgrounds in-game are also rather generic. In battles, players will see many of the same forests and greenery used as background. In the story cut scenes, the game recycles many shots from the anime and some of the backdrop.
Come…in my tummy?
I could have included the poor English used in Tensura: King of Monsters into the previous section of this review, but no. It is just that bad that it warrants its own section.
Normally, I would turn a blind eye to poor phrasing or wonky translations, but the English in the game is so bad, it can actually get misleading. Take for example, this description of Hakuro [Kijin]'s Aptitude, Sword Heart Realm.
The game never actually explains what auto attack stage count. There is no such thing. All the skill does is gives Hakuro [Kijin] a chance to do extra hits with each hit.
In a similar fashion, the game also has a lot of inconsistent terminology. At first, I thought that "floating" and "suspended" are two different states which I can put enemies into. However, they were actually the same thing. Why can't the game just use the same terms for its combat mechanics? This is an issue that can be easily fixed, but it unfortunately seems that language is the least of the game's priorities.

Clicking on the Social Network button on the bottom right….
In addition, the first time I arrived at the home screen, I thought that "Social Network" will reveal the social features, like a friend list. I was mistaken. Social Network is actually a relationship chart of the game's characters, inconveniently titled, "Connection Net".

…reveals this instead.
I understand that the game is made in Taiwan, but that is no excuse for the state of the game's poor localisation. Poor translations take away from the immersion at best, and outright confuse the player at worst.

The battle UI disappeared mid-fight.
Too many bugs…
In the first six days of playing the game, I experienced a fair amount of crashes, with some being as often as every two missions or so.
However, on the day I am writing this, the developers have patched the game, and I have not crashed a single time since. The game is now a lot more stable, so hats off to the Tensura: King of Monsters team.
Besides fixing the crashes, the game also has its fair share of bugs. The most infamous example being one of the relics in Space Gap mode. Soul Drawing Core makes it so that if your character kills an enemy, said character will steal 5% (or more, depending on level) of the fallen enemy's attributes for two rounds.
However, what actually happens is that the character who activates said relic's effect becomes temporarily invincible, one-shotting every enemy and becoming unkillable for one round. This bug is persistent and does not go away with a simple restart. Some players even reported more troublesome bugs, such as being locked out of onetime story upgrades.
…Too little online features
There is nothing wrong with creating a fully PVE game. However, there is something wrong when your mobile game does not even have an in-game friend list.
While it is likely that the game will have PVP in the future, at its current state, it feels very far away in the future. Forget guilds or clans, the game does not have a way to connect with other players at all. There is not even a chat function.
Simple online functions that are easily glanced over in other games feel sorely missed in Tensura: King of Monsters. The lack of these features begs the question—how will the game's new content roll out in this state?

Final Thoughts
By the end of writing this review for Tensura: King of Monsters, I am left with very conflicted feelings. On one hand, the game clearly had thought and care put into it, given the quality of the character models and animation as well as the deep and intriguing combat. On the other hand, the game's issues and poor translations scream "cheap cash grab".
If you are a fan of Tensura and can stomach bugs and horrible translations, then you might want to give this game a shot. If the game can fix its problems and have more online/social features, it can easily be one of the better gacha games in the market. When that time comes for Tensura: King of Monsters, this review will definitely be updated. Otherwise, I cannot recommend it in its current state.
| | |
| --- | --- |
| Pros | Cons |
| High-quality 3d models and animation | Many bugs, feels unpolished |
| Combat rewards strategy and careful planning | Poor and misleading translation |
| Free-to-play friendly (low-ranked units are viable) | Inconsistent difficulty spikes |
| | Lack of social features |
FINAL SCORE
5 / 10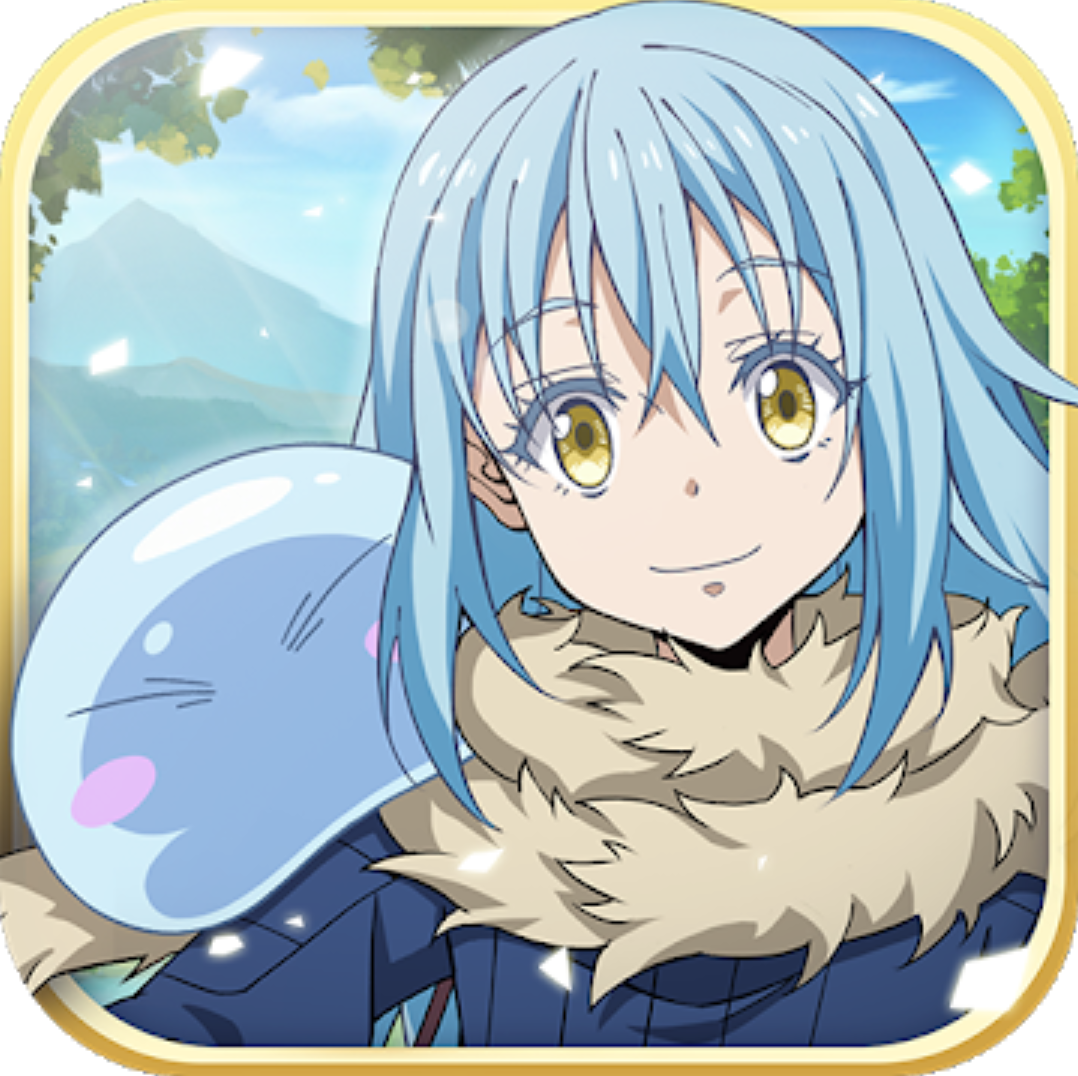 Tensura: King of Monsters
Android, iOS
I'm not an evil Slime! Would you like to hide in my stomach?
That Time I Got Reincarnated as a Slime: King of Monsters is a mobile strategy multiplayer online RPG game, an official game adaptation of the anime under the original writer Fuse's supervision! The game employs the state-of-the art 3D cel-shading technology to present to gamers the Jura Tempest Federation from the anime. In the game, players may summon monsters, collect characters from the original anime and build up powerful monster combat lineup. The game features a unique Devour system that allows players to develop their own Rimuru!