While the mobile game will be going offline, Tales of Crestoria, as promised, will be resuming its story, announcing its manga / comic adaptation. Jun Kumagai will be reprising his role as the manga's scenario writer, as he has done for the game. Tsubaki Ayasugi will be the illustrator. The official account promises that more information regarding its publication period, besides additional details, will become available soon.
Nice to meet you, everyone. I'm Tsubaki Ayasugi, a manga artist.
I'm honored to have the opportunity to draw Kanata and his adventures with the others. The format may be quire different when going from a game to a manga, but I will make sure that each character's charms still shine through! I'll do my best!
The initial character sheets were likewise shown, featuring the primary six protagonist Transgressors: Vicious, Kanata, Misella, Yuna, Aegis and Orwin. The game was released simultaneously worldwide, but who can say if it can be applied to print medium?
At the very least, the Tales of Crestoria can be brought to a proper conclusion thanks to the manga, and perhaps it could be adapted into an anime some day. If you were a fan of any of these characters and their interactions with the larger Tales series cast, do look forward to this.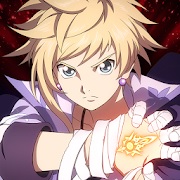 Tales of Crestoria
Android, iOS
Live. Even if it's a sin. TALES OF CRESTORIA is a brand-new Tales adventure for mobile! Step into this epic anime RPG game set in an original Tales series world, featuring a dramatic storyline and brand new characters! Experience this anime/manga adventure as Kanata and his allies fight to survive through the fantasy world of Crestoria while bearing the weight of their past sins.
---
Check This Out Next
---