Iconic indie game Stardew Valley celebrated its 5th anniversary yesterday. Developer ConcernedApe expressed his thanks on Twitter.
I've never seen so many thank-you's. I'm accepting them, holding them, but then sending more back out. It's like a snowball fight but with thank-you's. I like it. Everyone is so polite, and with a good heart. Bless you

— ConcernedApe (@ConcernedApe) February 26, 2021
Arguably one of the greatest indie gaming success stories of all time, Stardew Valley is the creation of Eric Barone. Barone, better known by his alias ConcernedApe, single-handedly brought the game to life back in 2016. Since then, the game branched out to major consoles and sold more than 10 million copies as of January 2020.
For half a decade, ConcernedApe continued to work on, refine and update the game. Recently, update 1.5 of the game arrived for the Switch, PS4 and Xbox One versions. As one of the biggest updates the game has ever received, update 1.5 added the new region of Ginger Island. Furthermore, local split screen co-op also made its way to the game, allowing players to share the farming fun with friends and family. Currently, only mobile users have yet to receive the new update and will likely be receiving it soon.
Besides the video game, the official Stardew Valley Board game also released a few days ago. You can read more about the board game at ConcernedApe's developer blog.
Happy 5th Anniversary, Stardew Valley!
The game is available on Windows, MacOS, PS4, Xbox One, Switch, Android and iOS.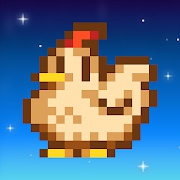 Stardew Valley
Android, iOS, mac os, Microsoft Windows, Nintendo Switch, PlayStation 4, Steam, Xbox One
You've inherited your grandfather's old farm plot in Stardew Valley. Armed with hand-me-down tools and a few coins, you set out to begin your new life. Can you learn to live off the land and turn these overgrown fields into a thriving home?