The Stardew Valley 1.5 Update is available now on PC, introducing a new starting farm as well as split-screen co-op. The game's creator, Eric Barone has also commented on when the update would come to consoles.
According to Barone's twitter, the 1.5 update will introduce a new farm type to the game. You'll now be able to start on a beach, giving you access to a seaside retreat and even getting you palm trees.
Starting by the beach will give you different resource allocations too, partly to do with the challenges of being on the beach. You'll have easier access to fishing thanks to your seaside status, and you'll also be able to get random items as they wash up on the shore.
When you start a new game post-1.5, you'll now be able to customize your starting options in Stardew Valley. Barone shared a screenshot of the menu on Twitter, including the menu to let you choose the setup for your new farm.
for PC, yes very likely. For Console, early next year

— ConcernedApe (@ConcernedApe) December 18, 2020
Since the update never had a formal release date, there'd been some concern of when it'd be ready. Before the Stardew Valley 1.5 update was released on PC, Barone also confirmed it would be heading to console "early next year".
Aside from the new Beach Farm, the game is also getting split-screen co-op, allowing you to play on the same computer with your friends.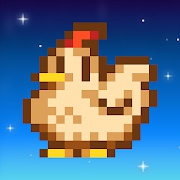 Stardew Valley
Android, iOS, mac os, Microsoft Windows, Nintendo Switch, PlayStation 4, Steam, Xbox One
You've inherited your grandfather's old farm plot in Stardew Valley. Armed with hand-me-down tools and a few coins, you set out to begin your new life. Can you learn to live off the land and turn these overgrown fields into a thriving home?