Pokelabo has just announced a major update for its mobile RPG SINoALICE, scheduled for a launch on 30 October 20 on the Android and iOS platforms. Following Act of Impulse and Act of Hatred, the third installment of the SINoALICE story, Act of Reality will launch on 30 October 2020 after a maintenance period.
This act will follow the stories of Alice, Red Riding Hood, Little Mermaid, Dorothy as each struggle living in the modern world. The enemies in this act are much more powerful than its predecessors, so players should be well equipped before stepping in. It'll all be worth the journey.
There will also be new missions available, and when all are completed, players will be rewarded with the first new Act of Reality class Alice/Alternative. Players can also earn SR weapons, S weapons, SR upgrade materials, and large amounts of EXP. Furthermore, players will be rewarded 150 twilight crystals when they clear Act of Hatred Chapter 5: Verse 10 by 30 November 2020. On top of the other celebratory events, a special login bonus will be available where players can earn 30 twilight crystals daily just by logging in. That's up to 300 twilight crystals total.
In celebration of SINoALICE global's release of Act of Reality on Oct. 30, 2020, users will be able to participate in a social media campaign for a chance to win SINoALICE prizes. To enter, users must perform specific actions on any official SINoALICE social media account. These users will then be entered into a drawing for a chance to win Sony Stereo Headphones h.ear on™️ 2 "MDR-H600A", SINoALICE Act of Reality Acrylic Stand Set or SINoALICE Act of Reality Clear File Set (both sets include Alice, Red Riding Hood, Little Mermaid, and Dorothy)! There will be three winners for each prize.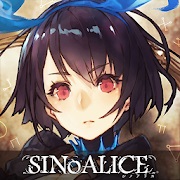 SINoALICE
Android, iOS
Fairy tale characters fight to "revive their author". Enter the dark world of SINoALICE as imagined by Yoko Taro (Drakengard, NieR).