The Revue Starlight Arcana story has finally come to EN servers, allowing players of Revue Starlight ReLIVE players to catch up on the latest developments in the game's story.
The chapter is called Shapeless Play- Unknown Lead, and features new cards for many of the game's characters, all based on the Major Arcana from the Tarot.
Currently, only Parts 1-1 and 1-2 have been added, though ATeam says the other story parts will be added at a later date.
This isn't uncommon for Revue Starlight ReLIVE, which will often trickle out story content rather than drop it all at once.
As this is a story update rather than one of their events, players won't need to worry about the content disappearing, but they will need to complete the game's preceding story content to experience this story.
For the EN release the only new card so far is Hermit Tsuyuzaki Mahiru, which is advertised as being capable of having one of the highest power scores in-game, but also sporting a huge unit cost.
To commemorate the release, the game will be having a special Arcana Arcadia Brilliance Fest, featuring the new Mahiru card and a step-up gacha with several free 10 pulls to get the free card.
Thanks to the much further ahead Japanese release though, we also know several more of the Revue Starlight Arcana units coming to the game. These aren't available as of the current update, but players can look forward to an upcoming The Tower Kagura Hikari, as well as The Empress Liu Mei Fan.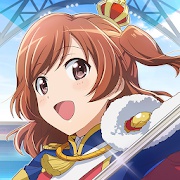 Revue Starlight ReLIVE
Android, Epic Games Store
The Adventure Begins on Stage in RPG Revue Starlight Re LIVE! A direct continuation of hit anime Revue Starlight, the story of the game picks up right where the anime leaves off, but you don't need to be a fan to enjoy all the excitement and drama that await in this RPG!