Enish's new mobile game Rent-A-Girlfriend: Heroine All-Stars will be launching for IOS and Android on September 2nd.
Pre-Registrations for the game are now open via the Official Twitter Account, App Store and Google Play Store. Players can obtain coins equivalent to 20x gatcha if the pre-registration reaches over 200,000 users.
Rent-A-Girlfriend: Heroine All-Stars is based on the popular Harem Anime of the same name. It'll allow players to collect and date the four main heroines of the series: Chizuru, Mami, Ruka and Sumi.
But even more than that, the game will be a crossover between several popular anime. These will include heroines from Fire Force, Seven Deadly Sins, Fairy Tail, Domestic Girlfriend, Boarding School Juliet, Yamada Kun and The Seven Witches, Negima and Kanojo mo Kanojo who's anime adaptation is currently airing.
All characters are from works featured in Weekly Shounen Magazine with the promise of even more lovely ladies to come in the near future. Each girl will be fully voiced by their original seiyuu.
Rent-A-Girlfriend: All-Stars is a puzzle-based gatcha game where you can date your favourite anime waifus. There is currently no actual gameplay footage of All-Stars beyond a couple of screenshots but with its release date on the horizon, we'll probably be seeing some soon.
If you're interested in Rent-A-Girlfriend, you'll be happy to know a Second Season of the anime will be airing in 2022.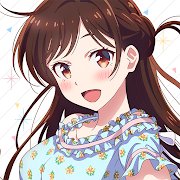 Rent-A-Girlfriend: Heroine All-Stars
Android, iOS
The first game app for the anime "Kanojo, Okarii" is here! The main character is you! Even in games, we will deliver the ideal girlfriend who is love ✕ Doki MAX! The story is full voice! You can also enjoy an AR date with that child you care about! Not to mention the character "She will borrow" Popular romantic comedy characters also appear as "rental girlfriends", It's a romantic comedy puzzle that makes that heroine her !?