The Nintendo Switch version of Pokemon Unite has reached a milestone of 9 million downloads. In order to celebrate this achievement, the developers are giving away 2,000 Aeos tickets which will be given out on the 29th of September 2021. These tickets can be used at the in-game Aeos emporium and can be used to buy new clothes to customize your avatar.
Here's the announcement they made on Twitter
What a goal! The Nintendo Switch version of #PokemonUNITE has just exceeded 9 million downloads! To show our excitement and gratitude, every Trainer will receive 2,000 Aeos Tickets starting 9/29.

Thanks for playing Pokémon UNITE, and look forward to the mobile launch on 9/22! pic.twitter.com/m9xyYXhL0k

— Pokémon UNITE (@PokemonUnite) September 16, 2021
The gifts for the Pokemon Unite 9 million downloads aren't the only free gifts that Pokemon Unite is handing out. The Mobile version for IOS and Android held its own celebration for meeting its pre-registration goals and is now offering 1,000 Aeos, a Pikachu license, and a festival Pikachu holowear costume.
Although if you want these gifts on the Switch version, you have to link your account to a Nintendo or Pokemon Trainer Club Account and then use this account to log on to the Mobile version.
There are also two new Pokemon on the way, Mamoswine and Sylveon but we have no release date in when they will arrive.
Pokemon Unite is available for Nintendo Switch and is free to play. It will be arriving on IOS and Android on September 22nd, 2021.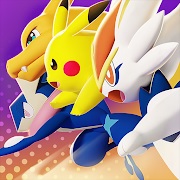 Pokemon Unite
Android, iOS, Nintendo Switch
Trainers unite in Pokémon UNITE! Experience a new kind of Pokémon battle in the Pokémon UNITE regional beta test! Team up and face off in 5-on-5 team battles to see who can score the most points within the allotted time. Work together with your fellow Trainers to catch wild Pokémon, level up and evolve your partner Pokémon, and defeat the opposing team's Pokémon to prevent them from scoring points. Put your teamwork to the test, and take home the win!
---
Check This Out Next
---