Pokemon Unite has reached 50 million downloads across Nintendo Switch and Mobile Devices. The collaboration between The Pokemon Company, Tencent, and Nintendo has proven to be quite the success.
To celebrate this milestone achievement, it has been announced on the Pokemon Unite official Twitter that players that log in between December 9th, 2021, and January 31st, 2022 will receive 2,000 Aeos Tickets free.
#PokemonUNITE has now been downloaded over 50 million times! As a thank you, any user who logs in between 12/9 – 1/31 will receive 2,000 Aeos Tickets.

Thank you once again for all of your support! pic.twitter.com/M8NWmigpC6

— Pokémon UNITE (@PokemonUnite) December 6, 2021
Aeos tickets are a currency in Pokemon Unite that can be used to buy clothes for your trainer character, held items for the Pokemon, and item enhancers that can upgrade item effects and stats.
It's not that surprising that Pokemon Unite has been able to see 50 million downloads. It is a MOBA starring the cash generator that is Pokemon. With its simple yet addicting gameplay, many have found themselves trying to be the best like no ever was from the comfort of their Smart or Switch device.
The game has recently seen even more Pokemon licenses added to the roster including Decidueye and Tsareena being just some of the latest.
Pokemon Unite is available for free on Nintendo Switch and Mobile Devices.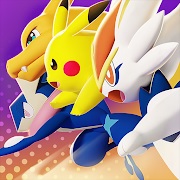 Pokemon Unite
Android, iOS, Nintendo Switch
Trainers unite in Pokémon UNITE! Experience a new kind of Pokémon battle in the Pokémon UNITE regional beta test! Team up and face off in 5-on-5 team battles to see who can score the most points within the allotted time. Work together with your fellow Trainers to catch wild Pokémon, level up and evolve your partner Pokémon, and defeat the opposing team's Pokémon to prevent them from scoring points. Put your teamwork to the test, and take home the win!