With Pokemon Unite finally heading to mobile, a new Producer's Letter has been published to share some of the updates that are to come. The most important segment is provided verbatim as follows:
For both new and returning players, we're thrilled to share some of the game updates that tomorrow also brings:

Full cross-platform play and account linking across mobile devices and Nintendo Switch. Link an account, and play with the same account across both platforms.
New in-game events in which you can get super item enhancers that can upgrade a held item to grade 30. We've also made it easier for all Trainers to get item enhancers.
New held items to introduce fresh strategies.
The introduction of Unite squads, allowing Trainers to team up with squadmates.
A second battle pass, which will feature all-new cosmetic items, including new Holowear with special visual effects.
The rollout of some limited Spectator Mode features.
Support for multiple new languages.

We'll continue to add more playable Pokémon and make balance adjustments to both Pokémon and the maps. Trainers can anticipate new battle passes, themed events, and other compelling content to make Pokémon UNITE even more fun and rewarding. Additionally, we're developing a new mode of play designed to level the playing field for all Trainers, regardless of their held items' grades.
If you're new to Pokemon Unite starting with the mobile version, why not check out our guide to help you get started?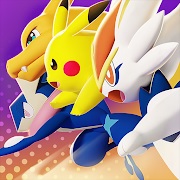 Pokemon Unite
Android, iOS, Nintendo Switch
Trainers unite in Pokémon UNITE! Experience a new kind of Pokémon battle in the Pokémon UNITE regional beta test! Team up and face off in 5-on-5 team battles to see who can score the most points within the allotted time. Work together with your fellow Trainers to catch wild Pokémon, level up and evolve your partner Pokémon, and defeat the opposing team's Pokémon to prevent them from scoring points. Put your teamwork to the test, and take home the win!