Omnidesk has been incorporated as Ultimate Desk Sdn Bhd in Malaysia, with Singapore's leading purveyor of workspace ergonomics aiming to provide the same premium standing desk experience enjoyed by Singaporeans and Australians to Malaysians.
"We are a bunch of retired gamers who ventured into the world of entrepreneurship and tech consulting. We soon found the glaring similarities between these seemingly disparate worlds – whether we are going on end-game raids or simply stuck in endless meetings, we are still spending hours upon hours on our desks, and constantly at the mercy of bad posture. We needed a desk that was truly our own and that was the impetus that started Omnidesk."

"With a global pandemic changing how the world interacts with each other and working from home becoming the new normal, better ergonomics has become more important than ever. The perfect workspace should not just be comfortable, it should inspire and aspire. We figured it was time for our Malaysian friends to stop waiting any longer because Omnidesk is crossing the border!"

Benjamin Huang, Omnidesk's Managing Director
OMNIDESK PRO 2020
The flagship desk is fully height adjustable, fully modular and upgradable with choices of accessories, size, shape and finishes to customize to your ideal position.
Features:
Signature tabletops: Made from the highest grade MDF wood and engineered for the best standing desk experience, the bevelled edges of the desktop allows for maximum comfort when standing or leaning with forearms on the edge of the desk.
Ergonomics made easy: Omnidesk™ Pro 2020's console features smart memory programmable presets to save up to four favourite profiles. With a highly sensitive anti-collision mechanism and a child-lock feature, switch to your ideal sitting, standing or even bean bag positions easily at a touch of a button.
Customisable and Future-proof: Electric motors allow you to raise or lower the desk to your exact preferences. The extendable frame fits multiple size tabletops from 42" to 74", allowing for future upgrades for larger and new table tops. Accessories and options, including monitor arms, cable management tools, PC holders and speaker mount capabilities allow you to upgrade your Omnidesk™ Pro 2020 just the way you like.
OMNIDESK ACCESSORIES
HEADPHONE HANGER ( MSRP: RM 189 / Launch price: RM129 )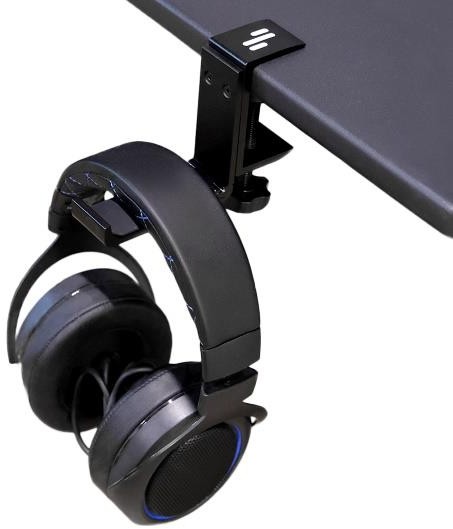 All-aluminium construction with rubberised accents, can be folded up when not in use.
TITUS PREMIUM DESKMAT
Each Titus is handmade from premium PU leather, double-layered for additional durability and has waterproof coating. Available in S, L and XL sizes, with Onyx or Tan colour options.
Sizes MSRP: RM 259 (S) / RM 289 (L) / RM319 (XL)

Launch prices at RM 129, RM 159 and RM 189 respectively
ATLAS ANTI-FATIGUE MAT ( MSRP: RM 379 / Launch price: RM 289 )
For maximum cushion and support, made from specialized gel commonly found in running shoes to reduce strain from prolonged standing on hard surfaces.
CPUROLLER ( MSRP: RM 249 / Launch price: RM 149 )
Keeps your CPU off the floor while remaining mobile. Has steel enclosures and protective pads to secure your PC while protecting it from scratches.
ARC STEALTH 
This monitor arm with sleek matte black finish is made for the professional in both work and play. Available in single or double.
MSRP: RM 369 (Single), RM 599 (Dual)

Launch prices at RM 289 and RM449 respectively
SPARK – DESK LAMP ( MSRP: RM 449 / Launch price: RM 309 )
Four different colour temperatures with built-in Wireless Qi charger, to illuminate your workspace and inspire your work.
CASTORS ( MSRP: RM 219 / Launch price: RM 159 )
Attach directly to your Omnidesk's feet for unprecedented levels of freedom.
Enjoy a 10% discount on all offerings storewide for a limited time.
The Omnidesk Pro 2020 starts at RM 2400 for a 48″ tabletop, usual price RM 3099. Affordable flat pack delivery is available for Omnidesk and accessories across West Malaysia. East Malaysia deliveries are currently unavailable at time of writing. Other offerings will be gradually rolled out over the coming months.
You can check out Omnidesk Malaysia media via Instagram, Facebook and official website.
---
Check This Out Next
---