Bandai Namco releases new information along with some screenshots of Tales of Crestoria. The screenshots provide a first look at the in-game character models with shots of how the battle system looks. You can take a look at our previous articles on Tales of Crestoria.
In-game Home Screen
There will be buttons for player to navigate through. From going on a journey to checking the status of quest and fellow friends. Place your favorite characters on screen and listen to their recorded voices by tapping on them.
Main Story Quest Interface
The story of Tales of Crestoria will unfold as players progresses through the story. The Main Character, Kanata, will meet new friends along his journey.
Baroque Stories 
Former heroes from "Tales of" series will appear as friends and unlock new stories.
Character Episode
There will be stories dedicated to the characters as they level up. Players can learn more about the character's lore that are not mentioned in the main story.
Face Chat
Face chat pops out during quest progression, players can witness the conversation between the characters.
Turn-based Battle
A basic screen of turn-based battle in the game.
Command Area
Players can select their course of action by tapping on the command area located at the bottom right. Up to four party members can take part in battle, when all are assigned an action, it will be the enemy's turn.
Skills
Besides normal attacks, players can cast powerful techniques on enemies. However, "re-cast turn" will occur when artistic techniques is used. For example, Cres's Devil Sword will be unusable for 2 rounds when it is cast.
Character's Attribute
Characters and enemies have attributes of their own, utilize it to your advantage. Better attributes deal more damage to the one with disadvantage. The top of the screen will display the advantages and disadvantages of the enemies attribute.
Hit Number
Increase the damage output of your characters by damaging the enemies. The hit number will appear on the right, showing the number of hits and the percentage of damage.
Over Limits (OL) Gauge 
Fill up the gauge meter through attacking. OL gauge can be accumulated rapidly if certain requirement is met. For example, hitting the enemy's weak point, landing a critical hit, and deliver a fatal blow to the enemy.
When Over Limits gauge is accumulated, special skills can be activated. Special skills can be used at any time even when the character has taken action. The Hit Number will increase dramatically using secret skill compared to using only normal attacks and techniques.
First look at the new in-game character models.
Aegis Alver
Voiced by: Tatsuhisa Suzuki
Designed by: Miyuki Kobayashi
Blood Sin: Fragile Heart
Yuna Azetta
Voiced by: Ayane Sakura
Designed by: Daigo Okumura
Blood Sin: Love and Lie
Orwin Granbery
Voiced by: Hiroki Yasumoto
Designed by: Daigo Okumura
Blood Sin: Lost Family
Are you all excited for Tales of Crestoria? You can go straight to their Twitter, Instagram or the Official Website for more information and further updates of the game.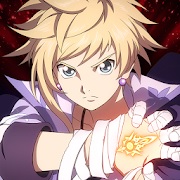 Tales of Crestoria
Android, iOS
Live. Even if it's a sin. TALES OF CRESTORIA is a brand-new Tales adventure for mobile! Step into this epic anime RPG game set in an original Tales series world, featuring a dramatic storyline and brand new characters! Experience this anime/manga adventure as Kanata and his allies fight to survive through the fantasy world of Crestoria while bearing the weight of their past sins.
---
Check This Out Next
---