Twenty years is quite a while to wait for a sequel to Brigandine: The Legend of Forsena, but it did come eventually, in Brigandine: The Legend of Runersia. Over two decades since the release of the first game comes the sequel developed by Matrix Software, published by Happinet, essentially retaining all the old systems while bringing tactical, turn-based grand strategy to a newer generation. Without further ado, let's go through this review of Brigandine: The Legend of Runersia.
---
A legend begins…
In the continent of Runersia, six factions vie to control the land. A spark is all that's needed – a sudden death of a monarch, the quest for power – and everyone will get embroiled in a war not everyone wants to be part of, but are nonetheless dragged into. It's a new setting, so even if you haven't played the first game – I haven't – the concepts and premise are pretty easy to follow, so you don't need to worry about that too much.
The conceit isn't just to be Runersia's absolute ruler: you'd also be collecting "pages" of a lost book, covering the titular Legends of Runersia. They'll unlock accordingly as you progress through the campaign, revealing the future fates of the factions involved, or telling a past that may have been forgotten.
There are some NPC interactions outside of the story beats, like in Quests – to be explained later – but the nature of Quests are random, and some NPCs can appear to behave at odds with their character which is a little unfortunate. Personally, the story isn't very "surprising", but it's well done.
Looking through the options
Runersia is available with Japanese voices, with text available in Japanese, English, Traditional and Simplified Chinese. Likewise there are subtitles for cutscenes. In game, battle animations can be fast-forwarded, which is pretty handy. There are three difficulty options, simply Easy, Medium and Hard.
Easy has no time limit
Medium is capped at 120 seasons / 5 years
Hard is 60 seasons / 2 1/2 years
There are also 3 modes, though only two "main" ones:
Main Mode

The campaign where you pick one of 6 factions to unite the land

Alternate Chapter

A challenge mode where you play as a semi-custom nation with nine Rune Knights you recruited in the campaign. Only unlocks once you finish the campaign
Definitely for those more familiar with the systems as you will be scored based on speed and performance. There are also victory conditions

Training Mode
Once you make your pick of one of six factions:
Norzaleo Kingdom

the Republic of Guimoule

the Shinobi Tribe

the Mana Seleesia Theocracy

the United Islands of Mirelva

the Holy Gustava Empire
… it's time to begin.
Command… and conquer
The artstyle for this game is closer to noveau, than the more anime style of Fire Emblem, where newer strategy game enthusiasts might have come from to try this game. The cutscenes are all done with 2D sprite art, with maps and models rendered in 3D. Unfortunately, only the leader units have unique models, with the rest using default class models.
If you haven't already gathered, you are your faction's ruler. You have your macro and micro gameplay: macro in your larger management of taking over locations on the overworld, micro in controlling your units on the map, your monster lineup, and Quests. Trying out Easy mode as I'm new to this title, auto mode is good enough to brute force maps. Naturally, it's not very recommended on higher difficulties. Opposing factions will be trying to take over your territories, so you need to manage your units and figure out how not to stretch yourself too thin.
Gameplay is divided into two distinct phases, the Preparation/Organization phase, and the Attack phase.
ORGANIZATION
You will need to Move your Knights and their summoned monsters to any of your territories, but keep in mind they can only attack adjacent areas. However, they will not be available to battle until the next attack phase. In the castle, you will be able to summon monsters or add them to the reserve. These monsters have their own cost and can only be added to your Knight's squad if they have enough mana. Their cost will go up appropriately when they reach certain level thresholds to reclass. Units cannot be demoted.
Gear can also be found and equipped during this phase. Send out your Knights to Quests, with varying levels of success to get 1- to 3-star equipment. Your Knights may also encounter recruitable characters along the way besides the story related ones, which is where the slight strangeness in story can occur. Equipment does not appear to drop otherwise, so you do need to run these Quests. An EXP quest is also available, which can also vary in success.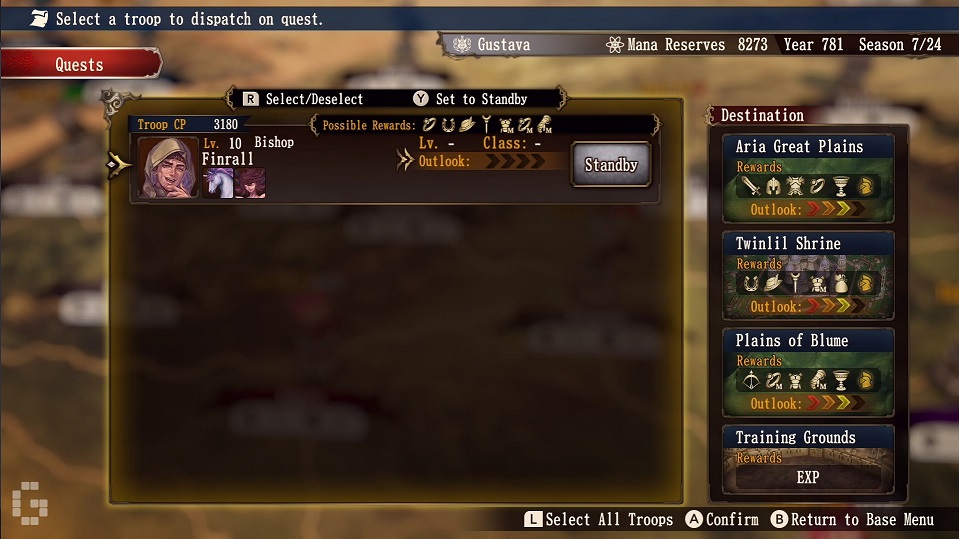 Monsters that die in battle can be brought back with Revive Stones if you have any, but are otherwise permanently lost. Knight units cannot permanently die, but they will be Wounded, unable to participate in the next Attack phase, run Quests or Move.
ATTACK
As you shuffle around units, an enemy territory's combat power can change. Being overwhelmingly more powerful or weaker will have the numbers flash in green or red respectively so that you don't make terrible decisions. Each Invasion can only see three Knights deployed in total, alongside their monsters which they typically have 2-3 each.
Move around on the hex tile map, with certain terrain carrying their own effects. Units also have their preferred type of terrain. A Knight will have an aura around them, with monsters fighting in this range being more powerful. Turn order takes from a Knight's AGI stat, and the squad as a whole will move together.
Besides summoning monsters, you can also capture an enemy's monster with certain spells. To win, you either can try to eliminate all enemy units, or force them to retreat. If an enemy Knight's monsters fail to retreat with them, they will be captured.
Units have MP to cast spells with, but they cannot be used after you move. Most regular attacks can trigger counter attacks – deals physical damage – and as you might expect, ranged or magic attacks don't usually cause counters. Status effects are also in.
As mentioned, you'll need to spread out your units enough, making sure your fringe territories have enough Combat Power to not be overtaken by your opposition.
Closing thoughts
The basic tactical strategy is down pat and will be very easy to pick up if you've already played similar games before. However, if your only exposure to these kinds of tactical games is Fire Emblem, there will be a learning curve as you are not controlling units on a battle per battle basis. There's far more things to juggle in strategically deciding when to move, what units to summon, and what to protect in the organization phase. Once in battle, you need to move your little chess pieces, all the while noting the elemental weaknesses/strengths.
If you were a fan of the older game, then you've likely already picked this up and are somewhat prepared for the challenge that lies ahead of you, with these on-paper easy-sounding concepts being hard to master as they interlock with each other in your quest for victory.
Brigandine: The Legend of Runersia has a story of political intrigue with a touch of magic awaiting you to uncover as you blaze a trail of destruction in your goal to unite the continent.
| | |
| --- | --- |
| Pros | Cons |
| Sequel to an old game is finally here | Not beginner friendly, they try to fix this with a tutorial mode |
| High replayability because there's 6 factions to conquer the land with | Nitpicks in certain aspects of presentation and story |
| Plenty to master in interlocking systems | |
FINAL SCORE
8 / 10
Brigandine: The Legend of Runersia
Nintendo Switch
The continent of Runersia is home to six major powers with more than 40 bases, 100 knights, and 50 types of monsters. Select a ruler, compose your platoons of knights and monsters, and march to claim enemy bases. The player chooses how they will battle, so devise the best strategy to lead your nation toward continental conquest. How will your legend unfold?