Miasma Chronicles is the latest title from developers The Bearded Ladies that I was given the opportunity to review recently. It featured a post apocalyptic setting with turn-based combat mechanics and interesting characters.
While none of these elements are new to the turn-based genre with Wasteland 3 coming to mind, it had an interesting enough world and setting that kept me playing towards the end. With that being said, was the trip through the Miasma a good one? Read on to find out more.
Story and World
Miasma Chronicles puts you in the shoes of a young man named Elvis who is on a mission to find his mother- Bha Mahdi who is trapped behind the Miasma that has swept across America. The Miasma is a self evolving plague that could even mutate fauna such as frogs into bloodthirsty monsters and it is up to you the player to help Elvis navigate through the world to his objective. Accompanying Elvis on this adventure would be his robot brother Diggs and three other characters with one of them being Jade which you will meet fairly early on in the game.
Diggs and Jade are definitely one of the main highlights of the story as they are very important in driving the story forward, and giving Elvis the character development he needs as he buckles from the weight of his responsibilities of rescuing his mother and protecting his hometown. Personally I enjoy the way the characters bounce off each other, and the interactions between Diggs and Elvis are very wholesome especially during the dialog options around the campfire.
The game definitely kept me interested in its world and story events by providing the necessary intrigue to its background and characters. This also extends to the other characters that you meet in towns like Sedentary and its surrounding area. Exploration is very much encouraged to players as you will get to know the side characters better and learn about the world more through its collectibles called "footage" which showcases events that has happened.
Unfortunately for me, the overall experience of exploration could get bland at times as the world itself does feel somewhat empty unless you are exploring those large town areas such as Sedentary. The absence of a Mini Map could also confuse explorers during the beginning segments of the game but luckily the waypoints are very helpful and I eventually got used to how exploration is approached in Miasma Chronicles.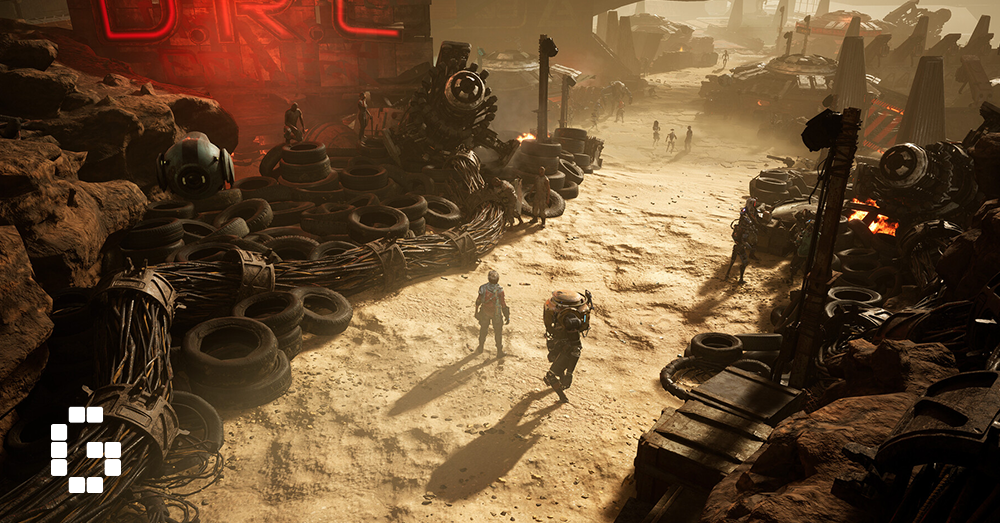 Combat
As aforementioned, the game features a turn-based system which fans of the genre would easily adapt to, however what makes the combat different in Miasma Chronicles is that you are only limited to three members in a party. This definitely changed things for me as I normally take combat encounters head on in other games such as Baldurs Gate 3 that boasts a party member of four. However, with only three party members in your team for Miasma Chronicles, stealth definitely played a bigger role in combat which was an interesting change of pace for me.
Not only that, similar to the combat in XCOM, I made use of the terrain more and positioned my team strategically to ensure that the enemies are consistently being flanked for the bonus damage and accuracy.  Your characters are given 2 Action Points (AP) and you will need to plan your moves wisely as some characters like Jade only shoots once before needing to reload.
Different encounters do highlight on different characters strengths, so understanding the different skills available to your party is very important when considering team compositions based on the encounter ahead. However, the difficulty of the game does feel unfair at times considering how the enemy always seems to hit their attacks with my team accuracy being relatively poor in comparison.
Of course one might call this bad luck, as I am no stranger to getting really bad attack rolls in these types of games. But the fact that I was playing on Normal difficulty yet still getting into some battles that felt like brutal difficulty in other games did feel like it was intentionally designed to be that way. While I see nothing wrong with genuinely providing the player with a good challenge, a fine line definitely needs to be drawn to ensure that the balance between fun and challenging is kept consistent.
Moving on, the scarcity of resources is definitely something I am a fan off. Many a times in games such as Wasteland 3 or XCOM, you will eventually get an abundance of research materials or items in your inventory which will make its way to the pockets of some merchants or be disintegrated into other crafting materials.
With Miasma Chronicles I genuinely had to plan out my builds and equipment to ensure that everything was used to get the best possible outcome, which really adds further to the strategic layer of the game as I would need to decide on who gets the best upgrades and equipment.
Customization
The customization is simple and satisfactory ranging from weapons and their attachments to the Skill Deck, which gives you access to a variety of Passive and Active skills. The menu is easy to navigate and each upgrade effect that you take does feel significant as a whole and you can definitely see and feel the difference in combat encounters after leveling up.
What is also great is that the upgrades that you slot on your weapons such as scopes and mods also reflect on the weapon model itself which is a neat little attention to detail that adds to the overall aesthetic of the game.
Technical Performance
In terms of optimization, the PC version did not have too many problems which I am thankful for. I kept my framerate counter locked at 60FPS and it did manage to push that out with Ultra settings at 1080p with the exception of very few specific moments which had some stutters and drops. Those are far and few in between however as the rest of my playthrough was very smooth. There was also an audio bug which made my audio disappear and an easy fix was to simply return to main menu and just reload the game.
Verdict
Miasma Chronicles is a pretty great turn-based title to add to your list of games to get this year. The world and its characters are interesting enough to keep you well invested until the credits roll and it comes with some pretty great combat encounters as well.
While it is far from being a perfect game due to its difficulty which may be a bit too hard at times, boring exploration segments, as well as the occasional technical issues with its frame rate drops and stutters.
In any case, who is this game actually for? I believe fans of the turn-based genre would definitely appreciate this more as the game is quite challenging and really makes you think when approaching battle scenarios. While the issues mentioned above are not specific and your results may vary depending on the hardware that you are using, the game as a whole does provide a good experience overall which I hope to see more of in the future.
Miasma Chronicles will be available on PlayStation 5, Xbox One, Xbox Series XlS and Microsoft Windows. You may find further details regarding the game at their official website.
---
Miasma Chronicles was reviewed on PC and the code was provided by the Publisher.
---
Check This Out Next
---
The Review
Miasma Chronicles
PROS
Interesting World and Characters
Simple but meaningful customization and upgrade system
Fun core gameplay loop
CONS
Bland exploration for certain areas
Inconsistent difficulty spike
Technical issues on PC