Anyone who's grown up with their grandparents has probably had a fear of dolls at some point in their life. Despite being the iconic girl's toy, the truly classic dolls of yesteryear are some of the best source material for making people's skin crawl.
M3GAN takes this phobia and runs with it, and boy does it go far. Featuring a killer robot doll and a lot of jabs at modern technology, M3GAN has the potential to be one of the most unique horror movies of the past year.
But how fun is this doll-horror to actually watch? Read on and find out.
Baby Alive
Admittedly, M3GAN's setup is pretty standard for anyone who'd seen an episode of Black Mirror and tweets about the robot uprising. Gem, an overworked toy designer finds herself taking care of her niece, Cady, after her sister dies in a car accident. As a means of solving her need to take care of her niece and come up with the next big toy, she develops M3GAN- a learning android that's the perfect companion for a lonely child.
Naturally, circumstances lead to M3GAN becoming more alive than anyone had hoped, and she starts lashing out and killing people. It's a great mix of phobias- M3GAN's uncanny face is great for that classic fear of dolls, meanwhile the rogue AI premise of the story is incredibly product-of-its-time.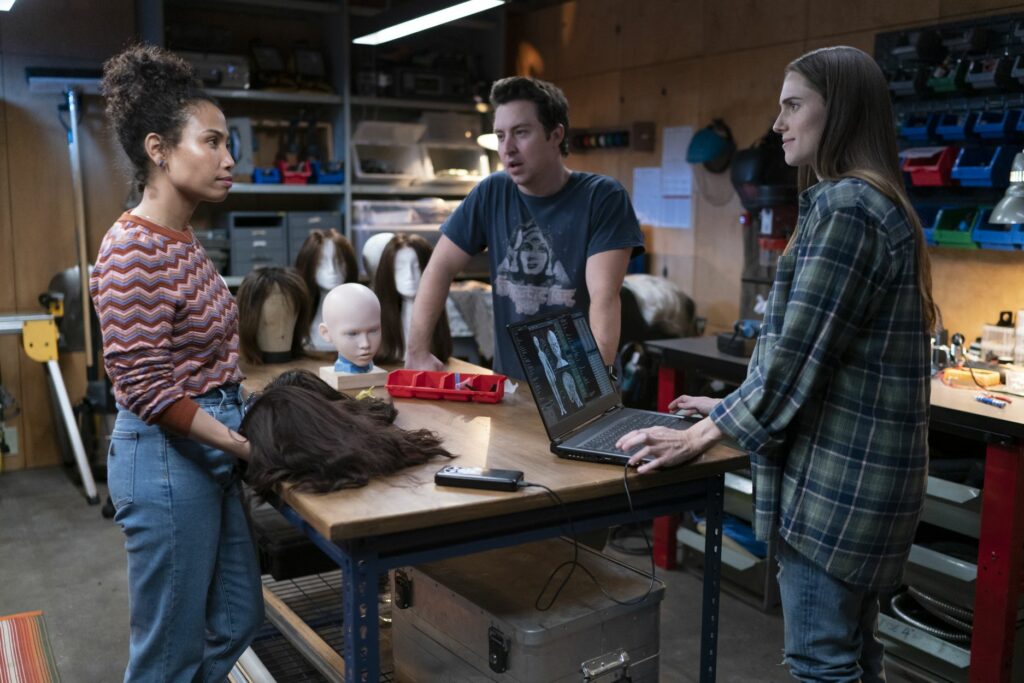 Underneath the movie's plot, it actually feels like the movie has something to say about The Internet Of Things and screen time in children. Not so much as a primary message, but it's an interesting backdrop to put an otherwise by-the-book horror movie against. Gem and Cady's heart-to-heart towards the end is all the better for it, which really isn't what you'd normally be looking for in a slasher flick.
That's not to ascribe some deeper meaning to the horror movie, though. Even if you just like watching bad people get horribly maimed, M3GAN is sure to be that source of schadenfreude for you. Each of her kills are laughably intense, and display the kind of creativity that would make Neil Buchanan proud.
Tense And Creepy
As a movie, M3GAN's success comes largely from its atmosphere. Even before bodies start hitting the floor, you just feel wary of her at all times. The creepy doll being a killer isn't any kind of mystery- instead you're left biding your time and wondering when it's going to happen. It's like Chekov's Furby- you're aware she's in the scene, you see so many opportunities, and now you're a tense mess wondering who her next victim is going to be.
The other half of the success is M3GAN herself. There's a surprising amount of restraint in how they designed the character- she looks like a real doll you'd buy on the market, rather than something designed to be intentionally creepy. The character's limited range of motion is really great in the more tense scenes- imagine getting murked by something without a full range of finger articulation.
Even her dialogue is great, oscillating wildly between a focus tester's idea of a pre-teen girl and a pre-teen girl who's just that much more sinister. The fact that she wins over the hearts of so many characters in a believable way is impressive- like I said, the twist that she starts killing people is only a twist in-universe, so you sitting there knowing where this is all going to go feels like being the only sane person in a room as everyone starts exposing their backs to the creepy murder doll.
That being said, the movie does have its gripes. While not overly abundant, M3GAN does rely a little too much on jumpscares when there isn't blatant murder happening. The fact that it's always done with this same stinger gets on your nerves, but even then it's done with a lot more restraint than most horror movies nowadays.
There's also the question of how dated the movie itself is. The constant references to modern day pop music are going to show their age in a few years, and the fact they're so on the nose is giving me a lot of Suicide Squad flashbacks. For the love of god, she literally starts singing Titanium in a scene where she's saved by her titanium endoskeleton.
Closing Thoughts
Overall, M3GAN is a movie that surpasses its B-movie expectations. It's a fun horror flick, one that's sure to be rewatched in future years as a great cultural portrait of the 2020s. It has no real flaw that other horror movies don't do worse, and the dedication to creating the world's creepiest doll makes her feel like a yassified Chucky for a new era.
If you like some good, schlocky horror, M3GAN feels like the cream of the crop. I do think the change of pace with a techno-horror instead of anything supernatural was also a great choice, so even if you're feeling a little worn down from horror nuns and cults and the like, I'd recommend checking it out for a breath of fresh air.
M3GAN
| | |
| --- | --- |
| Pros | Cons |
| M3GAN is hella creepy | Cool it on the empty jump scares |
| Great atmosphere | Licensed music choices make it feel dated |
| Some actual food for thought | |
---
M3GAN is currently available to watch in local cinemas, and our screening was provided courtesy of UIP Malaysia