The fiendish fowls of Team South Town: Geese Howard, Billy Kane, and Ryuji Yamazaki have made their way to The King of Fighters XV.
They are the second team of DLC fighters following Team Garou (which coincidentally includes Geese's son Rock Howard). The team costs a hefty RM75/$15.99 but for that price, you get three popular fighters with both default and alternate costumes. So, can Team South Town face the fury of The King of Fighters XV?
I'll be honest, reviewing DLC characters for fighting games can be tough as ultimately players are still experimenting with what can be done with these guys but I'll give my impressions on how I've found each of them as a more casual KOF player.
Geese Howard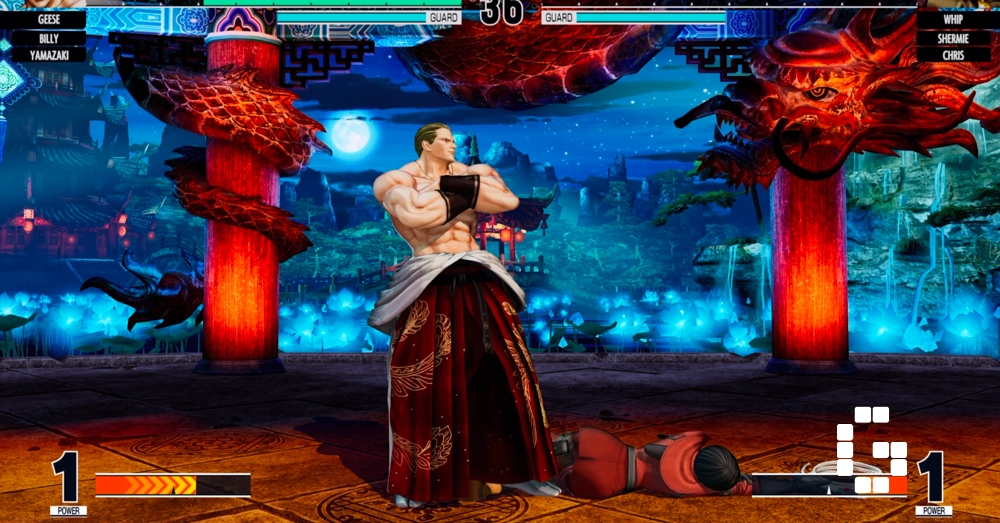 Let's start with the main man himself, the powerful crimelord, the archenemy of Terry Borgard with a pension for falling off his own tower: Geese Howard. I'll have to start by saying that while Geese looks pretty sharp in his suit and tie, I'm glad SNK bundled in his iconic kimono as an alternate costume. The world's strongest weeaboo just isn't the same without it.
Preditaburi, Geese's strengths as a fighter lie in his powerful combo grabs. With one quick flip, he can quite literally turn the tides of battle. He's a very versatile fighter, with great normal game. His reppukens make for fast zoning projectiles, he has good jabs, and his standing D, crouching C, and Raging Storm make for reliable anti-airs.
It's also very easy to string together strong combos with him. His fudou ken serves as a reliable straight palm from which he can combo further or go into multiple stances.
I initially picked Geese out without looking at his moveset, yet I could easily pull his normals and specials into combos for a decent chunk of damage. It made him fun to play as and by the end of my session, I really wanted to learn how to use him better.
Overall, you don't simply include Geese Howard in your fighting game and make him strong as hell itself. Hail to the King Weeb of South Town.
Billy Kane
The brutish brit that brought a bow staff to a fist fight. Billy Kane has been Geese's right-hand man since the original Fatal Fury and is still fighting with him to this day. Like his boss, I actually prefer his alternate costume to his default with the leather jacket giving him that London punk look that suits him all so well.
Billy fights with a three-segmented staff that gives him a good amount of range and anti-air abilities. Someone gets too close: poke them with the poll. That being said he's also got more than keep-away tools. His Senpuu Kon spinning staff and Tsuigeki Kon counter moves are good for punishing those that get too close. 
I also really liked his pole vaulting moves. These launch him into the air and can allow him to slam down on opponents from above. They were his most fun moves but they can be risky. He'll be vulnerable when launching himself so they need to be timed well.
If I'm being honest, I wasn't the biggest fan of Billy's playstyle. While it was fun to bonk guys with the poll, I found that his moves didn't flow into each other quite as well as they did for Geese and Yamazaki. I'm sure with more practice I could make more effective use of him but for now, he's probably why least favorite of the South Town Trio.
Ryuji Yamazaki
The man that really should have guest-starred in a Yakuza game by now, Yamazaki. I actually like both his costumes equally. He looks slick with the white jacket, he looks slick without the white jacket. Yamazaki's unhinged aura of danger remains regardless.
This guy is a pure rush-down character, full of offense combined with even more offense. He has fast attacks with good range, meaning that he can easily pressure opponents with his great mixup potential. His serpent slash in particular is a fast jab and great anti-air that be lead to some high-damage combos. I have to give SNK credit for making the guy's playstyle feel so very in character.
All this comes at a price though. He may have high offense but Yamazaki is far from a unga bunga fighter; he is very execution heavy and requires a lot of precision to use. You need to know stance cancels, special cancels, and the exact timing to do them right or it's game over.
He also doesn't have any fast reversals. Combine this with his rather weak okizeme and corner carry and you do have to be more careful with Ryuji or the tides of battle can be easily turned on him. While he can give a good amount of punish, you have to make sure he doesn't take any himself.
Team South Town
As a whole Team South Town are three classic characters that more than deserve a place in King of Fighters XV. Of the three Geese was by far my favorite and the one I had the easiest time learning. That's not to say Billy or Yamazaki are bad, they just require more time to practice with or might just not be for me.
One thing that might harm most people who want to learn this team is their price. Team Southtown is priced at RM75/15.99. Even for three characters, that's almost half the price of the full game meaning it may not be worth getting if you're only interested in one of the characters.
With that being said if you're serious about competing in The King of Fighters XV, I would ultimately say they're worth picking it up. I can see all three of these guys getting a healthy amount of screen time online and they have a lot of potential to spice up your team.
Learn to use them right and when you're against an opponent, you'll be staining your hands, with their brood.
For more information on The King of Fighters XV, check out our original review of the game here.
SNK's latest fighting game is currently available for PS4, PS5, Xbox Series X|S and PC.
---
Check This Out Next
---