We were invited to a presentation to learn more about the upcoming PGA Tour 2K21 game. It's surely something many golf fans have been eagerly awaiting, and there's plenty of features the newest iteration is bringing to the table, presented by Josh Muise, Creative Director and Shaun West, Senior Producer. So, what's in store?
Do check out our interview with Muise and West here, and our demo tryout here.
---
"Golf Got Game" and "Golf is for everyone" drives PGA Tour 2K21. The game is meant to fill the lull in major golf video games, and bring the most immersive and engaging golf experience yet to everyone, for both partners and opponents.
PGA TOUR CAREER MODE
With over 30 events and 15 licensed courses, your myPlayer will be able to go through the FedEx Cup, facing down both a stacked leaderboard and rival challenges against 12 pros, that includes cover #1 golf world champion, Justin Thomas. Besides being on the green, you have to manage sponsor relationships off, with the myriad of golfing brands you can choose to represent.
Create your myPlayer who will be your avatar for both Career Mode and other game modes, including online play. Basic customization include setting:
Name
Gender
Nationality
Handed-ness
Height
Weight
You'll have plenty of clothing options but if you rather just dive right into the action, then West has emphasized that they've put a lot of time into making presets as well so that players can go right in to selecting their gear and getting into clubs. You'll be able to save up to five outfits, with a deep library of apparel and accessories promised. Most importantly, you'll be able to set up your golf bag, to select the clubs for the job.
Some of the brands you'll find include:
Cobra Puma Golf
TaylorMade
Malbon Golf
Ben Hogan
Bridgestone
Wilson
Skechers
Callaway
Original Penguin
PGA Tour
Jack Nicklaus
Grand Slam Performance
Adidas
Travis Mathew
Ralph Lauren
Under Armour
See how you want to balance your bag according to your playstyle and skill level. Equipment can be earned through gaining experience as you play, or purchased through in-game credits. Career mode will also unlock some exclusive gear. In regards to the brands, the sponsorship comes into play: enter contracts with challenges to complete to earn sponsorship levels to increase your relationship with a particular brand for said exclusive equipment with a particular sponsor. Only one sponsor can be active at a time, so you'll need to learn how to manage those relationships from season to season. Jump right in, or…
Start your journey from Q-School (Qualifying School). Compete with other up and coming talent for your short at the Korn Ferry Tour before you proceed to the PGA Tour proper. Seven events will be the lead up to the pro scene, so choose where you want to start.
FOR THE ROOKIES
If you're new to golf games or need a refresher after stepping away from the green, then there will be assists and accessibility features in place. Some of the featured points include:
Pro Vision
Shot Feedback UI
Shot Suggestion
Training System
Difficulty Settings
They want to grow the game and bring in a wider audience to golf, and as such have put plenty of attention for the benefit of beginners. Pro Vision is a brand new feature, touted to be the closest you can get to being like a pro. A projected line for ball flight will be shown and will take into account the environment – elevation, wind for example – so that you have an informed decision for every shot.
The Shot Feedback UI is a "three piece" system, which will have a power meter – new for the year – swing plane and tempo circle. These three will then combine and provide feedback for the shot and you can more easily identify errors and find areas to improve. Shot Suggestion has been improved and will provide you the safest option for your current line, but you can always choose to make your own decision instead.
The Training System has been refined, so besides the tutorial tips, the system will be able to point out areas to improve for next time, and you can even head in to practice the given advice before going back to your game proper. As for difficulty, there will be six presets from Beginner to Legendary, with Pro Vision and forgiveness zones appropriately dialing back as you move up the difficulty rating, but you'll also be able to mix and match settings as you wish for custom difficulty. There'll even be bonus multipliers on your experience points rewards depending on your settings.
FOR THE PROS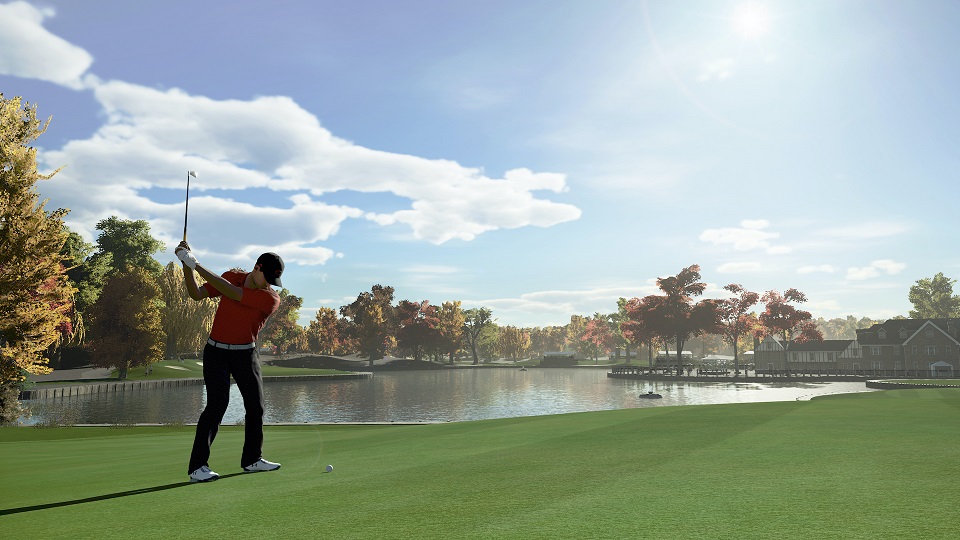 As for the pros, some of the highlighted features are:
Partial Swing
Dynamic Shot-shaping
Yardage Book
Partial Swing gives even more freedom for experienced players to control every shot, to set distances, scope and camera view, so basically being able to move the marker around and really decide where you want the ball to go. You'll see the changes reflected in the power meter, but turning off the power meter HUD is also an option for a challenge, asking you to rely solely off haptic feedback.
Dynamic Shot-shaping involves the reimagining of the simulation of a shot, where you can control the shape of every shot type. Pros will look to master this so that they can get an even greater accuracy for their shots.
While it's listed for the pros here, the Yardage Book in general will be doing work for all player levels so that you can plan out every shot once you better know your clubs. You can see where the projected landing zone is and utilize the correct club for the terrain. Use it as a tool to manage your courses and get those low scores.
COURSES
It wouldn't be a golf game without the courses to play on, would it? You can find:
Added to PGA Tour 2K21

TPC Louisiana
TPC Twin Cities
Innisbrook
TPC San Antonio
Quail Hollow
Riviera Country Club
TPC River Highlands
East Lake Golf Club

Returning to PGA Tour 2K21

TPC Sawgrass
TPC Boston
TPC Scottsdale
TPC Southwind
TPC Deere Run
TPC Summerlin
Atlantic Beach Country Club

Post-launch
As previously revealed, these courses have been scanned in from real life, so you can get as close to the physical locations as possible.
PRO LINE-UP
Besides the courses, you need your rivals, The starting line-up will have:
Justin Thomas
Cameron Champ
Bill Horschel
Sergio Garcia
Tony Finau
Jim Furyk
Gary Woodland
Patrick Cantlay
Kevin Kisner
Matt Kuchar
Bryson Dechambeau
Ian Poulter
Players will get to challenge the first ever pro roster for the game, featuring both up-and-comers to the legends on the green. These pros have been scanned in as well to ensure authenticity along with their sponsors also represented in the game. They won't be the only pros to go up against, with others on the leaderboard as you make your way through your pro career.
With the Rivals system, you can directly challenge your Rival, and have your performance be compared to them. Outperform your Rival and claim more rewards (and be smug about it perhaps). The Rivalries will run concurrently with the seasons, and as you progress, you'll unlock the next Rival. There'll be exclusive apparel as well.
Rivalry Points will be your finishing line in regards to competing against your Rival: it will end when either party reaches the points total first.
With real life scanning for both the courses and the pros, HB Studios has brought in commentators Luke Elvy and Rich Beem for that true broadcast experience. Rich Beem provided the team with his experience from being a former PGA pro, while Luke Elvy brings his 20 years of experience in the sports booth. Hear them provide the play by play, this time with you in the spotlight.
TIME IN THE CLUB HOUSE
With golf being a social game, there had to be features where you can interact with fellow golf enthusiasts. One of them being is the Course Designer, using the same tools as the development team for recreating the licensed courses in the game. "Thousands of objects" will be at your fingertips; choose your theme, number of holes, par, or just start completely from scratch. Have wildlife or manmade objects in place if you want them to be there, and they're not restricted by theme either, so mix and match the pieces, name your course, and publish it for the world. Players across all platforms will have access to your course, too
Besides progressing through career mode, there will be alternate game modes, with some of them being:
Stroke

Get the least number of strokes per round to win. Play with 3 other friends or alone to beat your score

Stableford

Score points based on strokes taken per hole. You can play both with 3 others for the most points or solo

Match Play

A 1 v 1 format to get the lowest score to earn a point, with the winner having the most points or a decisive lead

Skins

The lowest score per hole wins a skin. No skin is awarded for a tie, with the skin being up for grabs for the next hole instead. Earn the most skins to win. A mode for 2 to 4 players
Post-launch, there will be a variety of playlists to drop in to, and will pull from a list of randomly chosen, curated courses by the studio to play. Otherwise, you can have Private Matches to customize every setting you may need, from assists to weather conditions or even crowds and get your friends together.
Should you feel you're at a high enough level to plan your own tour, you can, with Societies. Build your own Tour with both licensed or community courses with equal setting customizations with private matches and launch your season. Your most trusted members can also help manage your seasons to keep the tour on schedule. Otherwise, you can simply join the official Society without the frills of management and participate in weekly events from the studio. You can join up to 10 Societies at a time, so you don't need to commit to one.
---
The game launches on 21 August 2020 for Nintendo Switch, PS4, Xbox One and PC. What else is there to say for golf fans besides to look forward for its release for a golfing experience that's long time coming?