Exos Heroes is celebrating the global launch's 1st anniversary with the end of its countdown event! As part of the celebrations for the 1st anniversary, global Exos Heroes players will be able to enjoy up to 77 free recruits for two weeks until 10 June.
During the same two weeks, players can also redeem Fated hero Jinai when they log in for the 7 Day Gift event, alongside her anniversary exclusive Fatecore.
A new Fatecore for Fated Hero, Neomi, is also available in 'Dominator – Neomi', with the matching Exclusive Weapon, 'Eastern Guardian Blade'. This Fatecore features a male version of Neomi in a parallel world where he has become the Patriarch of Brunn. The matching Exclusive Weapon is one that holds the power of Brunn's tyrant ruler. Neomi's Fatecore and associated weapon will be on rate up until 3 June.
You can also watch the anniversary special thanks PV, as well as a special thanks Director's letter – from the game's head director, Choi Young Zun – below:
More information about the game and its ongoing events, as well as regular updates can always be found through the official Facebook page. Here's to more anniversaries and goodies along the way, and congratulations for hitting the milestone.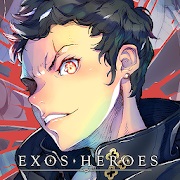 EXOS HEROES
Android, iOS
The grand adventure to search for 'Exestruk', the missing sword of the emperor, and the curse of the ancient dragon! Experience the adventure of your lifetime. Experience the unique visualism beyond your imagination. Experience the unique, extraordinary RPG!