As the seasons change, we get to know more and more about the upcoming Diablo IV. In the latest quarterly update, Joe Shely, Lead Game Designer on Diablo IV has brought us more progress on the upcoming action-RPG.
Unlike the last update, which saw more focus on class builds, this update focused more on itemization in Diablo IV. As Diablo had a large hand in the popularization of loot mechanics in games from the past decade, it's of note to see how the follow up to Diablo III would be tweaking their loot systems.
One big change to these systems would be actual gameplay differences between weapon types. In previous Diablo games, weapons had little actual gameplay variation, mostly being boiled down to their DPS and what skills you could use (for example, the Crusader would have skills that could only be used if you had a mace) .
Diablo IV will instead push for a more gameplay-centric approach, with the choice between weapons affecting things like speed and power.
"In general, one-handed weapons excel at letting you attack and reposition quickly, while slower two-handed weapons deal more damage. You can really feel the differences between them", the blog post reads.
Legendary Loot And Item Tiers
One of the other jobs the Diablo team was tasked with was reworking item tiers. Presently, the way loot works in Diablo III made it such that after a while you could really ignore anything that wasn't Legendary tier. While this simplicity was part of the core philosophy for Diablo III, the team wanted to move away from it with Diablo IV.
"There's a great feeling of progression when you graduate into items with greater complexity, more powerful effects, and cooler looks as you level up. And the game-changing powers found on the Legendary items in Diablo III are exciting and offer many possible effects that just aren't possible with regular affixes", says Shely. "That said, we don't want to end up in a place where the right decision is to ignore every item that doesn't have a glowing orange sky-beam".
The result, according to Shely, is that you'd see lower-tier loot have a higher chance of being really powerful. While it still can't get Legendary affixes, you could still get blue loot that could have the one affix you really need, versus a legendary that might have flashy skills that won't help your build.
That being said, Legendary items are getting a slight rework too, with how they're implementing Legendary affixes.
"You can think of Legendary items as Rare items with one affix replaced with a legendary effect. These new legendary affixes work just like regular affixes, in that they can roll randomly on different items and in different slots. Many can be used by any class, while some are specific to a particular class", says Shely.
They also announced Unique items, replacing Diablo III's Mythical class. While Mythicals no longer exist in name, many of their most appealing features would still make it into Diablo IV.
"We still like the idea of Mythic items, but we don't want to create an item quality that invalidates all others, so they're out for now. One of the things we loved most about them was the promise of getting random legendary powers on an item, so we folded that into our baseline legendary design", says Shely.
Unlike the Legendary items which have to roll for their affixes, Uniques would have pre-rolled affixes. According to Shely, you'd get three Uniques at level 20, so they'd be a good way for those of us who have terrible luck on rolls to keep our heads afloat.
Addressing Feedback
Shely says the team had also addressed feedback from the previous update, mainly to do with the game's Angelic and Demonic skill trees.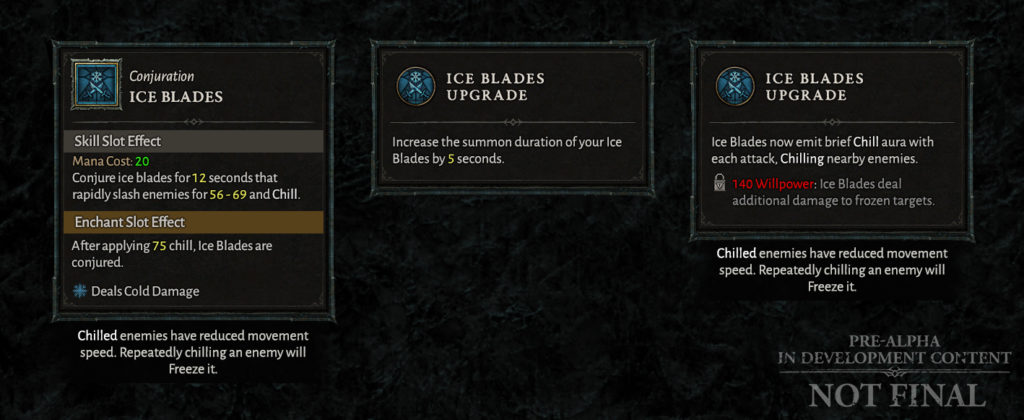 "In our last blog, we agreed with your feedback that too much of a character's power came from the items they wore. And we liked the imagery conjured by the phrases "Angelic Power" and "Demonic Power," but they didn't reinforce the fantasy of what being a Barbarian, a Sorcerer, or a Druid is all about. So we went back to our roots and looked at the classic RPG elements of early Diablo games. What are you really doing when you wade through a horde of monsters and emerge a level higher on the other side? You're training; you're practicing a skill; you're getting better at what you do. Becoming stronger, and smarter", Shely says.
Instead, levelling up would have you put points into core skills, which would improve your abilities. In return, class skills would also see additional bonuses if you hit specific stat thresholds, giving you more reason to level your stats around the skills you want most.