Devsisters has published major updates to its popular mobile RPG game, Cookie Run: Kingdom, which includes new characters, a new limited-time event, and an English Dub from over 60 acclaimed actors and influencers.
This brings a rich voice-animation experience to players stateside and other English-speaking countries.
The talented lineup for the English dub of Cookie Run: Kingdom is headlined by Jeremy Shada ( Finn from Adventure Time) as GingerBrave and includes Zack Aguilar (Aether from Genshin Impact), Rosanna Pansino (Baketopia), InquisitorMaster, LilyPichu, KieraPlease, YongYea, Zeno Robinson, and OJ Gaming. Michael J Wilson, who is known for his work on Ice Age has also contributed to the script.
"Our diverse Cookie characters are at the heart of our game and really come alive with their unique voices and personalities. We are proud to be offering this brand new experience to the English-speaking players," stated Jongheun Kim, co-CEO of Devsisters.
Players can also look forward to unlocking two new Cookie characters, Twizzly Gummy Cookie and Mala Sauce Cookie. Additionally, there will be a limited-time event called "Super Mayhem: Dragon's Valley," which elevates the PvP experience by allowing players to choose three teams of five to battle it out.
Since the game's initial launch, there have been 4 new episodes and 24 new characters added to the diverse cast, for a total of 61 Cookies. More Cookies will be joining the battle in the coming months. Episodes added since the launch, such as Castle in the Sky, Timeless Kingdom, Grandberry Market, and Hollyberry Palace, take players on new turns and adventures through Earthbread as they earn Coins, Crystals, EXP, and other Kingdom goodies.
If you log into the game today, you may notice you've received a series of goods as "compensation for errors after the update" likely referring to the game briefly being taken down for maintenance after the update.
Speaking of little goods, Devsisiters have decided to further celebrate the release of this new update by handing out a tasty new coupon code. Use the code REALTOUGHCOOKIES for 500 Crystals, Valid October 8th, 12 AM PST to November 8, 12 AM PST. This can be done at the Cookie Run: Kingdom DevPlay account.
Cookie Run: Kingdom is currently available on the App Store or Google Play Store.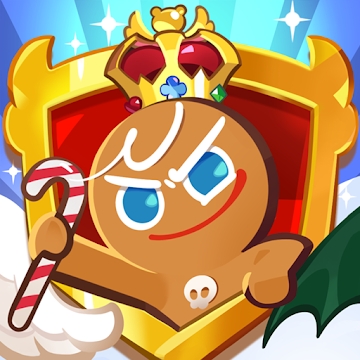 Cookie Run: Kingdom
Android, iOS
Build your dream Cookie Kingdom and reclaim the land lost against the evil that lingers in the shadows. Fresh out of the oven and from the Cookie Run: OvenBreak creators comes Cookie Run: Kingdom! Build a delectable Kingdom while battling against evil dessert monsters! Team up with friends in Guild Battles! Fight alongside other Guild Members and defeat new rivals. Battle against powerful enemies to level up together. Earn soul stones, guild level-up items, guild treasures, and more!