As a precursor to the ever anticipated Contingency Contract event, Arknights will first be having the Code of Brawl event. Take this down time to maybe relax with the Penguin Logistics crew.
Player level cap will be increased from level 100 to level 120, and the Sanity cap will be increased to 135. The Originite Prime refresh will also no longer be restricted (previously capped at 10 daily) from 27 May 2020, 10:00 UTC -7.
Limited Operations will open up with the start of the Code of Brawl event. Obtain "Top Tier Penguin Medals" from clearing event missions related to the event stages and redeem them for rewards. The 5* Defender, Bison, will be obtainable from the event. There will be two parts to the event:
Part 1, consisting of CB-1 to CB-10 opens 27 May 2020, 10:00 UTC -7.
Part 2, consisting of CB-EX-1 to CB-EX-8 opens 3 June 2020, 16:00 UTC -7.
The limited headhunting banner, Keeper of the Lock and Keys, will feature the following Operators on rate up from 27 May 2020, 10:00 UTC -7 until 10 June 2020, 03:59 UTC -7:
6* Caster: Mostima
5* Specialist Waai Fu, 5* Sniper Firewatch
4* Sniper May
New purchasable outfits from the Vitafield series will be available for Firewatch and Jessica from 27 May 2020, 10:00 UTC -7 until 10 June 2020, 03:59 UTC -7. Wilted Cypress will cost 18 Originite Prime, while Ash will be 15.
A new furniture set, the Penguin Logistics Safehouse, will be added to the shop. Part of the pieces will be available from the Code of Brawl event shop, and will otherwise be open from 27 May 2020, 10:00 UTC -7 until 17 June 2020, 03:59 UTC -7
The new standard headhunting will open from 29 May 2020, 04:00 UTC -7 until 12 June 2020, 03:59 UTC -7. Hoshiguma and Projekt Red will be the certificate shop Operators. On rate up will be:
6* Sniper Exusiai, 6* Defender Hoshiguma
5* Guard Lappland, 5* Specialist Projekt Red, 5* Defender Nearl
The Sami Countryside Villa furniture set will be removed from Lucky Drops, and will be permanently available in the shop instead from 27 May 2020, 10:00 UTC -7 onwards. In its place will be the Reimselar Ballroom to be added to drops.
Are you ready for the Code of Brawl party in Arknights?
If you haven't already done so, the official Twitter account recommends you to bind your account before the maintenance begins.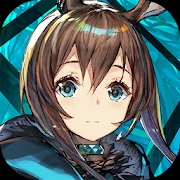 Arknights Global
Android, iOS
Take on the role of a key member of Rhodes Island, a pharmaceutical company that fights both a deadly infection and the unrest it leaves in its wake. Together with your leader Amiya, you'll recruit Operators, train them, then assign them to various operations to protect the innocent and resist those who would thrust the world into turmoil. Your tactics will determine the future of Rhodes Island. Fight for the Dawn!