Upgrade your visuals with the Predator XB323QK NV and Nitro XV282K KV gaming monitors that come with TÜV Rheinland Eyesafe® certification and Acer VisionCare. Enjoy the best possible viewing experience while having the assurance of having protection for your eyes.
Designed with gamers who look for top-of-the line technology in mind, both the Predator XB323QK NV and Nitro XV282K KV gaming monitors are equipped with the latest HDMI 2.1 ports that enable to deliver visuals in 4K UHD 3840 x 2160 resolution at 144 Hz refresh rate for heightened gaming experience. In addition, the PD65W USB Type-C port provides display, data transfer and charging all at the same time over a single cable. Both monitors can also work as KVM (Keyboard, Visual, Mouse) switches, enabling easy switching between desktop and laptop without having to swap to an additional set of keyboard, mouse and monitor.
Among the first monitors in the world to be TÜV Rheinland Eyesafe® certified, both Predator XB323QK NV and Nitro XV282K KV gaming monitors are designed to emit less high-energy blue light than industry-standard LCDs. With Acer VisionCare 3.0, Acer Nitro XV282K KV gaming monitor comes with LightSense, ColorSense and ProxiSense to measure environmental and ambient light to automatically adjust the monitor's brightness and color temperature accordingly. The Predator XB323QK NV features the more advance Acer VisionCare 4.0 AdaptiveLight further reduces eyes fatigue and helps protect gamers' eyes during longer gaming sessions and tournaments.
Predator XB323QK NV
The 31.5-inch UHD (3840 x 2160) IPS gaming monitor comes with Adaptive Sync, compatible with NVIDIA G-SYNC, and 144 Hz refresh rate Agile-Splendor IPS for smooth gaming and vibrant colours offered by the monitor's DCI-P3 90% Wide Color Gamut. With Delta E<1 color accuracy, Predator XB323QK NV also has VESA DisplayHDR™ 400 certification to meet the demands of gamers.
The ErgoStand means you can adjust the monitor swivel, pivot, tilt and height to find the perfect viewing angle. You can pre-order it immediately at RM4,299 from the listed retailers below. If you get it before 6 October 2021, you can even get yourself free peripherals worth almost RM800 which include a Predator Galea 311 headset, Predator Aethon 300 keyboard and Predator Cestus 310 mouse.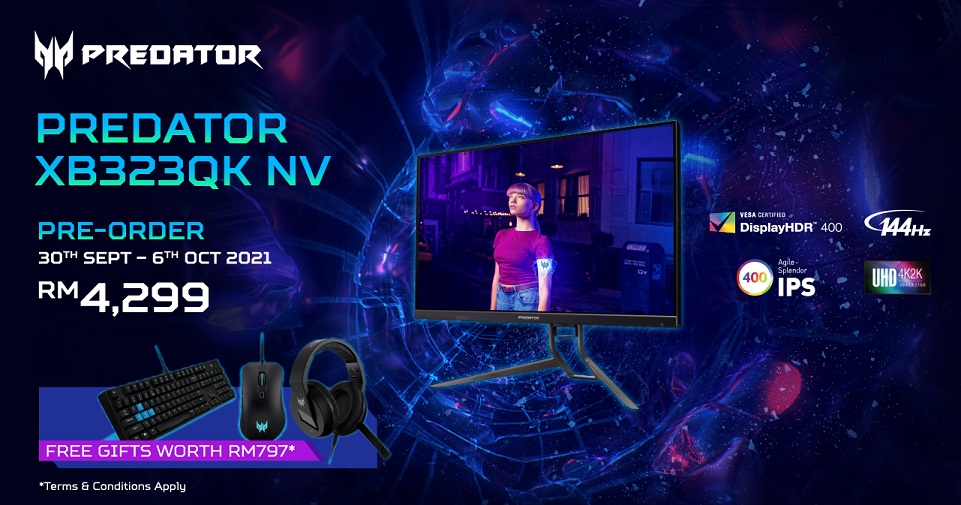 Acer Nitro XV282K KV
The Nitro XV282K KV Xbox edition has the special green cable management hook. As part of the "Design For Xbox" programme, the Acer Nitro XV282K KV is a 4K UHD IPS panel that supports AMD® FreeSync™ Premium technology, 144 Hz refresh rate and 1 ms response time for speedy frame rendering.
Covering 90% of the DCI-P3 wide color gamut to allow for intense color representations, it features Acer's new Agile-Splendor IPS technology to deliver clear images, even at wide viewing angles. The new Acer Nitro XV2 series monitor features VESA DisplayHDR™ 400 and fast liquid crystal IPS for increased image quality.
Get your own Acer Nitro XV282K KV at RM3,299 at the retailers listed below. Any purchase before 6 October 2021 will be entitled to a free Predator Aethon 300 keyboard and Predator Cestus 310 mouse total worth RM589.
Supported retailers: