UNIQLO, Japanese global apparel retailer, will be launching multiple Pokemon-themed UT Collections on 15 or 16 June, depending on stores. The UNIQLO T-shirt lines offer an array of authentic pop culture and art graphics from around the world, allowing the wearer to express their individuality.
DANIEL ARSHAM
UNIQLO will be launching the Daniel Arsham x Pokemon collection as part of a collaboration project, featuring Arsham's drawings of quintessensial Pokemon and its sculpture. Find a unique take and interpretation of the Pokemon from the beloved Japanese game franchise!
"With many of my projects, I try to make work that's not just for art people and I think UNIQLO has a similar egalitarian culture. The reason I feature iconic characters in my work is that they are very recognizable, and, on the surface, they make it easy to enter my work. Pokémon has been a monumental presence ever since I was a child and I'm excited about the opportunity to present my work to a much wider audience."

Daniel Arsham
Arsham has become spectacularly popular in art, fashion, street culture and other areas since his partnership with Kim Jones at Dior. He employs a creative concept he dubs "Fictional Archaeology", imagining familiar objects as how they might look like 1,000 years from today. This art project with Pokemon will see Arsham present a sculptural collection titled "Relics of Kanto Through Time", imagining Pokemon unearthed a thousand years into the future. Find this vision reflected in the UT Collection as well.
Find seven design variations for men, women, and kids in monotone graphics of crystallized sketches of emblematic Pokemon. Find Arsham's sketches of Pikachu, Mewtwo and Jigglypuff translated onto these shirts. Get them at:
Men's T-shirts – 5 designs:  RM59.90
Women's T-shirts – 2 designs: RM59.90
Kids' T-shirts – 3 designs: RM39.90
WITH POKEMON and monpoke
Adults can also opt for the With Pokemon UT line, while the first collaboration between UT and monpoke, Pokemon's official baby brand, will offer a line-up for their kids! Find motifs of particularly popular Pokemon for a fashion-coordinated family.
With Pokemon presents Pokemon's key philosophies – adventure, discovery and friendship – that have made the franchise a beloved presence among people of all ages globally. Get them at:
Men's T-shirts – 5 designs:  RM59.90
Women's T-shirts – 4 designs: RM59.90
Kids' T-shirts – 4 designs: RM39.90
Kids' Light cotton easy shorts – 3 designs: RM29.90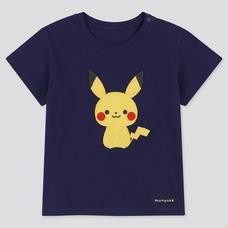 monpoke Baby's T-shirts – 4 designs: RM39.90
Find the UNIQLO x Pokemon lineups at select stores nationwide or online on 15 June onwards, where select stores may only have them available from 16 June onwards. Kindly refer to the UNIQLO Facebook page for more details.
Preview the collections here: