Not to be mistaken with its Rainbow Six Extraction counterpart, who's to say you can't take on the Archæan threat with the MSI Crosshair 15 B12U?
Unknown Forces are Invading! Earth is gradually falling into chaos and because you are impeccably skilled with shooting, you are the last hope for mankind! Become armed with the discreetly-developed advanced gaming weapon – Crosshair 15. Get ready to aim, shoot, and retake your position!
DESIGN
The laptop looks nothing short of stunning, with striking yellow detailing. In fact, it wouldn't look out of place if it was an actual, unlockable piece of REACT Tech. It's more subtle on the lid with clean lines and the ubiquitous MSI logo. It's relatively easy to leave fingerprints on the lid which you might prefer to clean or hey, leave it there to give it that rugged, well-used look.
Opening the lid, you get to see the yellow hinge, the yellow to black gradient, the yellow, blue and green backlit keys and the honeycomb pattern framing the keyboard. The honeycomb is also slightly raised, enough to feel a 'bump'.
Overall, it's 2.69cm thick, weighing in at 2.3kg for some heft.
HARDWARE
For ports, the MSI Crosshair 15 B12U has a pretty standard array:
1 x 3.5mm combo audio jack
1 x HDMI 2.0
2 x USB 3.2 Gen2 Type-A
1 x USB 3.2 Gen2 Type-C
1 x USB 2.0 Type-A
1 x RJ45 LAN port
Additionally, it has support for Wi-Fi 6 and Bluetooth 5.2. It does lack an SD card slot, and HDMI 2.1 is likely more preferable for most. Your mileage may vary if you think these are enough ports for you.
Our model is the i7 + RTX3060 combination. Storage wise, you can go up to 2TB PCIE 4.0 SSD, with the DDR4-3200 RAM capacities going up to 64GB. As for the display, it's a 2K 165Hz IPS screen, which really, shouldn't be anything less when you're partnering with an FPS game, a genre where you'd want faster screen refresh rates. Rest assured the laptop will not disappoint in this aspect.
The laptop's MSI-exclusive Spectrum Backlight Keyboard has a high 1.7mm travel distance, with the WASD keys being highlighted in yellow as befitting its theme. 15-inch keyboards don't typically include a numpad, but this one does. It's something I personally like, and the size is fine for my smaller hands. The touchpad is responsive, though I would hazard a guess you're more likely to be using a mouse.
When it comes to gaming laptops, the thermals would always be a concern. Fortunately, while the temperature can hit 95°C, there's no cause for concern as it can rapidly cool back down thanks to the two cooling fans, six heat pipes and CoolerBoost 5 Technology. You won't be feeling that heat anywhere near where you'd be touching either! It does have the usual caveat of being a little noisy when the fans get going. The battery life is pretty much as expected, and a 53.5 Whr battery on a gaming laptop won't last all that long without being plugged in.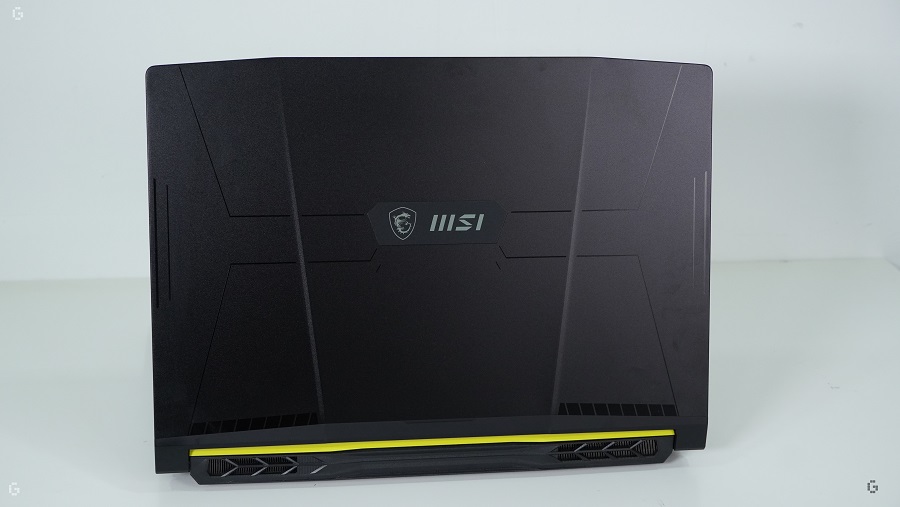 Despite the Hi-Res Audio certification, the sound quality seems average to these ears. The "max" volume isn't all that loud, the bass equally lacking and it can start crackling should there be higher pitches.
PERFORMANCE
With that out of the way, it's time to see the numbers! See for yourself:
3D MARK: 8876
PC MARK: 6954
Since this is an entry-level gaming laptop, these numbers are quite respectable. If you want to squeeze more out of the machine, there's always Performance Mode. As it stands, it's already competent for both gaming and heavier creative work. 2K60FPS isn't guaranteed if you're cranking up the settings to the max, but having DLSS / medium or high settings will work just fine. For consistency, 1080P is a better option.
RAINBOW SIX EXTRACTION: Average 79FPS, all Max settings
ASSASSIN'S CREED VALHALLA: Average 41FPS, all Max settings
DYING LIGHT 2: Average 30FPS, all Max settings, DLSS Quality
While an option, it would be preferable not to have Ray Tracing enabled so that you don't overly tax the GPU. DLSS Quality Mode is more than enough for a smooth game experience without sacrificing too much of performance.
SPECIFICATIONS
MSI CROSSHAIR 15
B12UGZ
B12UGSZ
B12UEZ
CPU
Up to 12th Gen Intel® Core™ i7 / i9 Processor
OS
Windows 11 Home (MSI recommends Windows 11 Pro for businesses), Windows 11 Pro
DISPLAY
15.6" QHD (2560x1440), 165Hz, IPS-Level
GRAPHICS
NVIDIA® GeForce RTX™ 3070 Laptop GPU 8GB GDDR6. Up to 1610MHz Boost Clock, 140W Maximum Graphics. Power with Dynamic Boost. May vary by scenario
NVIDIA® GeForce RTX™ 3070 Ti Laptop GPU 8GB GDDR6. Up to 1460MHz Boost Clock, 140W Maximum Graphics. Power with Dynamic Boost. May vary by scenario
NVIDIA® GeForce RTX™ 3060 Laptop GPU 6GB GDDR6. Up to 1752MHz Boost Clock, 140W Maximum Graphics. Power with Dynamic Boost. May vary by scenario
MEMORY
DDR4-3200, 2 Slots, Max 64GB
STORAGE
2x M.2 SSD slot (NVMe PCIe Gen4)
WEBCAM
HD type ([email protected])
KEYBOARD
Spectrum Backlight Keyboard
COMMUNICATION
Gb LAN, 802.11 ax Wi-Fi 6 + Bluetooth v5.2
AUDIO
2x 2W Speaker
AUDIO JACK
1x Mic-in/Headphone-out Combo Jack
I/O PORTS
1x Type-C USB3.2 Gen1, 2x Type-A USB3.2 Gen1, 1x Type-A USB2.0, 1x RJ45, 1x (4K @ 60Hz) HDMI
BATTERY
4-Cell 90 Battery (Whr)
3-Cell 53.5 Battery (Whr)
AC ADAPTER
240W adapter
DIMENSION ( W X D X H )
359 x 259 x 26.9 mm
WEIGHT WITH BATTERY
2.47 kg
2.3 kg
COLOUR
Multi-Color Gradient
IN CLOSING
As a whole, this is a highly proficient laptop in performance, with an attractive bold design. It'll be your trustworthy companion in the event of an alien invasion for Rainbow Six Extraction fans if you didn't obtain the collaboration model, and competently run any other games so long you tune the settings.
Three models are currently available in Malaysia. Learn more about this swanky laptop here.