When I first saw Monster Hunter Stories 2: Wings of Ruin, I figured it would be a game catered to newbies to the franchise. After dabbling in Riders for a bit, this title seems about as close as a global release for that mobile game. Conferring with those more familiar with the mainline games, Wings of Ruin retains a lot of the elements and formulas the series is known for, while having its own charm, besides being more approachable and not as demanding of you in terms of skill mastery.
STORY: TROPES ARE ALRIGHT
Compared to the mainline games, Wings of Ruin has more focus on the narrative, to get you invested and care about the conflict in the world. I will admit I found it a little amusing the Riders and the Hunters get into a slight tiff when they argue about Guardian Ratha; the former revere him while the latter's apparent first instincts were to bring along their weaponry before approaching the creature.
As a descendent of Red, the legendary Rider of Mahana Village, you are witness to the mass disappearance of Rathalos caused by a mysterious Red Light apparently related to the titular Wings of Ruin. The Rookie Rider experience is pretty standard, guided along by your mentor Kayna and later, a talking, alleged Felyne hero, Navirou. The weight of JRPG protagonist destiny comes knocking when a Wyverian girl named Ena entrusts you with a Rathalos egg that will birth a creature said to bring chaos and destruction to the world. Considering the Monsties you can get in the post game, what's one more?
New and old characters alike will accompany you in the story, both being present in the narrative as well as being party members with their own fighting styles and their partner Monsties. For the most part, the story itself is nothing out of the ordinary, especially if you're a JRPG veteran, being more likely to impress those less exposed to these tropes.
GAMEPLAY: ROCK PAPER SCISSORS IN THE WORLD
As you might expect, Wings of Ruin's gameplay system differs from the mainline titles, being a turn-based RPG rather than hack and slash action. You'll be spreading your time either exploring or battling throughout the game.
You'll branch out from the starting village to the various other regions that open up as you progress the story. The open maps are absolutely littered with resources – from herbs to mining materials and chests – and being able to ride your Monsties eases the journey some. Bottle Caps are another precious resource you can later trade for through the Melynx Inc. shop, obtainable from Everdens or quests.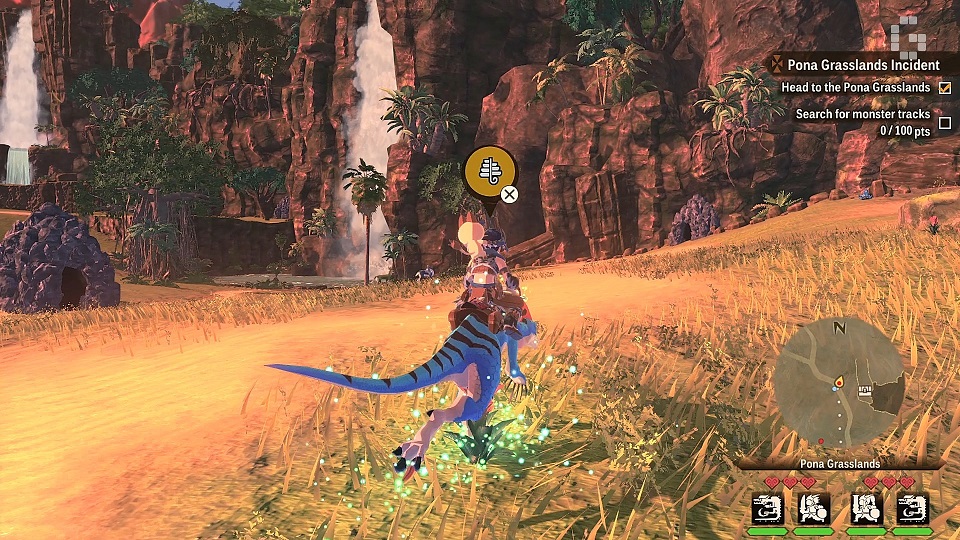 The Monsties you can get have abilities that assist in map traversal or even just for easier searching. I couldn't help but liken them to HM Pokemon, swapping them around as needed. Conveniently, if you do have a Monstie with an appropriate ability and you're not currently riding them, a prompt will appear where you can swap on the fly.
Besides Everdens, Monster Dens also dot the map with frequency. These are instanced areas containing a nest at the end for you to scrabble for eggs to take home. These dens can also contain additional chests, materials or other monsters hanging about. The Golden ones are rarer occurrences, offering appropriately rarer eggs and / or rarer genes.
You start battles by running into Monsties roaming around. They can get alerted and run over to you, though oftentimes it's incredibly easy to avoid them. You can also run into their hitbox when they're facing away from you to get a pre-emptive strike. I found it hard to maneuver every now and again, sometimes accidentally getting ambushed instead because I couldn't turn my Monstie around on time. Alas. In battle proper, you have a yellow line indicating you're being targetted; if you win this head to head fight – Red > Green > Blue > Red – you deal more damage to the enemy.
Your Monstie mostly acts independently, and if you can line up your attack type and target, you unleash a Double Attack to cancel the enemy's attack and deals massive damage. Enemies can enter a Rage mode that changes up their attack patterns, so break them and deal critical damage when they're down! Skills use the blue circle meter, or the Kinship Gauge. At max, you can ride your Monstie to unleash a Kinship Skill and really bring the hurt. You can bring along a maximum of 3 different weapon types besides swapping in Monsties, and it's incredibly easy to do whenever you need to adapt to the situation at hand.
You can be defeated up to 3 times in battle. On one hand, you don't need to worry about revival items as you're limited by the Heart meter. On the other, if you were about corpse dragging, this isn't the place for it. Overall, there's a level of strategy required in battles. However, the gameplay loop can get stale especially with regards to exploring, as there isn't much variety and nothing exemplifies more than the den layouts. The Nintendo Switch version isn't well optimized either, with noticeable frame drops every now and again.
The various Hub areas do stand out from each other, which can make the other exploration parts more disappointing. In these Hubs, you can chat up the locals, accept quests, and access facilities. Forging gear and crafting items is really simple; just head over to the NPC and submit the requisite pieces and get new equipment. Combining items is just a matter of opening up the menu and having the goods on hand. If you need some blessings, the Prayer Pot is there.
Last but not least is of course, the Stable. Here's where you manage your Monsties and hatching the eggs you've snatched. Renaming my buddies is an extreme sport. The other is using the Rite of Channeling to manage the Genes of the Monsties. It's easier to see which Gene or placement is most optimal, so it's one to experiment with. Some interactions could cause hiccups in the system, something to keep watch for.
There's co-op with up to one other player, but Wings of Ruin is comfortable enough as a single player experience if you're not out to hunt super rare Monsties.
VERDICT: MONSTER HUNTER FOR NEWBIES
When you think of the mainline games, Wings of Ruin is much more approachable and self-contained experience compared to ensuring you're at a high enough Hunter Rank, or stocking consumables, or repeated hunts of the same monster for parts you need. Many monsters which haven't gotten the spotlight in a while find some screen time here, so veteran fans can be slightly appeased. Content wise, there's a lot of side stuff and post-game to think of, so you can get the biggest bang for your buck.
Of course, it isn't perfect. Story aside, the game can feel easy especially if you're really quick to pick up on patterns. I'm fond of the art style which is often bright, colourful and pleasing, but the same attention is not applied equally. Not forgetting the performance issues on the Nintendo Switch, and the PC version isn't exempt either. The auto save function helps take the sting out of unexpected crashes, which preferably you'd rather not have happen in the first place.
It's a decent entry point into Monster Hunter as a whole, and I'd say the sum of its parts is worth the asking price.
Monster Hunter Stories 2: Wings of Ruin
Nintendo Switch, Steam
A new adventure awaits you in this second installment of the turn-based RPG series set in the world of Monster Hunter! Become a Rider and form bonds with friendly monsters known as Monsties to fight alongside them as you take part in an epic story.
---
Check This Out Next
---
The Review
Monster Hunter Stories 2: Wings of Ruin
To become a Hunter, you must first be a Rider.
PROS
More story focused than mainline titles
Great and expressive character design
Turn-based battles with series staple elements
Gotta hatch 'em all Monsties
Newcomer friendly
CONS
Fairly predictable story
Bland environments outside of hub areas
Performance issues on both Switch and PC versions
Review Breakdown
A good stepping stone into the Monster Hunter franchise