Some of the most powerful, if not the most powerful, Monsties you can find in Monster Hunter Stories 2: Wings of Ruin are Variants and Elder Dragons. Trouble is, a lot of them are accordingly available only in the post-game. All, except for Nergigante, which you can obtain before the final story boss. Updates will be made accordingly with free title update Monsties.
BASICS
While you are certainly not limited to tossing extremely potent gene combinations on any Monstie you find, these appropriately rare bad boys can pretty much guarantee rare genes at their base level without extensive shuffling. You can further boost that chance of rare genes with the Prayer Pot, using Finding Charms for Finding Prayers.
Forget about the regular golden Rare dens. What you want are the Super Rare High Rank Monster Dens. It's pretty hard to miss, if you do encounter one.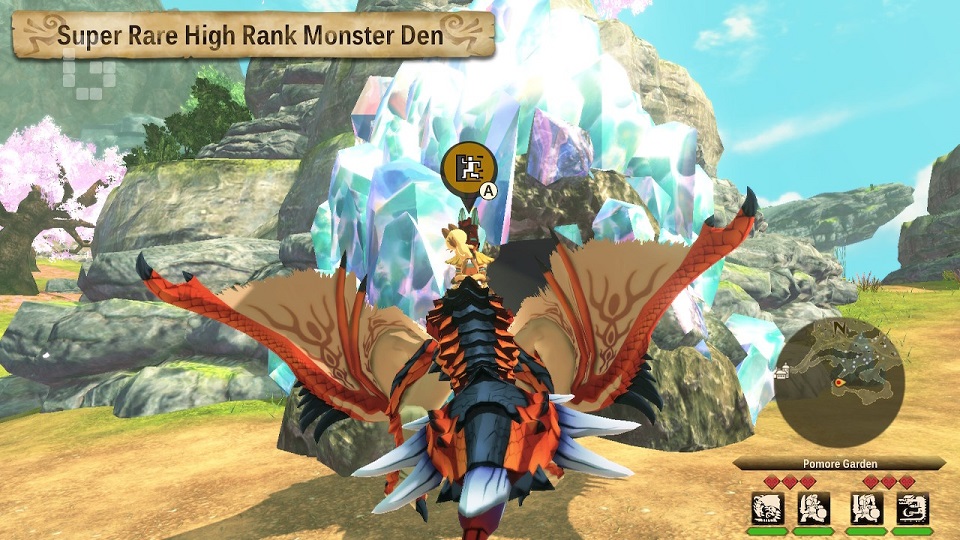 Elder Dragon eggs have star designs, and colours will correspond to the dragon within. A Deviant will be from a Fanged or Flying Wyvern egg. Below are the Egg Patterns to look out for:
| Elder Dragons | Deviants | Fanged Beast |
| --- | --- | --- |
| | | |
| Velkhana | Dreadqueen Rathian | Rajang |
| | | |
| Kushala Daora | Grimclaw Tigrex | |
| | | |
| Teostra | Bloodbath Diablos | |
| | | |
| Kirin | Thunderlord Zinogre | |
| | | |
| Nergigante | Silverwind Nargacuga | |
LOCATIONS
LOCATIONS POST-GAME
MONSTIES
Hakolo Island
Deviants: Dreadking Rathalos (Rare dens possible)
Deviants: Silverwind Nargacuga
Elder Dragons: Teostra, Kirin
Alcala Highlands
Deviants: Boltreaver Astalos, Gold Rathian, Silver Rathalos (Rare Monster Den possible)
Deviants: Grimclaw Tigrex
Fanged Beast: Rajang
Elder Dragons: Kushala Daora
Loloska
Deviants: Oroshi Kirin (Rare Monster Den possible, only in Loloska Forest)
Deviants: Thunderlord Zinogre
Fanged Beast: Rajang
Elder Dragons: Velkhana
Lamure
Deviants: Bloodbath Diablos
Elder Dragons: Kushala Daora, Kirin
Terga
Deviants: Hellblade Glavernus (Rare Monster Den possible)
Deviants: Dreadqueen Rathian
Elder Dragons: Nergigante (pre-post game possible in Rare Monster Dens)
Elder Dragons: Teostra, Velkhana
FINDING SUPER RARE DENS
While normally your odds of finding this kind of den are abysmally low, you can continuously leave and re-enter a zone to "refresh" it and hope for a den.
Alternatively, head over to Melynx Inc. to exchange 100 Bottle Caps for a Expedition Ticket (SR). This allows you to go on a Co-op Quest to one of these shiny dens. Only the host requires a ticket, so you can grab a friend if need be to get both of you eggs. You can also simply force start the quest for an AI companion which works decently well enough.
TIP: Save before you enter a Super Rare High Rank Den. Signature genes will be guaranteed, but the other genes and / or their placements are not, so your bingo can be potentially ruined. The safety save will afford you a chance to reset the result.
Now go forth and find your Deviants, Elder Dragons, what have you for Monster Hunter Stories 2: Wings of Ruin, and prepare for those post-launch updates. Speed through the search with our gene farming guide, and raise them just as quick with our EXP and Nutriment farming guide. Make the farm for these high level creatures easier with our guide too. Read our findings about the inner workings of the game's mechanics here. Build your dream Monstie with our guide to genes here. Round off your build and farm those Talismans here.
Monster Hunter Stories 2: Wings of Ruin
Nintendo Switch, Steam
A new adventure awaits you in this second installment of the turn-based RPG series set in the world of Monster Hunter! Become a Rider and form bonds with friendly monsters known as Monsties to fight alongside them as you take part in an epic story.